1
Philadelphia
Philadelphia News & Search
1 News - 1 eMovies - 1 eMusic - 1 eBooks - 1 Search
Heading into Memorial Day weekend, there is a new backlash involving an advertiser on Sean Hannity's Fox News show.
Financial services firm USAA is hearing it on social media after its decision to pull advertising from Hannity after the host continued to push an unproven conspiracy theory based on a story its own network retracted.
"It is our policy to not advertise on any opinion-based programming," spokesman Roger Wildermuth said in an email to the San Antonio Espress-News. "There was an error which led to our ads running during some opinion-based programs, and as soon as that was discovered, the error was corrected."
There have been reports that USAA also advertises on other opinion shows, including on MSNBC's Hardball with Chris Matthews. It is unclear if the company also pulled those ads. A spokesperson did not immediately respond to a request for comment going into the Memorial Day holiday weekend.
USAA pulled its ads from the show after left-leaning media watchdog Media Matters shared a list of companies that currently advertise on Hannity's show, a move he described as a "kill shot" intended to force him off Fox News. But Media Matters president Angelo Carusone has said his organization isn't pushing for an advertiser boycott.
"[Advertisers are] ultimately leaving because of what the Seth Rich controversy and story represents, which is Sean Hannity's volatility," Carusone said on Canadian Broadcasting Corporation's The National on Friday.
But the move to pull their ads appears to have backfired online for USAA, which caters to U.S. military members, veterans and their families. The company's various social media accounts were clogged Friday with messages from customers threatening to end their accounts.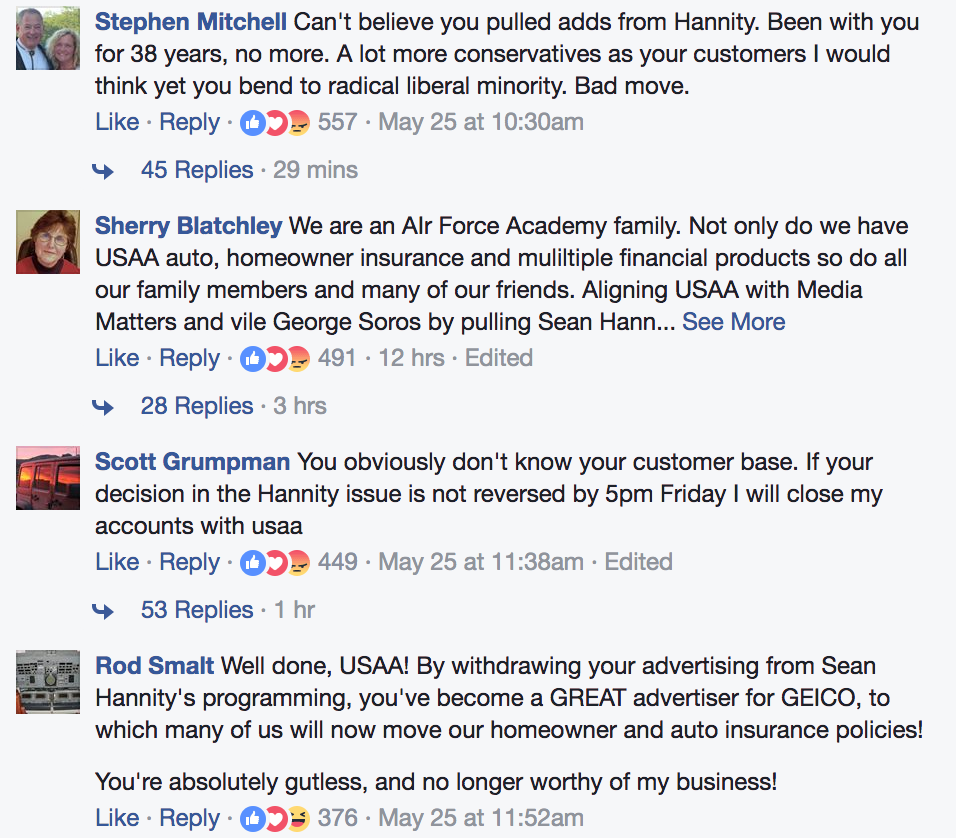 "I've been a member for 34 years and I am very much considering pulling my membership," wrote Robert Firnberg. "Shame on USAA. I've never been so disappointed in a company that I'm affiliated with it all my life."
"So disappointing to hear you are pulling ads from Hannity," wrote Debra Ann Day. "Conservatives do business with your company, too, you know."
So far, nine advertisers have pulled out of Hannity's show after he continued to promote a baseless story that claimed Democratic National Committee staffer Seth Rich was possibly murdered for releasing DNC emails to Wikileaks. FoxNews.com retracted its story six days after first posting it, saying in a statement it "was not initially subjected to the high degree of editorial scrutiny we require for all our reporting."
Hannity took off two days last week for a long Memorial Day weekend and is scheduled to return on Tuesday.
"Those who suggest otherwise are going to look foolish," Fox News said in a statement.
<![CDATA[<![CDATA[]]]]>]]>
<![CDATA[<![CDATA[]]]]>]]>
Please enable JavaScript to view the comments powered by Disqus.
1
Philadelphia
Philadelphia News & Search
1 News - 1 eMovies - 1 eMusic - 1 eBooks - 1 Search