1
Philadelphia
Philadelphia News & Search
1 News - 1 eMovies - 1 eMusic - 1 eBooks - 1 Search
It happened to Eickhoff in the seventh inning on Wednesday night in a 2-0 loss to the Reds at Great American Ball Park. Reds slugger Joey Votto smashed an 0-1 curveball to right-center field for a 422-foot home run, according to Statcast™. Adam Duvall then hit a 0-2 curve to left field for a double, later scoring.
The pitch to Votto left Eickhoff and catcher Cameron Rupp shaking their heads, and for good reason. Eickhoff's curveball is not unhittable, but it is pretty darn close. Opponents hit just .158 (31-for-196) and slugged just .281 against it last season. Only four of those hits were home runs. Eickhoff also struck out 81 batters on the curveball, which ranked fourth in the big leagues behind Jose Fernandez (137), Collin McHugh (91) and Corey Kluber (88).
"I think when I threw it, looking at the video, I got him, I almost fooled him, but he was able to keep his hands back," Eickhoff said. "He's a big, strong guy. It was a slow enough pitch for him to kind of double clutch and get the barrel to it."
Added Rupp: "If you go watch, he kind of buckled, but he kept his hands back. Good hitter. What do you do?"
Eickhoff allowed five hits, two runs and one walk and struck out six in 6 2/3 innings.
"He attacked us and seemed to miss a lot of barrels," Votto said.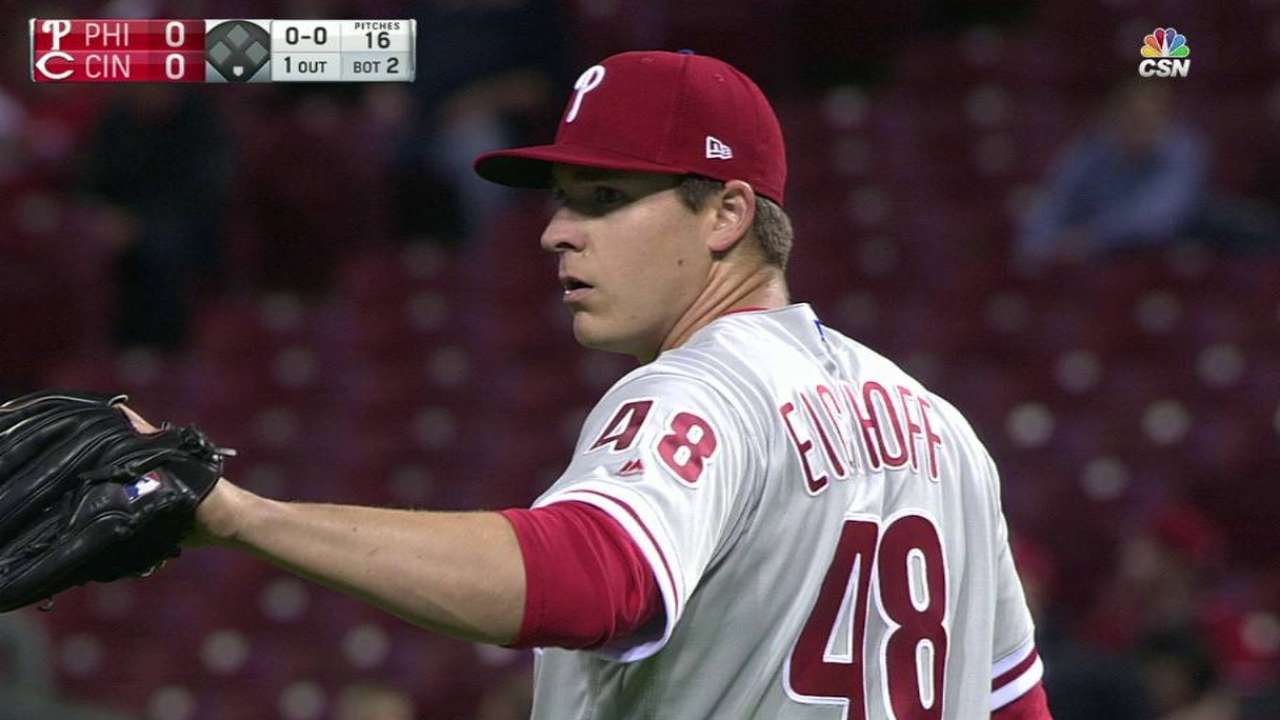 Both agreed the only real mistake Eickhoff made was the 0-2 curveball to Duvall. They wanted to bury the pitch, but it stayed up.
"You kind of have to take a quick look and be real with yourself and say, 'Did I execute it or did I not?'" Eickhoff said about the rare back-to-back hits against the breaking ball.
But the Phillies' offense was also unable to execute. They managed just four hits after picking up seven extra-base hits on Opening Day. Since Eickhoff made his big league debut on Aug. 21, 2015, the Phillies have scored one or zero runs for him in 18 starts.
That is tied with Edinson Volquez and second only to Michael Pineda, who has 20 of those starts in that span.
"I can't control that," Eickhoff said. "Those guys are busting their butts. They're working their butts off every day to get hits and to work in the cage. I can't control it. I'm trying to get outs. When I walk off the mound, hopefully I've kept us in the game."
Todd Zolecki has covered the Phillies since 2003, and for MLB.com since 2009. Follow him on Twitter and listen to his podcast. This story was not subject to the approval of Major League Baseball or its clubs.
1
Philadelphia
Philadelphia News & Search
1 News - 1 eMovies - 1 eMusic - 1 eBooks - 1 Search