1
Philadelphia
Philadelphia News & Search
1 News - 1 eMovies - 1 eMusic - 1 eBooks - 1 Search
That energy will be palpable at 8 p.m. ET tonight at Miami's Marlins Park, where the Derby, which will be broadcast on ESPN, will feature Giancarlo Stanton, Aaron Judge, Cody Bellinger, Mike Moustakas, Miguel Sano, Charlie Blackmon, Justin Bour and Gary Sanchez. ESPN's broadcast will be simulcast on MLB.com.
Stanton, the defending Derby champ, and his predecessor, Todd Frazier, validated the tweaked Derby format with truly memorable performances at Petco Park and Great American Ball Park, respectively. As a result, the same format will be used this year.
So here is a refresher on the format that will be in place tonight:
How are the seeds decided?
For starters, Stanton was given the No. 1 seed by virtue of his win a year ago. From there, seeds were determined by 2017 home run totals entering Wednesday's play. Tiebreakers were determined by home run totals since June 15, as stipulated in the Collective Bargaining Agreement.
Posnanski: Derby a bigger deal than ever
Entering play on Wednesday, that put Judge (28 homers) at No. 2, Bellinger (24) at No. 3, Moustakas (24) at No. 4, Sano (20) at No. 5, Blackmon (18) at No. 6, Bour (18) at No. 7 and Sanchez (13) at No. 8. From June 15 until Wednesday, Bellinger had seven homers to Moustakas' two, while Blackmon had three to Bour's two. Moustakas hit his 25th home run after the deadline for Derby seeding.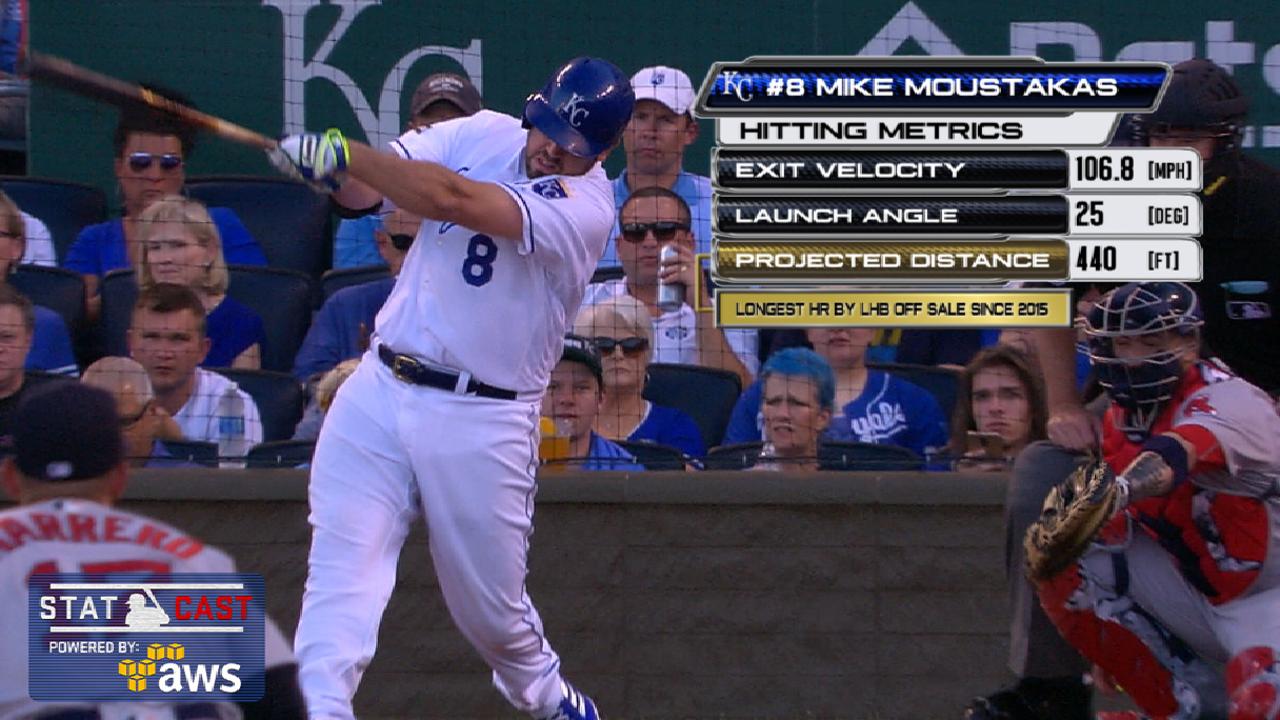 What is the format?
It's a single-elimination bracket system with three rounds total. In each bracket, the higher seed hits second. In the first round, Stanton faces Sanchez, Judge faces Bour, Bellinger faces Blackmon and Moustakas faces Sano.
Batters will have four minutes per round. The clock starts with the release of the first pitch. Interestingly, when the new format was created in 2015, batters were supposed to have five minutes per round. With rain in the forecast in Cincinnati that night, the decision was made to shorten the rounds to four minutes. The event went so well that MLB opted to keep the four-minute rounds in effect.
It should be noted that once the second player in a given round exceeds the home run total of his opponent, the round ends. There is no need for a player to add to his tally.
After the first round, the winner of the Stanton-Sanchez matchup will meet the winner of Moustakas-Sano. On the other side of the bracket, the Judge-Bour winner faces the Bellinger-Blackmon winner. The two players left standing will meet in the final round.
Can players stop the clock?
Yes. In the first round and semifinals, each batter is entitled to one 45-second timeout. In the finals, each batter gets two timeouts — one for 45 seconds and another for 30 seconds.
Derby countdown: Who's got the best odds?
In the 2015 semifinals against Josh Donaldson, Frazier took his timeout with one minute, 49 seconds remaining in the round while trailing, 9-6. He regrouped and wound up tying Donaldson with less than 10 seconds left before drilling a 444-foot blast just as time expired to advance to the finals against Joc Pederson.
The timeout wound up working against Frazier a year later, because after Stanton hit just six homers in the first 1:35 of the finals, he took a timeout, then pounded out 14 more following the breather to take the title away from the Toddfather.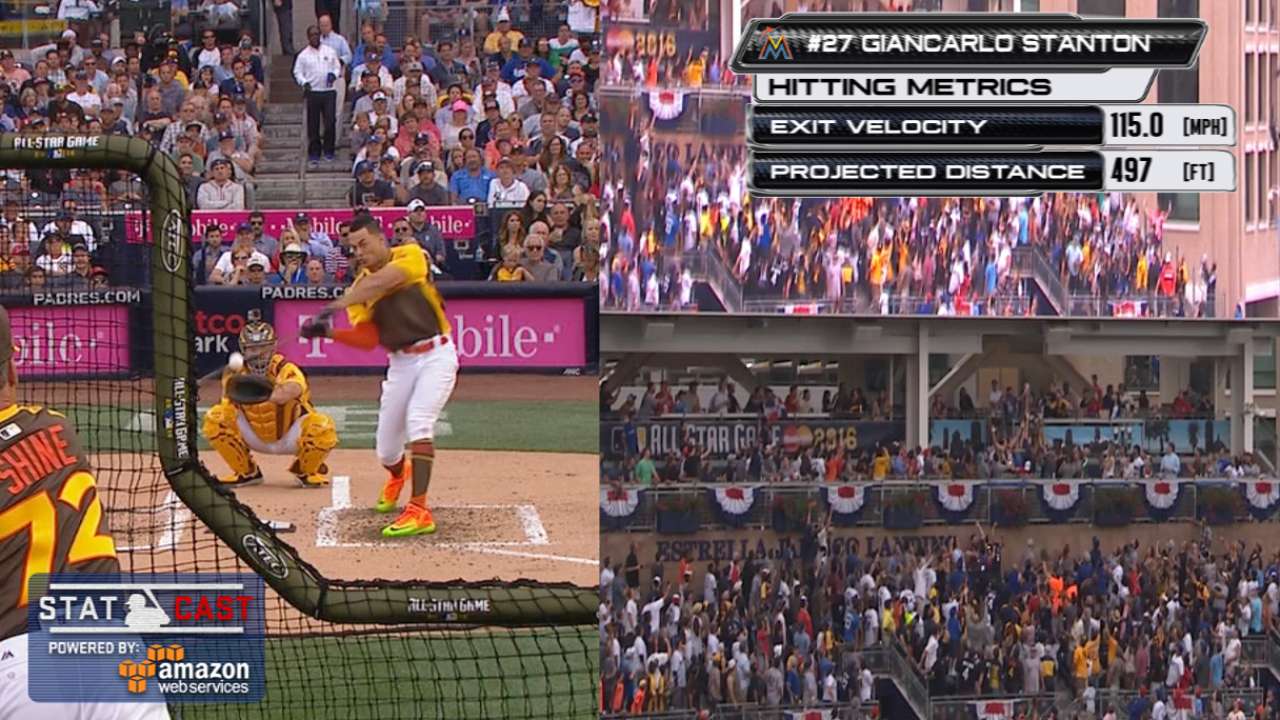 Can participants earn bonus time?
Yes, 30 seconds of bonus time will be awarded for hitting at least two home runs that each equal or exceed 440 feet. Distances will be tracked and posted using Statcast™. Any bonus time will be awarded at the end of the initial four-minute round and the timer will not stop during the bonus time period.
Jack facts: A stats preview of the Derby
Frazier's earned bonus time was the difference-maker in the 2015 finals. He had tied Pederson just before his "regulation" time expired, then teed off on the Derby-winning homer in his first swing of bonus time.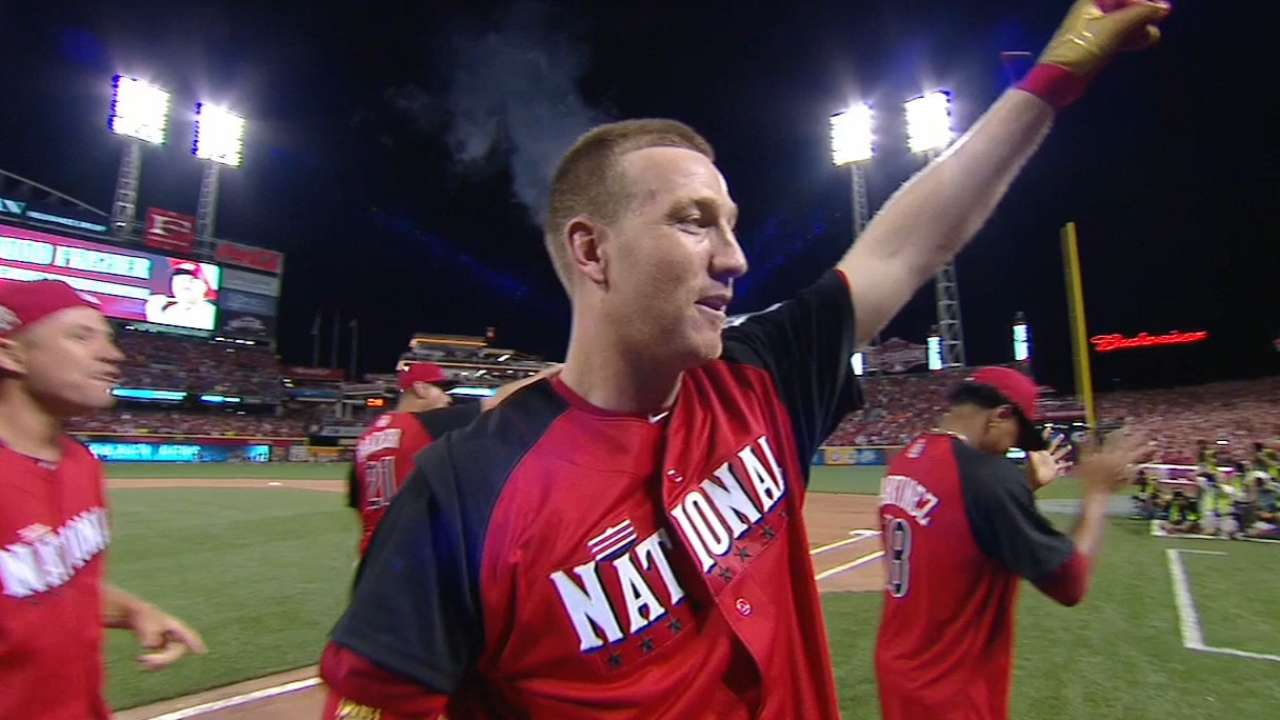 How are ties broken?
Ties in any round will be broken by a 60-second swing-off with no stoppage of time or additional time added. If a tie remains after the swing-off, batters will engage in successive three-swing swing-offs until there is a winner.
There has not yet been a swing-off under the format installed in 2015.
Anthony Castrovince has been a reporter for MLB.com since 2004. Read his columns and follow him on Twitter at @Castrovince. This story was not subject to the approval of Major League Baseball or its clubs.
1
Philadelphia
Philadelphia News & Search
1 News - 1 eMovies - 1 eMusic - 1 eBooks - 1 Search