1
Philadelphia
Philadelphia News & Search
1 News - 1 eMovies - 1 eMusic - 1 eBooks - 1 Search
Police shot and killed a suspect wanted in the fatal shooting of Delaware State Police Cpl. Stephen J. Ballard Thursday morning, ending a 19½-hour standoff that rocked a quiet suburban neighborhood in Middletown, New Castle County, with gunfire and tactical explosions.
The suspect was identified as Burgon Sealy Jr., 26, who had barricaded himself inside his family's Middletown house. His parents, who live there, were on vacation at the time, according to neighbors.
At a Thursday afternoon news conference, Delaware State Police Col. Nathaniel McQueen Jr. gave this account of what happened, starting shortly after noon Wednesday at a Wawa convenience store on Pulaski Highway in Bear, about 15 miles north of Middletown:
Ballard, 32 and an eight-year veteran of the state police, approached a red Dodge Charger in the Wawa parking lot after he observed what he thought was "suspicious" activity.
The men in the driver and front-passenger seats both provided Ballard, who was in uniform, with their identification. Ballard then went to the passenger side. Sealy got out and got into a struggle with Ballard, then began firing at the trooper, McQueen said.
Ballard, a husband and father of a daughter, tried to run away, but Sealy pursued him and continued firing at him, striking him in the upper body, McQueen said. Even after Ballard fell to the ground, Sealy fired several close-range shots at him.
Sealy, who had arrived at the Wawa in a gray Honda, then drove away in his car, McQueen said. 
He said Sealy then contacted family members and confessed to shooting a trooper. His family then contacted police.
Soon afterward, at about 2 p.m. Wednesday, law-enforcement agents descended outside the home in the Brick Mills Farm Development in Middletown, where Sealy fired multiple rounds at police, McQueen said.
After a night during which law-enforcement authorities used explosives to open the front door, also shattering windows, but not entering the house, and a tense standoff throughout the night, during which police tried to make contact with Sealy, the suspect then fired off numerous rounds from within the home about 4 a.m. Thursday, McQueen said. No one was hit.
Then, at 9:17 a.m. Thursday, Sealy exited the house with weapons "and engaged officers," McQueen said. Law-enforcement authorities then shot him, and he was pronounced dead at the scene at 9:29 a.m.
Asked by reporters if Sealy fired at officers when he left the house, McQueen said that remained under investigation. He declined to elaborate on the type of weapons Sealy had when he came out.
Asked if the "suspicious" activity Ballard had observed in the Wawa parking lot was drug-related, McQueen said that was also under investigation.
This is what the house looked like after the standoff ended. 
UPDATE: Suspect in fatal shooting of Delaware State Police trooper has been shot and killed by police https://t.co/QWruQrffAW pic.twitter.com/waR3lKJpSO






— Action News on 6abc (@6abc) April 27, 2017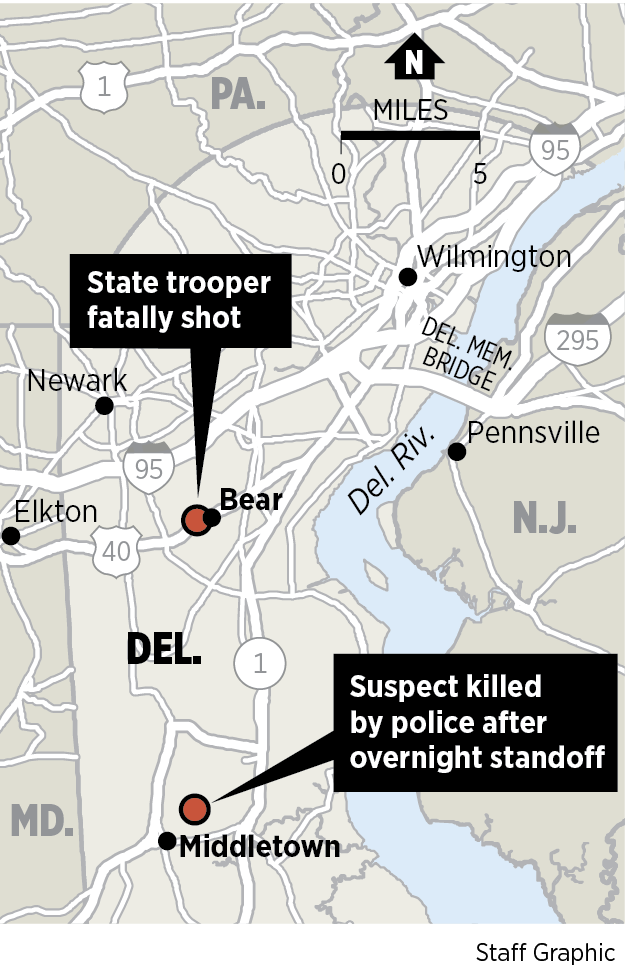 The driver of the Charger remained in the Wawa parking lot after Ballard was shot, was taken into custody by responding officers and was later released.
The "investigation into that other suspect is ongoing," McQueen said.
Ballard was taken to Christiana Hospital in Newark, where he was pronounced dead Wednesday afternoon.
McQueen and other officials who spoke at Thursday's news conference were at times, caught up in the emotion of Ballard's death, pausing before they could continue speaking.
Gov. John Carney thanked the State Police and other law-enforcement agents for the work they do every day in protecting people and thanked the residents in the Middletown neighborhood for their patience.
"I stand before you with an aching heart," he said.
The siege of the Middletown house had prompted officials to evacuate residents from homes in the neighborhood. Some spent the night in their cars in a nearby parking lot.
1
Philadelphia
Philadelphia News & Search
1 News - 1 eMovies - 1 eMusic - 1 eBooks - 1 Search