1
Philadelphia
Philadelphia News & Search
1 News - 1 eMovies - 1 eMusic - 1 eBooks - 1 Search
A suspect wanted in the fatal shooting of a Delaware state trooper held police at bay through the night in gunfire and explosion punctuated standoff in a quiet suburban neighborhood in Middletown, New Castle County.
The gunman fired on police about 4 a.m. and tactical teams blew out windows in the house where he is holed up in the pre-dawn hours, state police said.
The siege, which began about 2 p.m. Wednesday, prompted officials to evacuate residents from homes in the neighborhood and some spent the night in their cars in a nearby parking lot. Police blew off the door to the suspected gunman's hiding place about 8 p.m.
"Multiple Special Operations Response Teams and Conflict Management Teams from allied police agencies are attempting to make contact with the male subject and are continuing to attempt to persuade him to surrender," Master Cpl. Gary Fournier, a state police spokesman, said in a statement Thursday morning.
The man was wanted in the the killing of  Cpl. Stephen J. Ballard, 32, in a Wawa parking lot, about 15 miles north of the siege scene.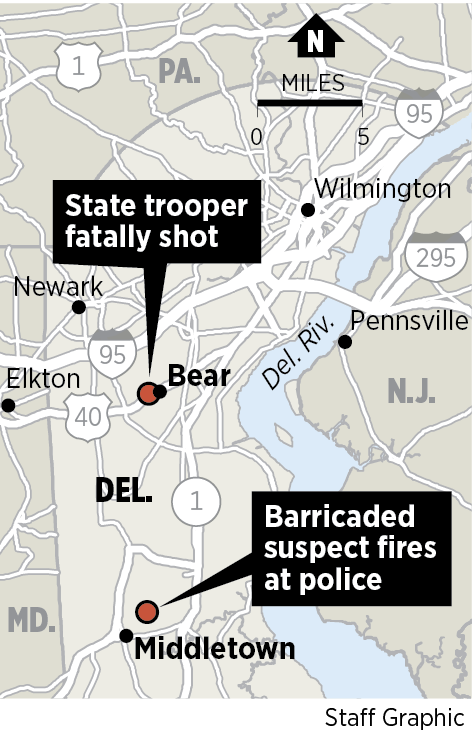 The trooper, an eight-year veteran of the force, was shot just after noon following a confrontation with a suspicious-looking vehicle and its two occupants in the store's parking lot. One of the vehicle's occupants exited the vehicle and fired at the trooper, police said.
One suspect was taken into custody, while the other fled on foot. 
During a news conference Wednesday afternoon, Delaware State Police Superintendent Nathaniel McQueen asked that the public keep the trooper's family in their thoughts and prayers.
"This is a sad day for our state and our Delaware State Police family," McQueen said.
Gov. John Carney had reportedly gone to Christiana Hospital in Newark, where the trooper was taken. He later released a statement, thanking the officer for his service, and acknowledging that residents of the state are "incredibly indebted" to police officers who "go to work every day knowing they put their lives on the line to protect ours."
After the shooting, multiple law-enforcement agencies responded to the Brick Mill Farm Development in Middletown where the suspect refused orders and opened fire on police, officials said.
1
Philadelphia
Philadelphia News & Search
1 News - 1 eMovies - 1 eMusic - 1 eBooks - 1 Search