1
Philadelphia
Philadelphia News & Search
1 News - 1 eMovies - 1 eMusic - 1 eBooks - 1 Search
"You're always going to have players that are going through ups and always going to have players going through downs," Klentak said. "That's true of this team at the Major League level and it's true in our Minor Leagues. At this stage, I try to look more for global trends, team trends, organizational trends. So for example at the big league level, I don't want to make too much of someone who has gotten off to a bad start or is off to a really good start.
"But what I am encouraged by is the fact that our walk rate is up as a team, our pitches-per-plate appearance is up as a team, our slugging percentage is up as a team. Things of that nature. Not to highlight any one individual player, but I think as a group it's been positive. And I think that's true in the Minor Leagues. We have some players that are off to great starts, and others like J.P. that are struggling. But I think we want to give it a little time before we put too much stock in an early season slump."
Klentak touched on a couple other topics before Saturday night's game against the Braves at Citizens Bank Park:
On Clay Buchholz's injury
The Phillies acquired Buchholz from the Red Sox for second-base prospect Josh Tobias in December. Buchholz, who will make $13.5 million this season, will miss an estimated four to six months recovering from right elbow surgery.
Klentak said it is "more than likely" that Buchholz does not pitch again this season.
"If he makes it down the stretch, we'll be thrilled," he said. "Right now we're planning as though we won't see him."
Klentak said the Phillies are always evaluating their decisions to make sure they make better ones in the future. But he said the Phillies had no reason to be concerned about Buchholz's elbow.
"The fact that Boston exercised the [club] option themselves would seem to suggest that they didn't have concerns for his health, and neither did we when we conducted our own medical review," Klentak said. "Sometimes this happens with pitching. Once again it underscores the importance of starting-pitching depth and developing it from within. We're very fortunate right now that while we have to place Clay Buchholz on the DL, Zach Eflin can come up and fill right in, without missing a beat. I think that'll continue to be a priority for us moving forward."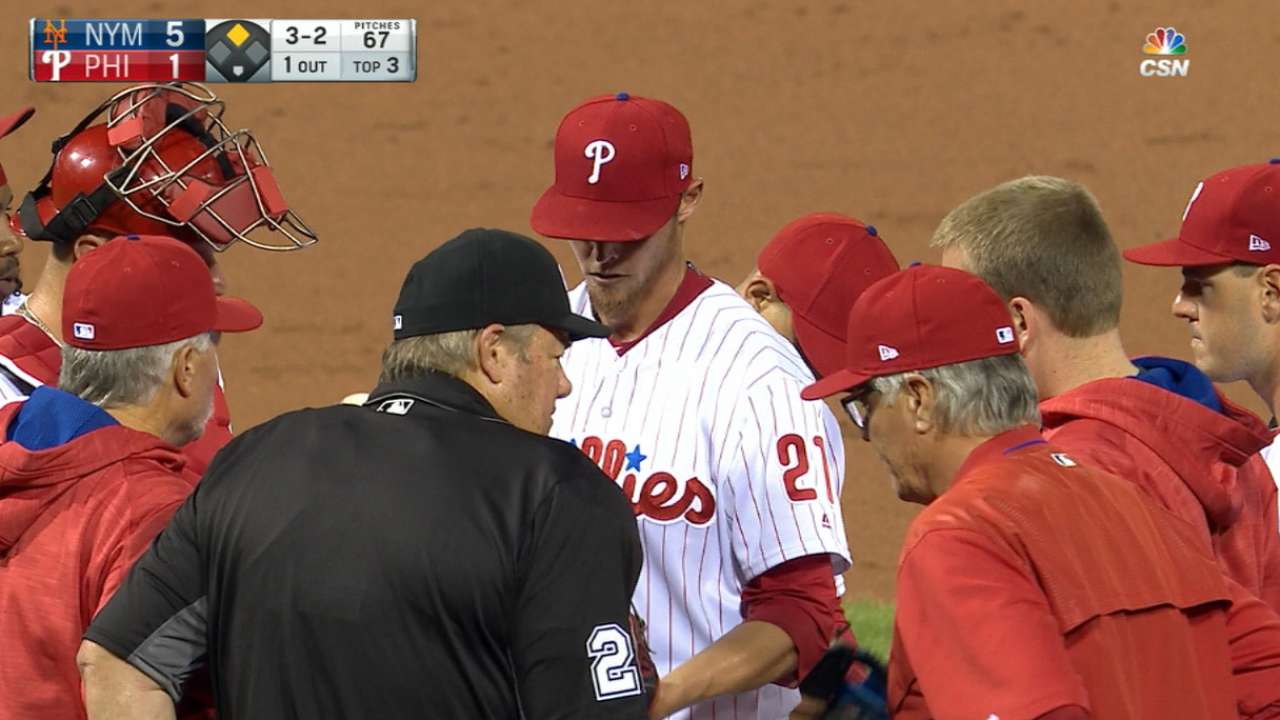 Arano update
Right-hander Victor Arano, who is the Phillies' No. 23 prospect, has been recovering from a sprained ulnar collateral ligament in his right elbow. He is throwing in Clearwater, Fla.
"He'll have his good days where everything is progressing and then he'll have a setback," Klentak said. "Right now we're hopeful, he's doing pretty well."
Todd Zolecki has covered the Phillies since 2003, and for MLB.com since 2009. Follow him on Twitter and Facebook and listen to his podcast. This story was not subject to the approval of Major League Baseball or its clubs.
1 Philadelphia
Philadelphia News & Search
1 News - 1 eMovies - 1 eMusic - 1 eBooks - 1 Search