1
Philadelphia
Philadelphia News & Search
1 News - 1 eMovies - 1 eMusic - 1 eBooks - 1 Search
An armed, hourslong standoff with a suspect in the fatal shooting of a Delaware state trooper in a Wawa parking lot continued into Thursday at a house miles away. Officers have have been shot at multiple times at the home where the suspect is holed up, Delaware State Police said. 
Cpl. Stephen Ballard, 32, was shot dead shortly after noon Wednesday in the parking lot of the Wawa convenience store at 1605 Pulaski Highway (US Route 40) in Bear, Delaware. A struggle ensued as Ballard had investigated two men in a car. Ballard, an 8-plus year veteran assigned to Troop 2, Glasgow, never had the chance to pull his weapon, authorities said.
Delaware State Trooper Shot and Killed at Wawa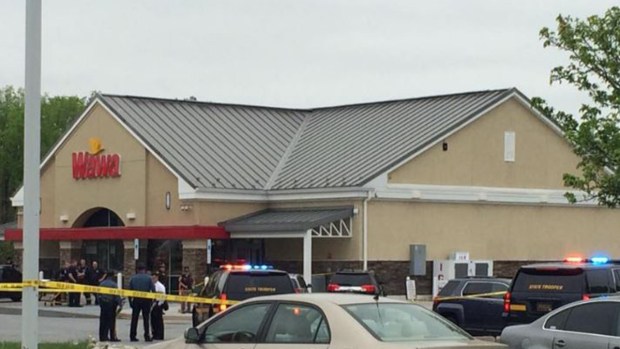 Faith Allen and three other witnesses ran to Ballard and tried to perform CPR on him. Ballard was taken to Christiana Hospital, where he died from his injuries.
"He shot him right in the head," Allen told NBC10. "I mean, it's sad. When you try to save somebody it's even worse when you find out they didn't make it."
Police caught up to one unidentified suspect a short time later but the second suspect got away on foot.
The fleeing suspect eventually arrived at a home on the 500 block of St. Michaels Drive in the Brick Mill Farm Development in Middletown, Delaware, about 15 miles away from the Wawa.
A SWAT team and officers surrounded the home and a barricade situation was declared Wednesday afternoon. The suspect refused to come out and fired shots at police, investigators said.
Suspect in Del. State Trooper Murder Barricades Himself Inside Home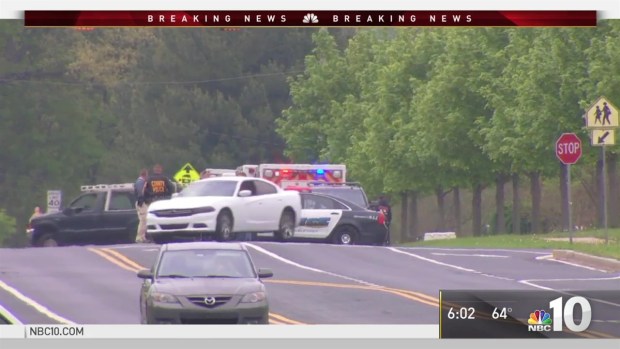 "The suspect has been firing shots at the police officers from the residence that he lives in and is currently held up in the house," Delaware State Police Master Corporal Gary Fournier said. "Now we have members from allied agencies throughout the state of Delaware that are on scene. We've established a perimeter on the house. He is contained to the one house but continues not to surrender as we wish."
Police said in a statement that officers came under fire at the home in Middletown about 4 a.m. Thursday. Police said they blew off windows with explosives, but have not entered the home. On Wednesday night, they blew the front door off its hinges, but did not enter.
"There was definitely gunfire, I could hear them on the bullhorn but I couldn't really make out what they were saying," said Susan Drejka who remains in her home nearby.
Police said they keep trying to make contact with the man to persuade him to surrender.
"We will be on scene until we get a peaceful resolution," Fournier said.
Some residents in the Brick Mill Farm community were evacuated while others weren't allowed to leave their homes. Brick Mill Elementary on Brick Mill Road was put on lockdown during the standoff. The lockdown for the school was later lifted but the lockdown for the homes is still in effect.
The Odessa Fire Company at 304 Main Street in Odessa, Delaware opened its facility to temporarily house any evacuated residents.
Reporters were kept a safe distance from the barricade.
Ballard lived in Milford, Delaware, but was originally from Bowie, Maryland, according to his Facebook page. He also got married earlier this year.
A police procession was held early Wednesday evening as Ballard's body was taken from Christiana Hospital to the Medical Examiner's Office in Wilmington, Delaware. Troopers carried a flag-draped coffin into the building.
Throughout the night, residents in the area dropped off candles and flowers at the Wawa in Bear, Delaware, to pay tribute to Ballard. Delaware Gov. John Carney ordered all flags to be flown at half-staff in memory of the fallen trooper.
Police Procession for Slain Delaware State Trooper Ends at Medical Examiner's Office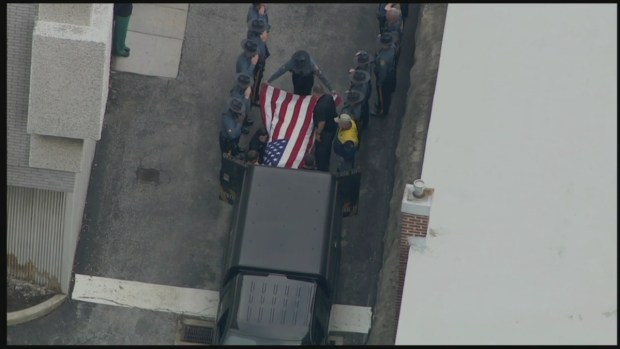 A Wawa spokesperson released a statement expressing sadness.
"We are deeply saddened by the tragic situation that occurred in the parking lot of our Bear, Delaware, store today," the spokesperson wrote. "Our hearts are broken and our thoughts and prayers are with the officer's family and the entire Delaware State Police community during this difficult time.
 
"Out of respect to the officer, our associates and all those affected, the store will remain closed until Saturday. We will continue to do everything we can to help."
Suspect in Del. State Trooper Murder Barricades Himself Inside Home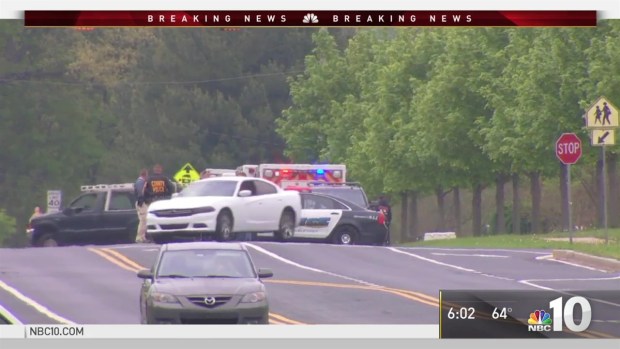 Published 29 minutes ago | Updated 1 minute ago
1
Philadelphia
Philadelphia News & Search
1 News - 1 eMovies - 1 eMusic - 1 eBooks - 1 Search