1
Philadelphia
Philadelphia News & Search
1 News - 1 eMovies - 1 eMusic - 1 eBooks - 1 Search
When you work in veterinary emergency medicine, you may feel like you've seen it all.
And then comes a puppy like Jade.
Last weekend, the staff at the Veterinary Specialty and Emergency Center (VSEC) in South Philadelphia were on the overnight shift when they got a fairly unique call for assistance.
The owner of a 16-week-old pit bull puppy, Jade, told staff the young dog had poked her head through a tire rim and it had gotten stuck. The owner tried everything she could think, even calling 911, the fire department, but it was no use.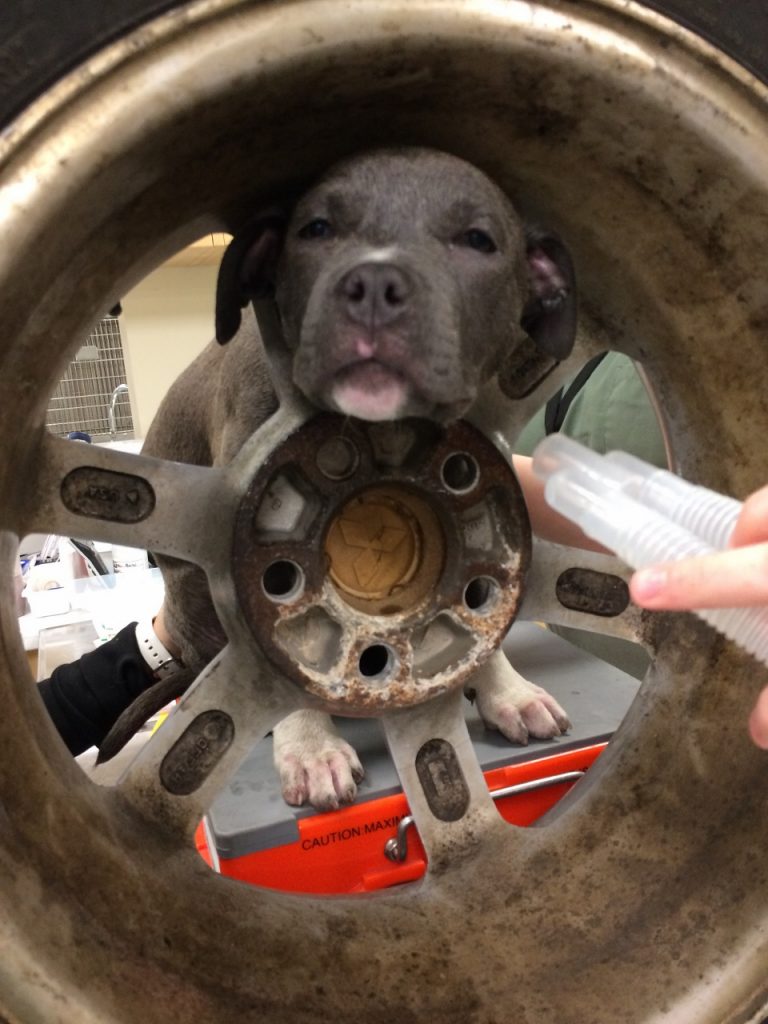 "Eventually, she called us," said Arielle Camp, the emergency vet on duty. It was the wee hours of Saturday morning.
The flustered owner came in shortly with the puppy.
Jade "seemed fine, but she looked very tired," said Camp, who has a pit bull of her own. "She had this tire that was about four times the size of her."
The rim was on tight, and Jade's ears were in the way, so the puppy was a given a sedative to make her sleep. With some shimmying, the rim came off. Jade was then given some steroids to help with the swelling around her neck.
Camp, a graduate of the University of Pennsylvania's veterinary school, has seen pets get into all sorts of jams.
Often the problem is consuming things they shouldn't. Camp said she has known dogs to eat fish hooks that get stuck in the back of their throats. With sedation, the hooks can be removed.
"Socks and underwear are common in young puppies," Camp said, as are favorite toys. Cats tend to be more careful, but the vet said they can get carried away playing and end up consuming objects like a needle and thread.
Particularly worrisome are chocolate and grapes or raisins which are toxic to dogs and may need to be purged from the animal's system.
But Jade, freed from her unwanted tire necklace, was soon enough awakened and ready to go home.
"She was very cute," Camp said, "and I think relieved."
VSEC offers 24-hour emergency care and specialty care in South Philly, Levittown and soon in Conshohocken.
1
Philadelphia
Philadelphia News & Search
1 News - 1 eMovies - 1 eMusic - 1 eBooks - 1 Search