1
Philadelphia
Philadelphia News & Search
1 News - 1 eMovies - 1 eMusic - 1 eBooks - 1 Search
Every Christmas, a wreath is placed on the Scarborough Bridge, a covered bridge in Cherry Hill. For almost 25 years, the tradition was kept alive by Sally Callaghan, who for some of those years worked at the nearby historic Barclay Farmstead.
Mrs. Callaghan died Saturday at her home in Mount Laurel, where she had moved more than a decade ago. She was 87. Those close to her described her as a passionate community activist who acted on that passion in a number of ways, including with the annual wreath-placing and as a member of the Cherry Hill Arts Advisory Board.
She helped with the 1993 renovation of the Scarborough Bridge, which is one of just two covered bridges remaining in New Jersey. Every year since then, Callaghan had had a Christmas wreath placed on the bridge on the holiday, with the help of the Cherry Hill Fire Department, said Callaghan's husband, John Callaghan.
"That covered bridge has meant a lot to us," he said. "It's really neat."
Mrs. Callaghan also organized Music Under the Stars, an annual summer concert series held at the Barclay Farmstead for several weeks during the summer, John Callaghan said. The free concert series allows members of the public to bring their blankets and chairs to the Farmstead and listen to live music.
Mrs. Callaghan volunteered for the Barclay Farmstead as a member of the Friends of Barclay Farmstead for about 11 years, John Callaghan said. The Friends of Barclay Farmstead is a volunteer organization that promotes the historical and educational aspects of the Farmstead.
But Mrs. Callaghan's most well-known role in the community was as a member of the Cherry Hill Arts Advisory Board.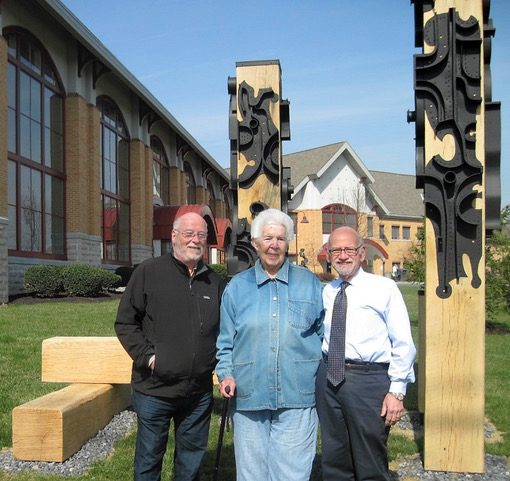 "She had a passion for the arts," John Callaghan said.
It was while on the advisory board that, as a member of a subcommittee, she helped install sculptures at the Cherry Hill Public Library.
One of them was created as a tribute to Valerie Porter, of Cherry Hill, who died when she was 13 in 1966. Her mother, Jenny Porter, was then president of the library board, and hired an artist to create the sculpture. That piece was installed inside Cherry Hill's old library, where it remained until the building closed in 2004.
The sculpture was disassembled and stored in the basement of the new library, and Mrs. Callaghan and others on the subcommittee worked to have it installed in a more visible place on the library's premises.
But politicians within the township didn't want the sculpture re-erected, John Callaghan said, so Sally Callaghan and her allies spent years lobbying and raising money to have it installed at the new library.
The sculpture was ultimately reconfigured and installed outside the Cherry Hill Library in March 2016.
"It was a lengthy battle, but they did it," John Callaghan said.
Another member of the subcommittee, Fred Adelson, said Mrs. Callaghan was the "driving force" and the "navigator" of those efforts.
Adelson, an art history professor at Rowan University, said virtually nobody thought the sculpture would be installed at the new library, but Callaghan wouldn't accept that.
"She would never take no for an answer," Adelson said. "She always felt there was a way to see something realized if it was good for the community. … Losing her is a real loss to the arts community."
"I'm overwhelmed," Mrs. Callaghan told Inquirer columnist Kevin Riordan last year after the sculpture was re-installed. "It took 13 years to get to this."
In addition to her husband, Mrs. Callaghan is survived by children Andrew Callaghan, Stephen Callaghan, Joanne Mitchell, Brian Callaghan and Patrick Callaghan, and eight grandchildren.
A viewing will be held Thursday at 11 a.m. followed by a funeral mass at Holy Eucharist Catholic Church at 344 Kresson Road in Cherry Hill. Donations in Mrs. Callaghan's name may be made to Sacred Heart School, 1801 S. 4th Street, Camden, NJ 08104.
1
Philadelphia
Philadelphia News & Search
1 News - 1 eMovies - 1 eMusic - 1 eBooks - 1 Search