1
Philadelphia
Philadelphia News & Search
1 News - 1 eMovies - 1 eMusic - 1 eBooks - 1 Search
David Desper, the man accused of pulling out a .40-caliber handgun and killing Bianca Roberson in a fit of road rage last week, previously worked in the auto industry and enjoyed drag racing, a friend said Monday.
Desper, 28, of Trainer, Pennsylvania, allegedly shot Roberson, a recent high school graduate, as the two jostled for a lane on Route 100 in West Goshen Township, Chester County.
"I can't believe this happened," said Damian McIlhenney, of Chester City, who described himself as a good friend of Desper.
McIlhenney said he and Desper met each other a few years ago when they both worked in the automotive industry. They shared a common interest in cars and he said they often took part in drag races in Southwest Philadelphia.
Desper wasn't short-tempered or aggressive, McIlhenney said, adding that the alleged road rage shooting is "out of character for David."
Desper turned himself in to police early Sunday morning after a four-day manhunt that stretched across New Jersey, Delaware and Pennsylvania. His attorney, Daniel McGarrigle, told NBC10 that Desper first came to McGarrigle with his family Saturday night. By 1 a.m. Sunday, he turned himself in to local authorities.
Police received as many as 1,000 tips from the public as authorities searched for the red pickup truck identified by witnesses as the culprit's vehicle in the initial road rage incident last Wednesday.
Police recovered the defendant's pickup truck at a location in Delaware County and Desper's firearm from his bedroom. He has a license to carry and purchased the gun legally, according to court documents.
Desper is being held at Chester County Prison on without bail, and his preliminary hearing is set for July 13. He has been charged with first-degree murder, third-degree murder, criminal homicide, recklessly endangering another person and possession of an instrument of crime with intent to use it criminally. 
Roberson's parents were in the room, sobbing, while officials announced the arrest. They lost another child, an adult son, four years ago to heart disease.
On June 28, Desper and Roberson played what investigators previously called a game of "cat and mouse" while attempting to merge into the same lane on Route 100 in Chester County around 5:30 p.m., officials said. Roberson was heading home from a shopping trip. She would have left for college later this summer.
Instead, she was found shot in the left side of the head when police arrived to her car in a ditch off the side of the road. She was pronounced dead at the scene.
Life of Teen Fatally Shot in Road Rage
The shooter's car fled the scene "at a high rate of speed on the shoulder of the spur before eventually crossing traffic and continuing southbound on the shoulder of Route 202," charging documents said.
Photos of Suspect, Vehicle in Deadly Shooting of Teen Girl
A witness described hearing a loud noise and then seeing one car, which belonged to Roberson, swerving off the road while another sped away, officials said.
A portion of the round that struck Roberson was recovered from her skull during an autopsy. The bullet's markings indicated it came from a Smith & Wesson .40 caliber semi-automatic handgun. 
A similar firearm was recovered from Desper's bedroom after he turned himself in to police. Ammunition was found in a nearby trashcan. Desper reportedly purchased the weapon in November of 2015, according to charging documents.
Desper's neighbor Gerry Szper told NBC10 he heard about Roberson's murder but was shocked the suspect lived so close to home.
"It's just crazy," he said. "I just don't know. I'm shocked." 
Parents of Road Rage Victim; 'She Didn't Deserve This'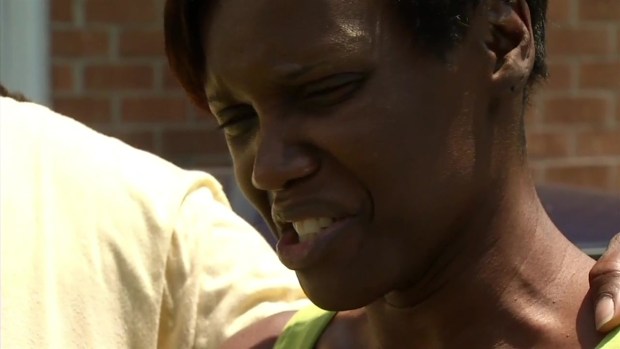 Using video surveillance from the scene and later recordings of a red pickup truck, police recovered Desper's car in Glen Mills. It matched the description of the pickup seen moments after the incident. 
Roberson's family declined to comment at the announcement of Desper's arrest, but previously told NBC10 the death of their daughter is "surreal."
"How can you just shoot a baby, an 18-year-old girl, on her way to college and then just speed off like it was nothing? She didn't deserve to die like this," Roberson's mother, Michelle, said.
Roberson's aunt Joyce Chester said she remains heartbroken but relieved that an arrest was made.
"We just had the graduation for the school and the kids were so full of hope. Hope and excitement," Chester said. "I said, 'Are they ever going to get this truck and this guy?' And my friend said, 'They're going to get him. They're going to get him. They'll get the truck and they'll get the guy.' I said, 'How do you know?' He said, 'They just will.'" 
Published 1 minute ago
1
Philadelphia
Philadelphia News & Search
1 News - 1 eMovies - 1 eMusic - 1 eBooks - 1 Search