1
Philadelphia
Philadelphia News & Search
1 News - 1 eMovies - 1 eMusic - 1 eBooks - 1 Search
"He's gotten better everywhere," Williams, who has seen nearly every at-bat Randolph has had the last two seasons, said recently at Spectrum Field before a game against Fort Myers. "Just watching him day to day, I can see how much better his at-bats have gotten. Overall, he's had a great year. The progress he's made has been tremendous."
Hmmm. Let's check in with Phillies player development director Joe Jordan for a second opinion.
"I think the kid's had a great year," Jordan said. "He's done a great job. I think what he's done has been very impressive. It's been a big success story."
• Phillies' top 30 prospects | Pitching quartet showcasing talent
As it turns out, it doesn't take much investigation past the basic numbers to figure out why two of those who have most closely followed the arc of Randolph's career are so impressed by what they've seen lately.
One of the most obvious reasons is that, in his first two professional seasons after being selected 10th overall out of Griffin (Ga.) High School, Randolph hit a total of three home runs. This year alone, he has belted 13, and that's in a league known for being unforgiving to power hitters; the FSL leaders had just 16 going into play Tuesday.
"A lot of people told me this is a hard league to play in, a hard league to hit in," Randolph, ranked the No. 13 prospect by MLBPipeline.com, said with a laugh. "The ball doesn't really fly. The fields are big, so it's been what I've expected. I've hit a couple balls that I thought should have gotten out that just died. It's happened a lot, but I expected that."
Some of the increase is the result of a retooled swing. Threshers hitting coach Rob Ducey and roving Minor League hitting coordinator Andy Tracy have been working on getting the left-handed hitter to pull the ball more.
"When he came in, he was a very good opposite-field hitter, and we just wanted him to be a more rounded offensive player," Ducey explained.
"He got away with being able to do things in high school against the competition he was facing. That's not his fault, but he was able to get away with doing certain things whereas this league that he's in is the best competition he's ever faced. It's good. The pitching here is very, very good."
Added Jordan: "To some degree, he's transformed himself as a hitter from a middle-opposite-way hitter with a good feel to hit to a guy who has learned to pull the ball correctly. I think his power numbers jumped because of some adjustments he's made and his growth as a hitter. And that's just going to continue."
Some of it also has to do with the fact that Randolph just turned 20 in June and is naturally getting stronger as he matures, a process augmented by the organization's strength and conditioning program.
It's worth pointing out that Randolph is more than holding his own in a league where the average hitter is 22.8 years old and the average pitcher is 23.1 years old. In fact, at one point this season, he was the youngest player in the FSL.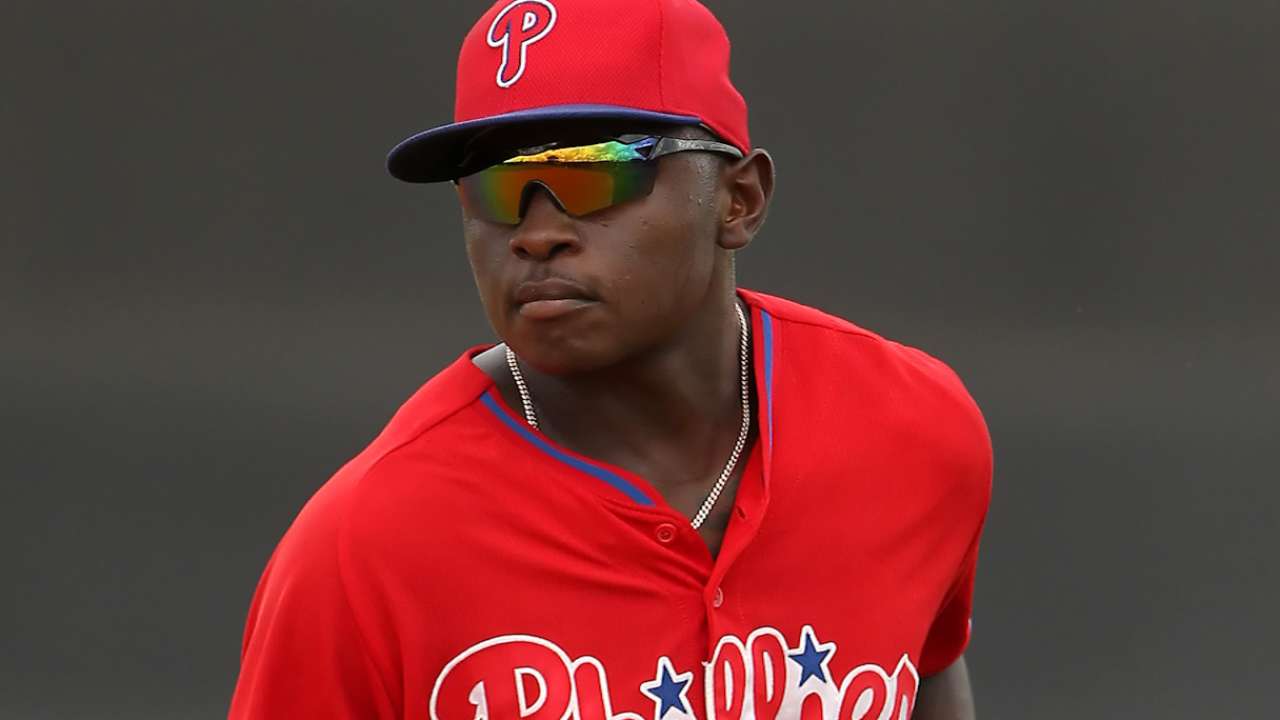 "I feel confident," Randolph said. "I've pretty much played with older guys my whole life, so this is no different. I don't really think about the age difference. I just think about going out and doing what I do because in the big leagues, you're going to be playing against guys older than you anyway."
Noted Williams: "A lot of times, you really don't take his age into account, and then you do look at it and for me, with the age or without it, he's had a great year. He's done everything you could ask for from a kid. He's made the changes and adjustments to have a good year. Then you look back and you see how old he is and it's like, 'Wow. He's had a really good year.'"
Some of the optimism has to do with the fact that Randolph started out slowly, hitting .203 with a .665 OPS in April. But he steadily got better in May (.239/.665), June (.260/.756) and July (.311/.889) before falling back somewhat in August.
And some of that has to do with the fact that Randolph has become a more complete player. He will compete in the Arizona Fall League.
"Defensively, he wants to be a good outfielder, and he's a full grade better outfielder, for me, than what he was a year ago," Jordan said. "Just because of his investment and his work."
Added Williams: "Defensively, he's played very well. He's gotten a lot better out there. He's throwing better. He's moving better. Anything you can ask for and look for in a kid, he's really gotten after it. He comes to the ballpark determined to get better every day, and you're seeing the results on the field."
Randolph understands that, as a first-round Draft pick, he's under additional scrutiny. He takes that in stride.
"I feel like I'm progressing pretty well," Randolph said before going out to take batting practice. "I feel like I'm getting better in my outfield play, hitting the ball hard. That's all I can do.
"You still have to take everything day by day. I've got a game in front of me [tonight]. I'm not trying to fast forward to the big leagues or anything. I've got to go through the process."
Paul Hagen, a reporter for MLB.com, won the J.G. Taylor Spink Award in 2013 for a lifetime of excellence in baseball writing. This story was not subject to the approval of Major League Baseball or its clubs.
1
Philadelphia
Philadelphia News & Search
1 News - 1 eMovies - 1 eMusic - 1 eBooks - 1 Search