1
Philadelphia
Philadelphia News & Search
1 News - 1 eMovies - 1 eMusic - 1 eBooks - 1 Search
It seemed like a simple plan: Neighbors wanted a new playground for the students at Nebinger Elementary, a safe green space that would be used by pupils during the school day and open to the community at other times. Supporters brainstormed ideas for what the space would look like and won the support of the Philadelphia School District and private funders.
After years of talks, construction began at the schoolyard at Sixth and Carpenter earlier this month, with completion on the horizon for early summer.
And then, controversy erupted, culminating in a public meeting attended by nearly 200 people where shouts broke out and two men appeared close to coming to blows over when children would be allowed to play on the space, where a playground, an outdoor classroom, and a garden are planned.
Children waved "Save Our Playground" signs. Some solicited signatures for a pro-playground petition. Many had been drawn there by talk that there was a chance that construction, temporarily halted after Councilman Mark Squilla held a meeting with some concerned neighbors.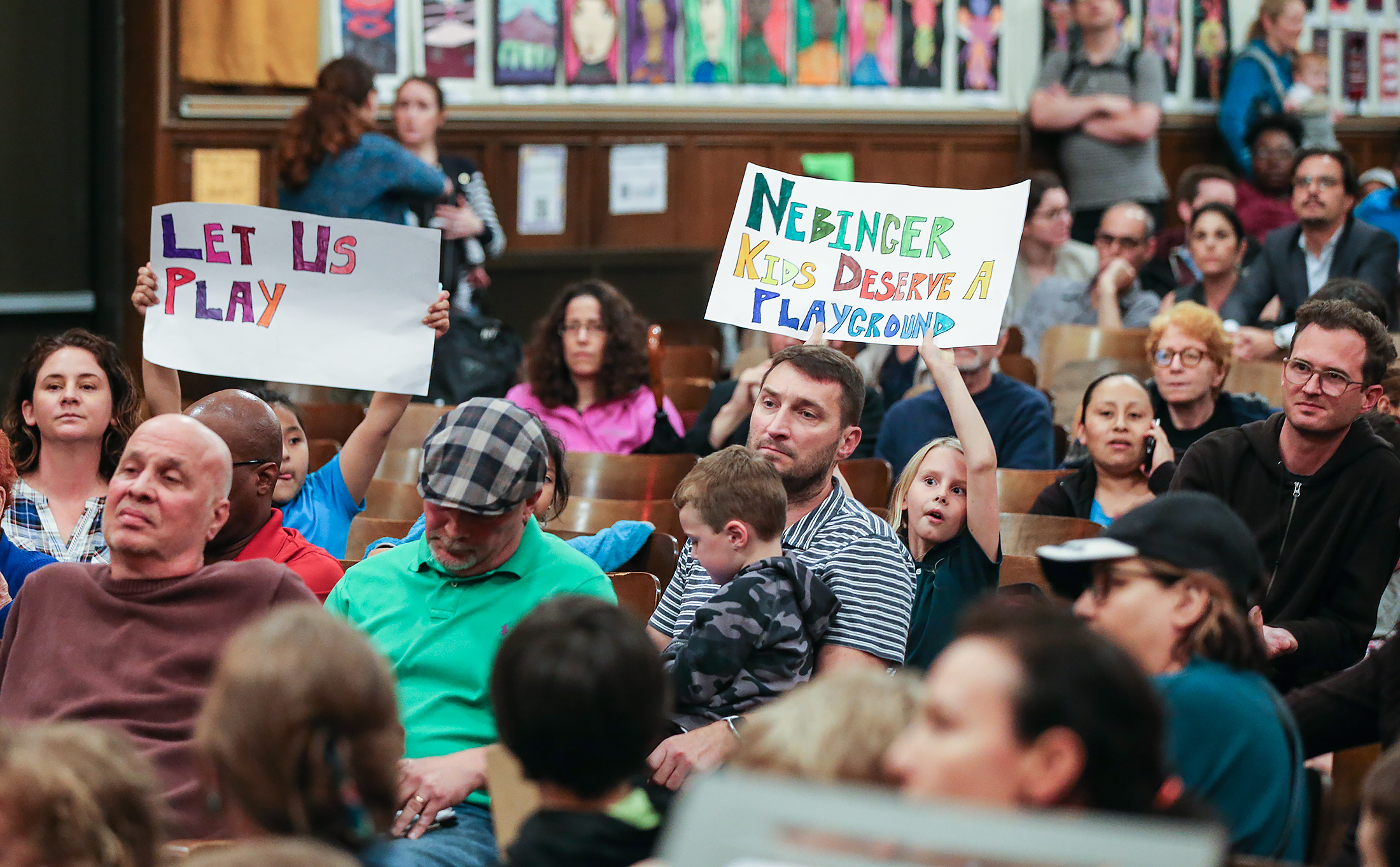 "I understood when I bought my house I was buying next to a school," Nicole Paloux, a Bella Vista neighbor whose house is separated from the Nebinger yard by only a chain-link fence, said at the meeting. "But I thought when the school day is over, I should be able to enjoy the peace and quiet of my home."
Paloux said she did not want to stop the playground, just ensure that its open hours were carefully managed. At the meeting, held in Nebinger's auditorium, she held up copies of a study that she said showed that playgrounds can increase crime.
Paloux, who said she represented the views of a group of neighbors who live in close proximity to the school, was shouted down.
Joan Maya Mazelis, an urban sociologist at Rutgers University and resident of the neighborhood, dismissed Paloux's research.
"For every study that you find that says that parks and playgrounds increase crime, I can show you 10 that say they decrease crime," said Mazelis.
Laura Blau's son attends nearby Meredith Elementary, but the Nebinger playground is close enough for her child to take advantage. She too said the playground would improve the neighborhood, which is attracting more families interested in public schools.
"The more active space there is, the more interaction you get with people. It makes the city safer," said Blau, who is an architect.
Nebinger is awaiting the appointment of a permanent principal, but Lauren Overton, Meredith's principal, said her school's playground is open to the public until 6 p.m.
"We have never had a problem," Overton said. "And it's been a big benefit to our children to have a place to play."
The Nebinger project began in earnest in 2011. Four years ago, the city Water Department razed an old playground on the site, making improvements to ready the yard for the next phase. For a time, neighborhood and school groups worked with a nonprofit called the Big Sandbox to plan for the playground. Last year, at the School District's behest, the Trust for Public Land, another group that has pulled off several such successful projects in city schoolyards, got involved.
The school system has committed $175,000 to the Nebinger project; the Trust for Public Land has raised $15,000.
Construction, halted for a time, restarted Friday, the morning after the contentious meeting.
One man in the audience hinted that neighbors who question whether the current zoning for the school would allow for the public to use a playground could bring legal action.
Some neighbors have suggested that concerns about the playground's availability to the public smell of racism, a notion that has been firmly rejected by those neighbors who want hours capped.
Squilla, who attended the meeting, said the crowd's passion shows how people care about their neighborhood. Because the project has been planned for so long, assumptions were made that neighbors knew about it. He said he took responsibility for not being more explicit with them about the playground.
"We don't need to get the lawyers involved," Squilla said. "We need to set up a task force. Not everyone will be happy. But we can come to an agreement on the hours and days it's opened."
Danielle Floyd, the school system's director of capital programs, committed to hosting a small working group to determine playground logistics.
"What we can do is be inclusive around determining what the formal hours of operation will be going forward," Floyd said. "We want to be good neighbors."
Those who have concerns about the playground's hours of operation say they got no notice about the project until just before construction began May 8.
1
Philadelphia
Philadelphia News & Search
1 News - 1 eMovies - 1 eMusic - 1 eBooks - 1 Search