1
Philadelphia
Philadelphia News & Search
1 News - 1 eMovies - 1 eMusic - 1 eBooks - 1 Search
• Phillies' Top 30 Prospects list
Back in 2014, the Phils organization finished last in overall winning percentage of its Minor League affiliates, a .439 combined mark. In 2016, they finished second at .581. What stands out is that they did it without keeping players old for their level down to boost the win total.
"That's what made last year so gratifying for all of us," Phillies farm director Joe Jordan said. "Every one of our rosters last year was younger than league average. I think we're doing it the right way.
"Winning for me is not the most important thing, but the fact that our rosters are strong, our players are pushing each other, that leads to winning. There's no magic to that."
That formula has led to a very good Spring Training on the Minor League side of things. If competition leads to winning, then the Phils look like they are poised to have another successful season across their affiliates.
"We're about 10 days away from Spring Training ending, and every day is a competition," Jordan said. "There are good players to watch and they sense they have to bring their best every day because they're fighting for jobs. Everyone wants to make a full-season club and there will be a lot of good players who don't, at least to start the year."
The depth of talent appears up and down the organizational ladder. The very top of the Top 30 is full of players just about ready to knock on the door, with top prospect J.P. Crawford, No. 3 Jorge Alfaro and No. 4 Nick Williams all slated to start the year in Triple-A waiting to get that call to the big leagues.
"We do have some upper-level position players and pitchers who are getting very close," Jordan said. "They need to go to the Minor Leagues and finish off what they can there. If you look at Double- and Triple-A, we're in pretty good shape, I believe. We have a lot of options."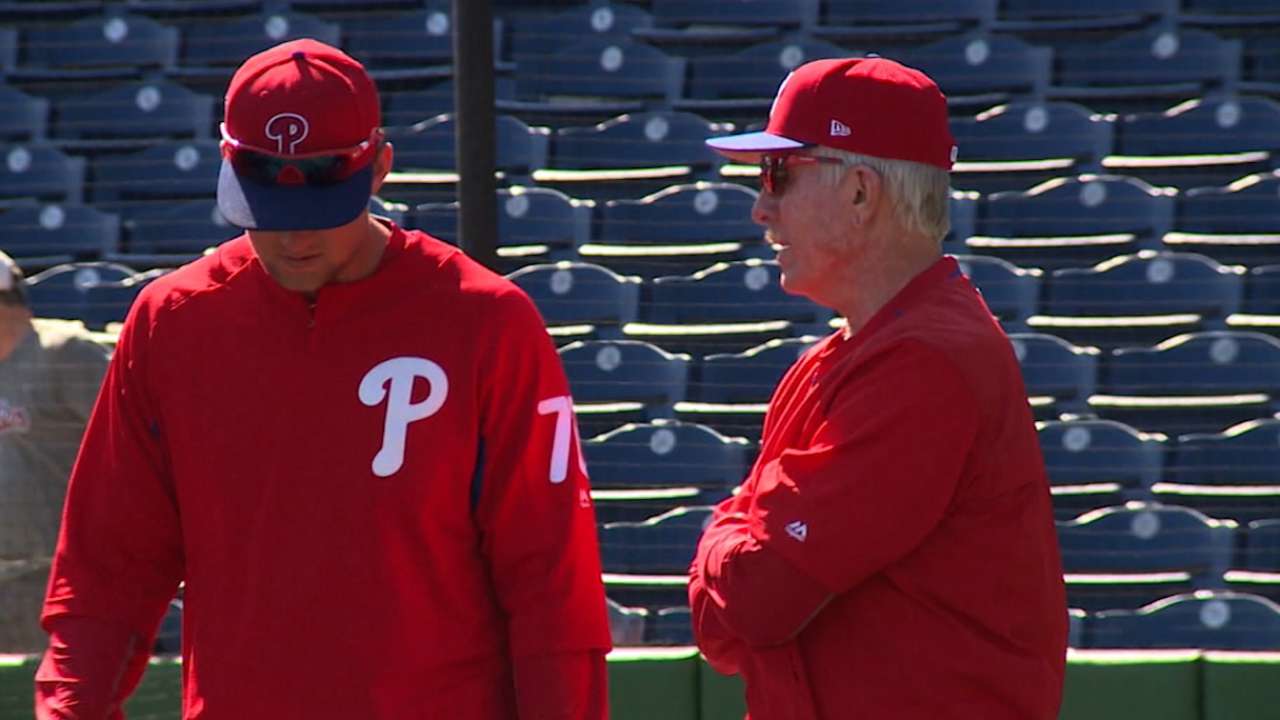 Perhaps more encouraging is that there is another wave coming in back of that upper-level group. Games on the Minor League side have been going on since March 14, and Jordan sees a number of prospects ready to take the next step, providing a sign that the rebuilding effort will not just be a one-and-done kind of scenario when the upper-level guys graduate.
"From last year's Draft, and the last two signing periods internationally, our scouts have done a good job adding good talent," Jordan said. "That's going to be a good group coming up, starting with the Gulf Coast League group from last year, Williamsport, everyone had winning seasons. We have some good young players."
Want to see the future? Head to Lakewood
Team assignments have yet to be made, and with the aforementioned talent crunch, there is still a lot up in the air regarding who will end up nabbing those full-season assignments. But based on who has stood out in camp this spring, Lakewood's roster in the Class A South Atlantic League has the chance to be pretty special.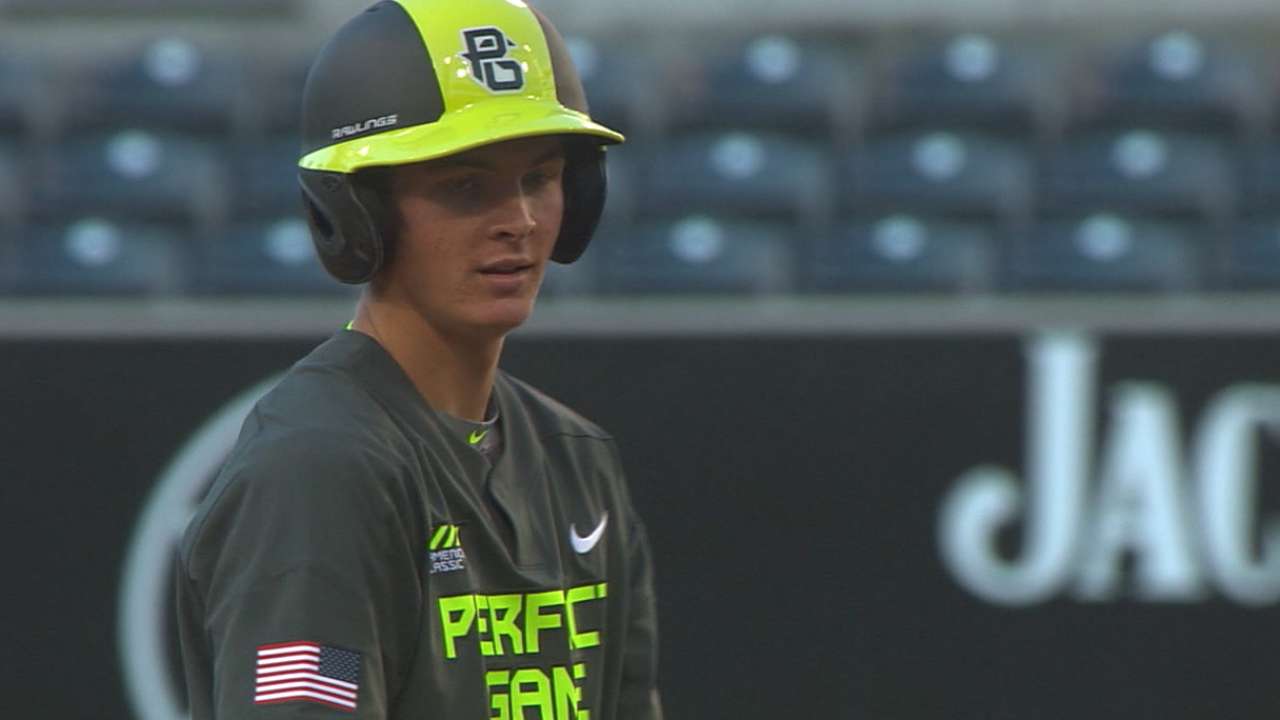 Last year's No. 1 overall pick in the Draft, Mickey Moniak, is at the center of that, and the club's No. 2 prospect continues to swing the bat well. So has Daniel Brito, who Jordan says is "neck and neck with Moniak on who is going to be the best bat long-term." He and Arquimedez Gamboa, who has looked very good thus far this spring, should form an exciting double-play combination.
Add in the potential rotation, with Sixto Sanchez and Adonis Medina ("He's been ridiculously good," Jordan said) leading the way, and it's sounding like a trip to southern Jersey will be in order for prospect fans.
"It's going to be a young club," Jordan said. "There might be some growing pains, but it might be really fun to watch later in the summer. Scouts are going to have to write a lot of reports. It's going to be a young, fun club."
Breakout candidates
When the Phillies took Greg Pickett in the eighth round of the 2015 Draft out of the Colorado high school ranks, they knew he might be a bit of a project. But they were willing to roll the dice on his raw power and gave him a little more than double pick value to sign. After a non-descript debut that summer, Pickett spent all of the 2016 season on the 60-day disabled list. If how he is punishing the ball this spring is any indication, he could be ready to start showing why the Phils wanted to sign him in the first place.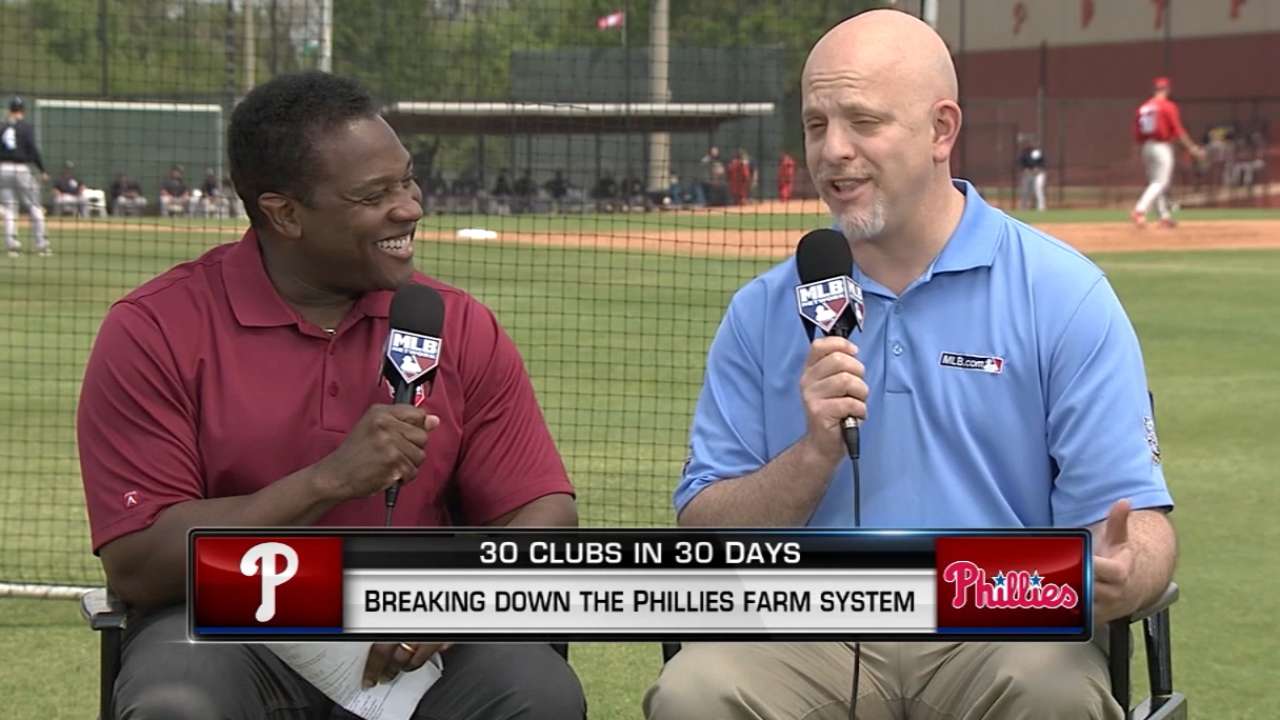 "He has the chance to be a really good hitter with power," Jordan said. "He's hit five home runs this spring. He took a 95-mph fastball from Luke Leftwich and hit it out to dead center out. It's legitimate power. He not a real athletic kid, he's going to have to play first, but the swing is really good."
Jordan also suggested that sleeping on Shane Watson might be a mistake. After injuries set the 2012 draftee back for a number of seasons, he logged more than 100 innings a year ago in the Florida State League. Watson has been sharp in camp, and Jordan is looking for him to carry that into the season.
"He's been 93-96 mph with his fastball and he's with the breaking ball he's always had when he's healthy," Jordan said. "I'm excited about him. It might be out of the bullpen, it might not be. It's an important year for him. He's a name people have forgotten about. He's healthy and he's looked strong."
Jonathan Mayo is a reporter for MLBPipeline.com. Follow him on Twitter @JonathanMayo and Facebook, and listen to him on the weekly Pipeline Podcast. This story was not subject to the approval of Major League Baseball or its clubs.
1
Philadelphia
Philadelphia News & Search
1 News - 1 eMovies - 1 eMusic - 1 eBooks - 1 Search