1
Philadelphia
Philadelphia News & Search
1 News - 1 eMovies - 1 eMusic - 1 eBooks - 1 Search
"We've been extremely competitive all year," Mackanin said afterward. "Hopefully in the near future I'm going to be able to say that we're winning those games and stepping up and getting that big hit when we need it late."
For the Phillies, that means finding a way to stay ahead, as they were for the first four innings on Saturday, breaking out for a 4-0 lead through 4 2/3 innings. The Nats climbed back in the game thanks to a four-run fifth inning off rookie starter Nick Pivetta, who was cruising through four scoreless innings. The 24-year-old right-hander's night ended after he allowed a two-run home run to Trea Turner, and a few batters later, a game-tying two-run double to Ryan Zimmerman.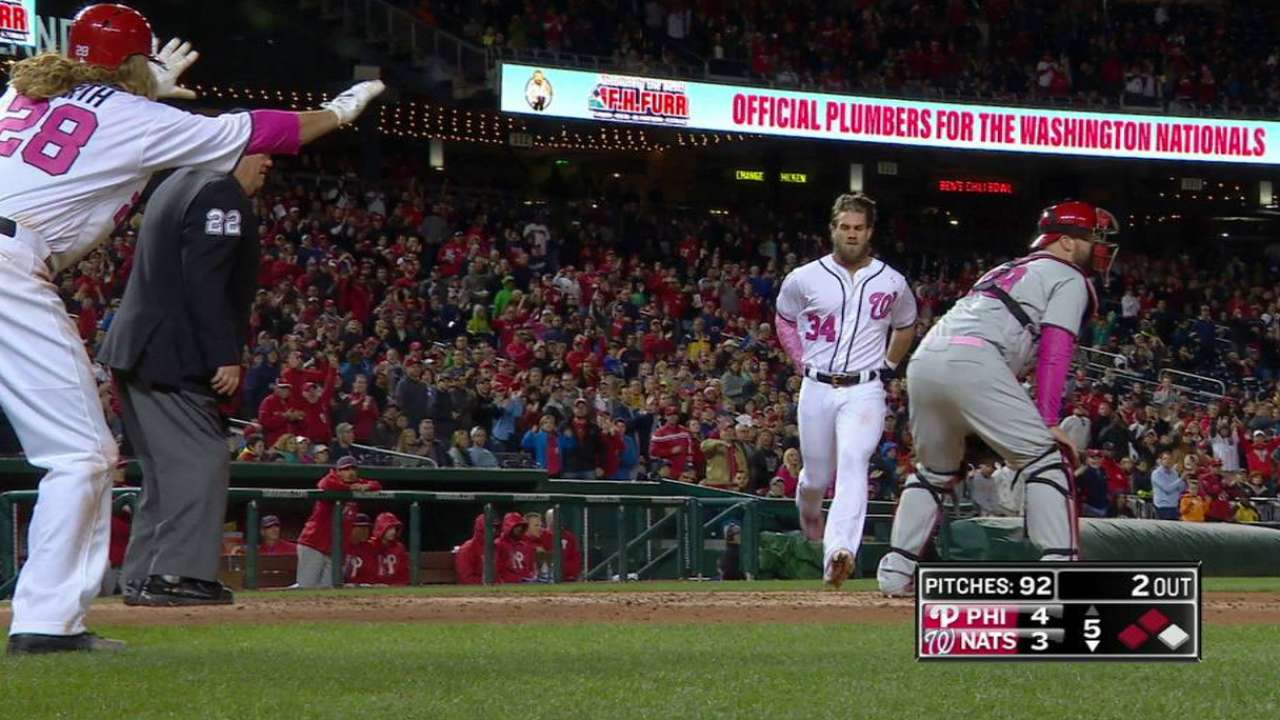 "That was a pretty big deal-breaker," Pivetta said. "It wasn't exactly how I wanted it to go."
But even after the game was tied, the Phillies had a few opportunities to get back out in front. In the seventh and ninth innings, the leadoff hitter reached base representing the go-ahead run, but was never driven home. That's one area Mackanin wants to see his team work on.
"We had some scoring opportunities, we just couldn't add on," Mackanin said. "That's what we have to do, especially with a team like this. We scratched and clawed for four runs … [the Nats] get them in bunches.
"I felt pretty good about that, we just couldn't come up with the big hit."
Then, of course, came the one problem that the Phillies — and most teams — can't do much about: The Nats have Harper, and they do not.
"He's out to win the game, and he's got that kind of a bat," Mackanin said of the Nats' All-Star outfielder. "That's what it takes to win a lot of these games."
The loss dropped the Phillies to 4-6 on the season against Washington. However, it also continued the trend of close games between these clubs, as Saturday marked the eighth time in the season series that a game was decided by two runs or less.
Daniel Shiferaw is a contributor to MLB.com based in Washington. This story was not subject to the approval of Major League Baseball or its clubs.
1 Philadelphia
Philadelphia News & Search
1 News - 1 eMovies - 1 eMusic - 1 eBooks - 1 Search