1
Philadelphia
Philadelphia News & Search
1 News - 1 eMovies - 1 eMusic - 1 eBooks - 1 Search
Hellickson threw a single pitch in the top third of the strike zone all afternoon, which Marlins outfielder Marcell Ozuna popped to short.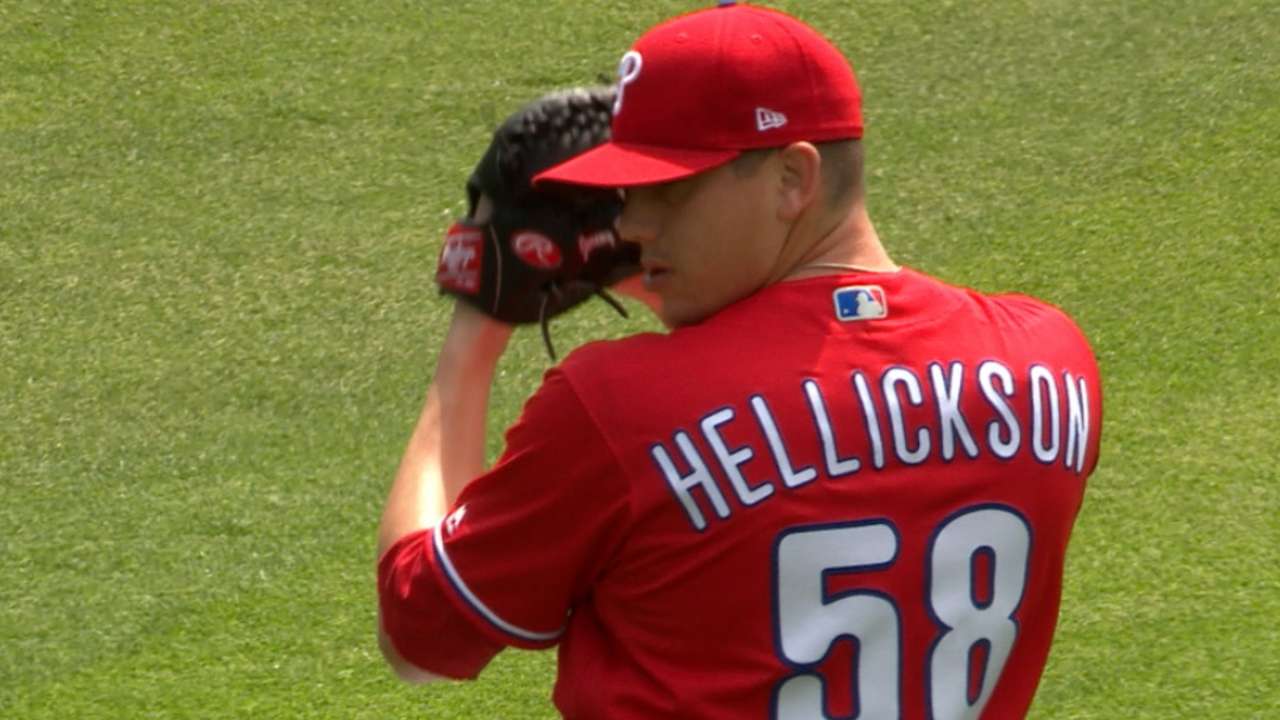 "That's what I'm trying to do," Hellickson said. "Stay down in the zone and get weak contact. I'd like to get a little more groundballs than I am. But I'll take weak flyballs all day."
Philadelphia has won six straight for the first time since April 26-May 1, 2016. And it's the club's first six-game winning streak against the NL East since winning seven in a row from July 5-Aug. 1, 2015.
The Marlins had chances after falling behind by two runs in the third inning, and they got on the board in the sixth inning off Hellickson. Giancarlo Stanton doubled and scored on J.T. Realmuto's single. And in the seventh inning, Christian Yelich added a run-scoring single.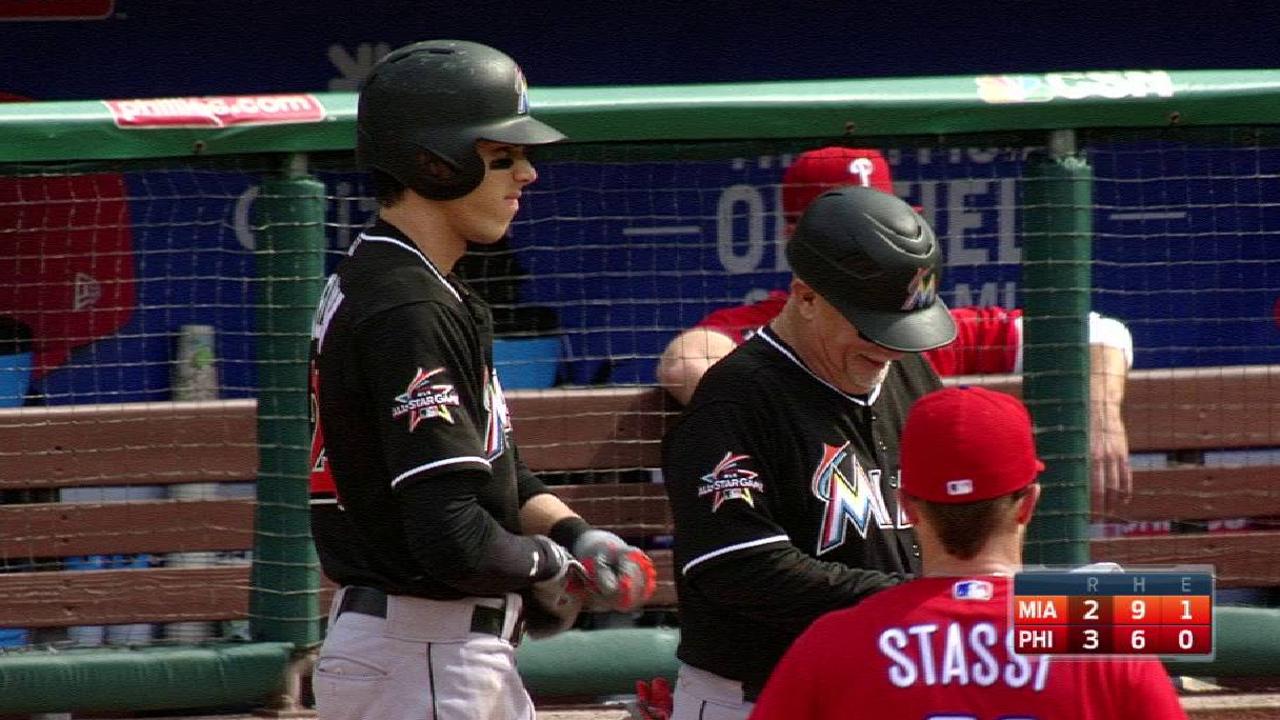 But Hellickson's ability to work out of jams held off Miami's offense just enough. Phillies manager Pete Mackanin attributes that to a combination of his experience, his command and his stuff.
"The experience comes out in the tough situations," Mackanin said. "He's one of those guys that understands that throwing the ball harder isn't better than throwing it softer. He's got such a good changeup and such a good curveball that when he's locating his fastball, he's getting hitters out with all of those pitches."
Hellickson now has a 2.61 ERA in 69 career innings against the Marlins. Miami finished its three-city road trip 3-5.
"It's still a work in progress, obviously, that we weren't able to get into him," Marlins manager Don Mattingly said. "We had a couple of chances there. We put a couple of guys on and don't do anything with him."
MOMENTS THAT MATTERED
Stassi's well-timed, placed triple: The first career triple for Brock Stassi was an impactful one. With two outs in the sixth inning, the left-handed-hitting first baseman laced a liner into the right-field corner, scoring Michael Saunders from first. Miami had just closed the gap to 2-1 in the top of the sixth, and Stassi's RBI hit off Edinson Volquez gave Philadelphia a two-run cushion.
On the close play at the plate, Realmuto thought he tagged Saunders out, but Miami didn't review the play. Replays showed Saunders got his hand in for the run.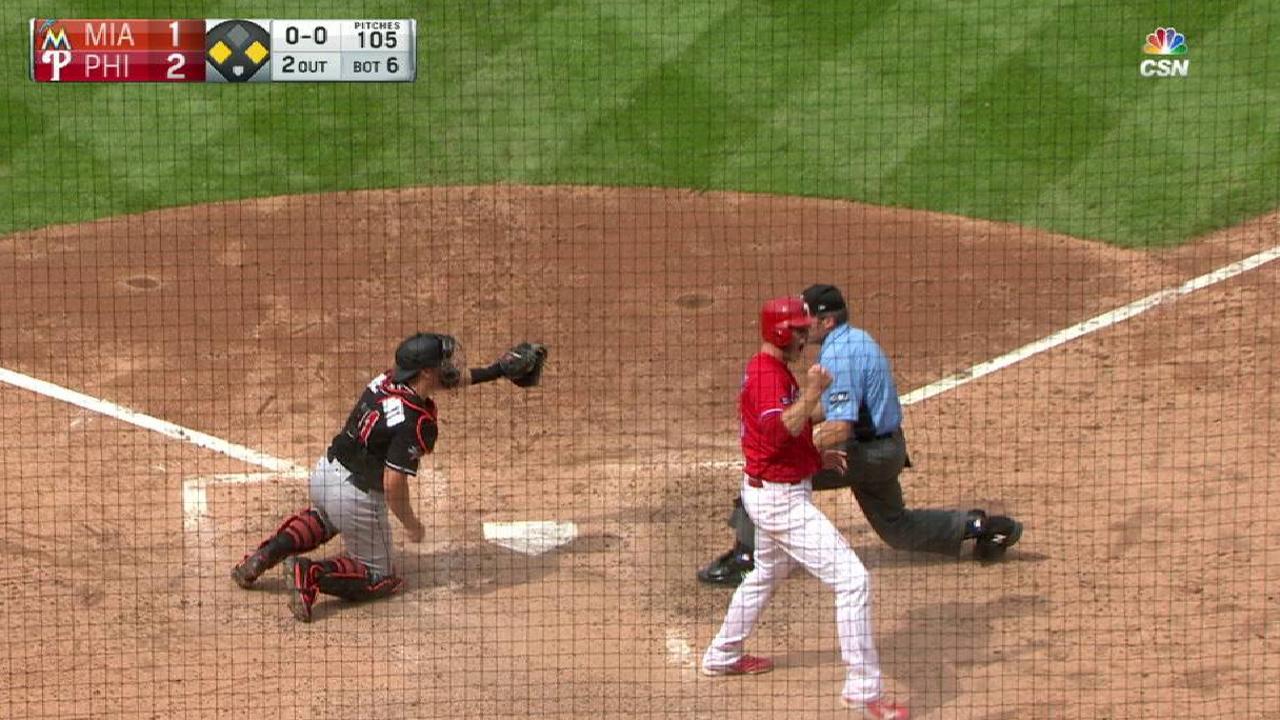 "I've got to focus on getting the glove to the plate more so than getting it to his body," Realmuto said of his tag attempt.
Changing speeds, escaping jam: The Marlins had a chance to make some noise and break through off Hellickson in the fourth inning. Martin Prado and Yelich each singled and a wild pitch advanced Prado to third. So with runners on first and third and no outs, and trailing 2-0, Miami was well positioned with Stanton, Ozuna and Realmuto lined up. But Hellickson fanned Stanton swinging through a changeup. Ozuna skied a changeup into a pop out to short, and Realmuto lined a changeup to short, leaving Miami empty-handed.
QUOTABLE
"We kind of battled back in San Diego and got a couple, and then come here. You don't feel a lot of energy. I don't know if it's the two days off. They were in the same situation. I didn't feel a lot of energy, even in the seventh there. We may have to do somethings differently, in terms of mixing things up." — Mattingly, on taking two of three at San Diego and dropping two at Philadelphia
SOUND SMART WITH YOUR FRIENDS
Stanton was 1-for-15 entering the game off Hellickson and was 1-for-17 before lining a double to left with one out in the sixth inning.
INSTANT REPLAY
The Phillies wasted little time using their replay challenge. In the first inning, after Odubel Herrera was called out trying to steal third base, Philadelphia challenged the ruling. After a review of one-minute, 34-seconds the call was ruled to stand, for the second out in the inning. Herrera had just swiped second, and was trying to get to third with one out.
Losing the challenge hurt the Phillies, because in the second inning, Realmuto singled to left. Replays showed Daniel Nava snared the sinking liner. But without a challenge, the hit counted. Still, it didn't cost Hellickson much, as he retired Justin Bour on a groundball to second.
The Marlins lost their challenge in the eighth inning when they appealed that Maikel Franco did not slide in a forceout at second. The call on the field of a clean slide was confirmed.
MARLINS MINOR LEAGUE MOVE
The Marlins on Thursday claimed right-hander Joe Gunkel off waivers from the Dodgers, and optioned him to Double-A Jacksonville. The addition of Gunkel, a native of Boynton Beach, Fla., fills Miami's roster at 40.
WHAT'S NEXT
Marlins: After their three-city, eight-game road trip (with one rainout), the Marlins return to Marlins Park on Friday to take on the Pirates at 7:10 p.m. ET. Left-hander Adam Conley (1-1, 3.00) gets the start for Miami. Right-hander Jameson Taillon (1-0, 2.13) goes for Pittsburgh. Conley has made one career start against the Pirates, and in a no-decision he struck out nine in six innings.
Phillies: The Phillies head to the West Coast for the first time this season for a three-game set with the 2016 National League West champion Los Angeles Dodgers. The series begins with a 10:10 p.m. ET start Friday pitting Jerad Eickhoff (0-1, 2.55) and Kenta Maeda (1-2, 8.05) against each other.
Watch every out-of-market regular-season game live on MLB.TV.
Joe Frisaro has covered the Marlins for MLB.com since 2002. Follow him on Twitter @JoeFrisaro and listen to his podcast.
Ben Harris is a reporter for MLB.com.
This story was not subject to the approval of Major League Baseball or its clubs.
1
Philadelphia
Philadelphia News & Search
1 News - 1 eMovies - 1 eMusic - 1 eBooks - 1 Search