1
Philadelphia
Philadelphia News & Search
1 News - 1 eMovies - 1 eMusic - 1 eBooks - 1 Search
Good question.
• Spring Training: Info | Tickets | Schedule | Gear
Galvis is the incumbent. Manager Pete Mackanin has repeatedly voiced the opinion that Galvis should have won a Gold Glove Award last season, and Mackanin never misses an opportunity to point it out when Galvis makes another great play in the field.
Crawford is the Phils' top-rated prospect, according to MLBPipeline.com, and the No. 6 prospect in all of baseball.
Now, competition is an essential ingredient in sports. But this isn't a simple case of deciding which player is better or who gives the team a better chance to win. What makes this so interesting is that Galvis and Crawford are such strikingly different players.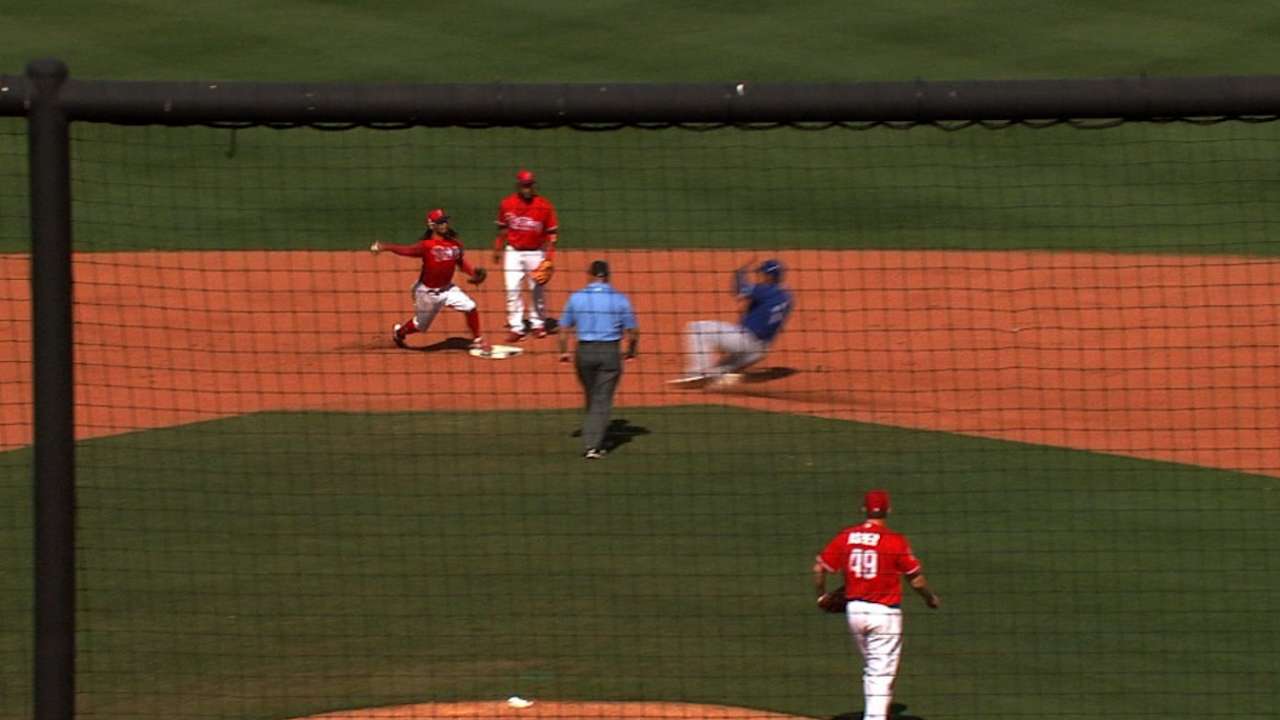 Galvis led all National League shortstops with a .987 fielding percentage and had errorless streaks of 44 and 50 games. Even though he hit 20 homers and drove in 67 runs last season, the emphasis these days tilts strongly toward on-base percentage. And in that vital category, Galvis' .274 ranked last among the 67 qualifying hitters in the league.
Crawford, conversely, has a career .372 OBP in four Minor League seasons.
General manager Matt Klentak, who was Dartmouth's starting shortstop for three years, outlined the dilemma without tipping his hand one way or the other.
"When we're putting together teams and building rosters — not only this year, but for future years — it's about putting players on the field to create value and produce wins," he said. "And that can take a lot of forms.
"There's no question that Freddy Galvis provides enough value doing exactly what he did in 2016 to be a shortstop on a playoff team. I have no doubt about it. His defense is that good. And I expect that J.P. Crawford, with a different style of play, can also be a championship-caliber shortstop."
Both players insist they aren't focusing on this invisible tug of war that is still in its early stages.
"For me, that's not on my mind," Galvis said. "I just try to go out there and play baseball the best I can. I just want to win games, man. That's what it's all about. This is about winning games and nothing more. If we think personal stuff, we are in the wrong place. We have to think like a team and go from there."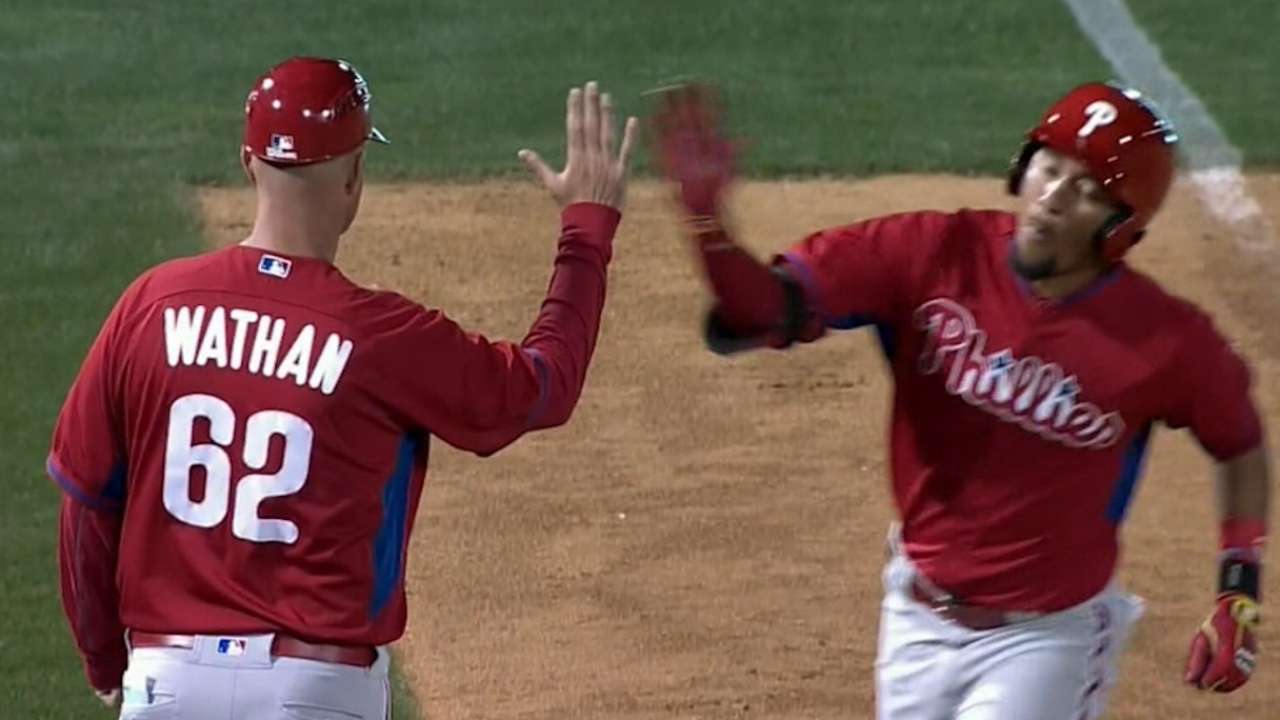 Said Crawford, after being reassigned to Minor League camp last Friday: "I'm not really thinking about that. I just have to go out there every day and get better. If they call me up, they call me up. I'm not worried about that."
After he was promoted from Double-A Reading to Triple-A Lehigh Valley on June 2, Crawford batted .244 in 87 games for the IronPigs. That may seem disappointing at first glance, but remember, he was just 21. That's 5 1/2 years younger than the average International League player.
"He didn't blow the league away, but he more than held his own," Klentak said. "And anytime we look at a player's performance in the Minor Leagues, we do so in context. Looking at it through the lens of how old they are. And for a 21-year-old, to do what he did for the second half of the season in Triple-A was pretty impressive."
Said Crawford: "At Triple-A, they adjust to you more than you adjust to them. They know how to get you out. A lot of them have been there, they've been in The Show, and they know how to get people out. I just have to go there, stay with my plan and stay within myself."
Then again, Galvis is only 27 and has more than four years of big league service time. Scouts and front-office people can project what Crawford might be able to do, but Galvis has already demonstrated it.
"The shortstop is the captain of the infield," Klentak said. "It's arguably the most difficult position on the field to play. So when you have someone like Freddy that's reliable to catch the ball and occasionally makes the dynamic defensive play, that's a real asset for the organization. Then, on top of that, you appreciate the leadership role Freddy's taken on in the last year and the impact he has on his teammates. That makes him all the more valuable."
Ultimately, what happens could come down to how the rest of the lineup sets up. The Phillies were outscored by 186 runs last season. If they are still struggling to score when Crawford is deemed ready, that could work in his favor. If the offense improves dramatically over the next season or two, more of a premium might be placed on the kind of defense Galvis provides.
Paul Hagen is a reporter for MLB.com. This story was not subject to the approval of Major League Baseball or its clubs.
1
Philadelphia
Philadelphia News & Search
1 News - 1 eMovies - 1 eMusic - 1 eBooks - 1 Search