1
Philadelphia
Philadelphia News & Search
1 News - 1 eMovies - 1 eMusic - 1 eBooks - 1 Search
A Philadelphia student who was injured in a charter tour bus crash is speaking out for the first time as she and her classmates continue to recover.
On Monday Kayla Daniels, 13, was on a bus carrying 25 other students at Charles W. Henry School along with three chaperones and a driver. The students were headed to a field trip in Washington, D.C. Daniels told NBC10 it was a trip she and her classmates had been looking forward to.
"We're all going to different high schools so it was fun that we would actually have the chance to be all together on one trip," she said.
Timeline of Philly Students' Tour Bus Crash on I-95
Daniels said they were all singing songs as the bus drove on I-95 in northeastern Maryland near Havre de Grace when a blue sedan began to pass them on the left. The car lost control and clipped the front of the bus, causing it to overturn, according to State Police.
"Then all of a sudden the bus started swerving and one of the kids yelled," Daniels said. "The first time it flipped over I guess I hit my head because after that I went to sleep and I don't remember anything else happening."
Students and Teachers Hurt in Tour Bus Crash on I-95 in Maryland
Daniels suffered bruises to her face. As of Tuesday, four of her classmates as well as a teacher, Brittany Jacobs, remain hospitalized. Jacobs, a special education teacher, is in critical condition.
"Miss Jacobs, she's always there whenever I need a problem solved," Daniels said.
Local Students Hurt in Maryland Bus Crash
Parents are thankful to the first responders, including a bus full of Philadelphia Police officers who were at the right place at the right time on I-95.
Philadelphia Officers on Bus Directly Behind Crash on I-95
"Give a thanks out to the officers who actually jumped out and helped them," said Kayla's father Haidache Daniels. "Put my hands out and clap. Because God sent them and if they weren't there, this situation might have been worse."
Philadelphia Officials on Scene of I-95 Bus Crash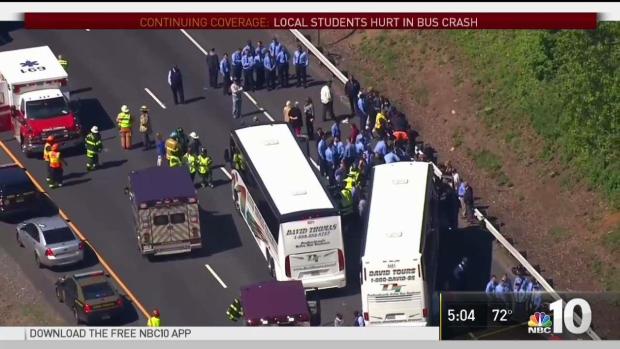 Published 2 minutes ago
1
Philadelphia
Philadelphia News & Search
1 News - 1 eMovies - 1 eMusic - 1 eBooks - 1 Search