1
Philadelphia
Philadelphia News & Search
1 News - 1 eMovies - 1 eMusic - 1 eBooks - 1 Search
"You never know when these innings are going to happen again," Phillies first baseman Tommy Joseph said. "As they keep piling you try to get as many as you can."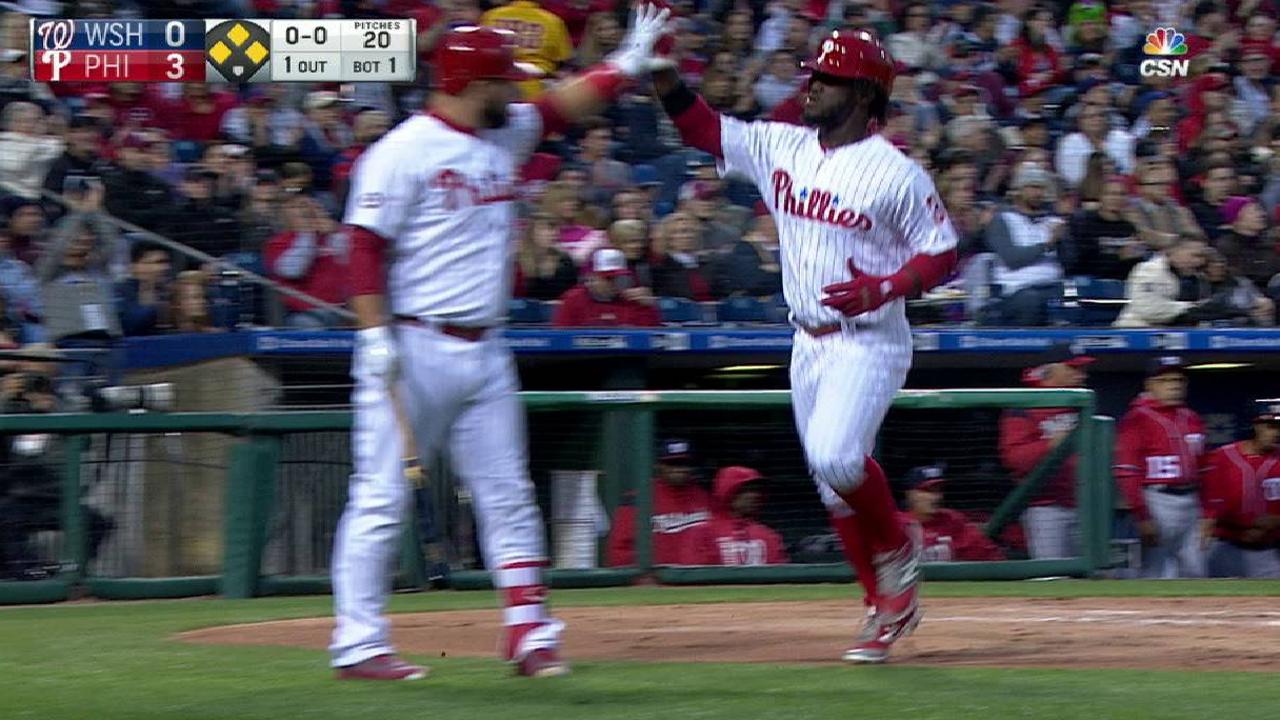 Howie Kendrick, Michael Saunders and Tommy Joseph each picked up two hits in the bottom half of the inning, which lasted just under 37 minutes. Nationals starter Jeremy Guthrie allowed 10 of the 12 runs and got only two outs in the first before he was removed from the game.
"Really helpless. You can't feel any more helpless than that," Nationals manager Dusty Baker said. "It's kind of like a nightmare inning, one after another."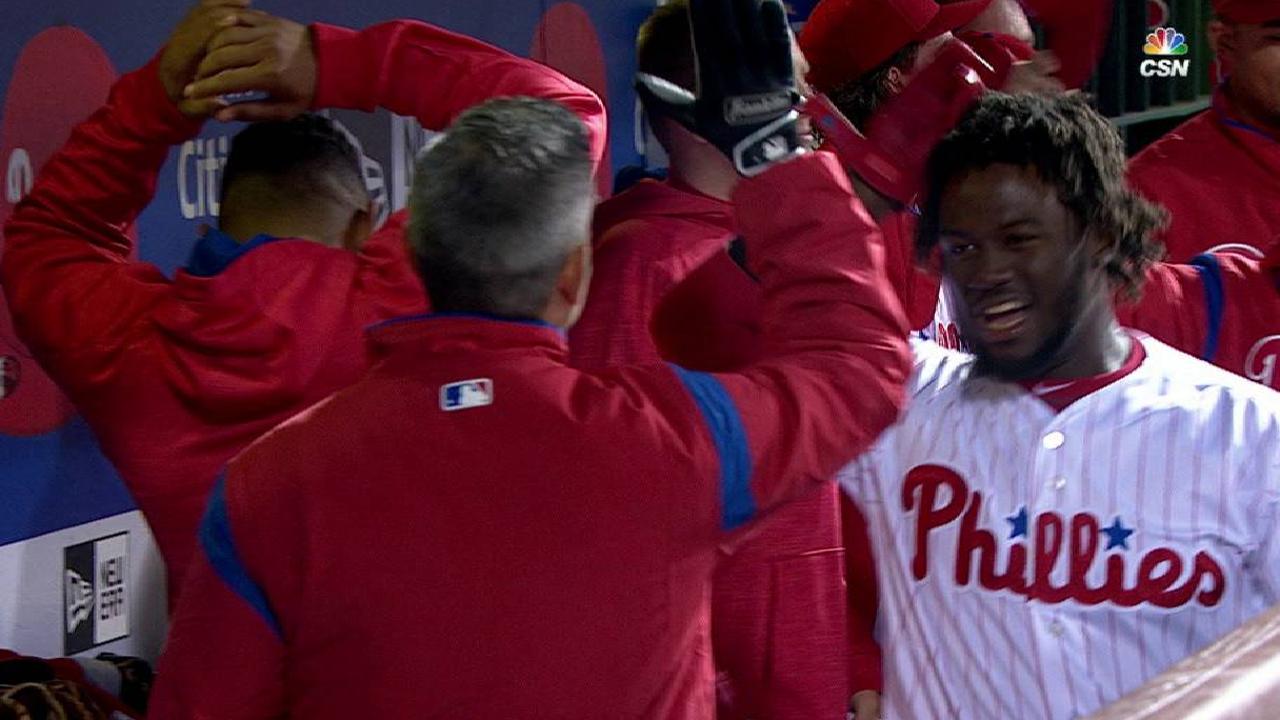 While the Phillies fell a run short of tying their franchise scoring record in any inning, they crushed their first-inning scoring record, which had been 10 and accomplished four times (most recently July 6, 2009, against the Reds). It also set a franchise record for the Nationals/Expos, who had never allowed 12 runs in an inning. They previously allowed 10 in an inning against the Brewers in 2010.
Phillies fans stood and applauded when Cameron Rupp struck out swinging to end the inning. They did not see the Phillies tie the record, but they got their money's worth.
The Phillies had not scored 17 or more runs in a game since July 6, 2009, when they scored 22 against the Reds. They scored 10 runs in that first inning.
"I think I take responsibility for what happened today," joked Saunders, who shaved his before the game following a 1-for-10 start.
MOMENTS THAT MATTERED
Nola debuts: Lost in the madness of the Phillies' 12-run first inning was a very important debut by Aaron Nola. There has been plenty of focus on him, considering the former No. 1 Draft pick's struggles before he landed on the DL in July with an injured right elbow. Nola allowed seven hits, three runs, two walks and struck out seven in six innings.
"Felt like just another start," Nola said. "I'm healthy. I know a lot of people are wondering, or have been wondering or are still wondering, but I'm healthy. And I feel great. I just want to stay healthy and maintain that for the remainder of the year."
Saving the bullpen: Guthrie never made it out of the first inning of his Nationals debut, forcing manager Dusty Baker to try and find 7 1/3 innings with an already tired relief core where three pitchers — Sammy Solis, Blake Treinen and Koda Glover — had thrown in at least the previous two games. That made Joe Blanton's performance even more important. He retired all nine batters he faced with three strikeouts in three scoreless innings to soften the blow to the Nationals bullpen. Still, the Nats are almost certain to promote an extra bullpen arm ahead of Sunday's series finale to provide some help for their taxed relievers.
"We're always concerned about that," Baker said. "Yeah, we'll do something."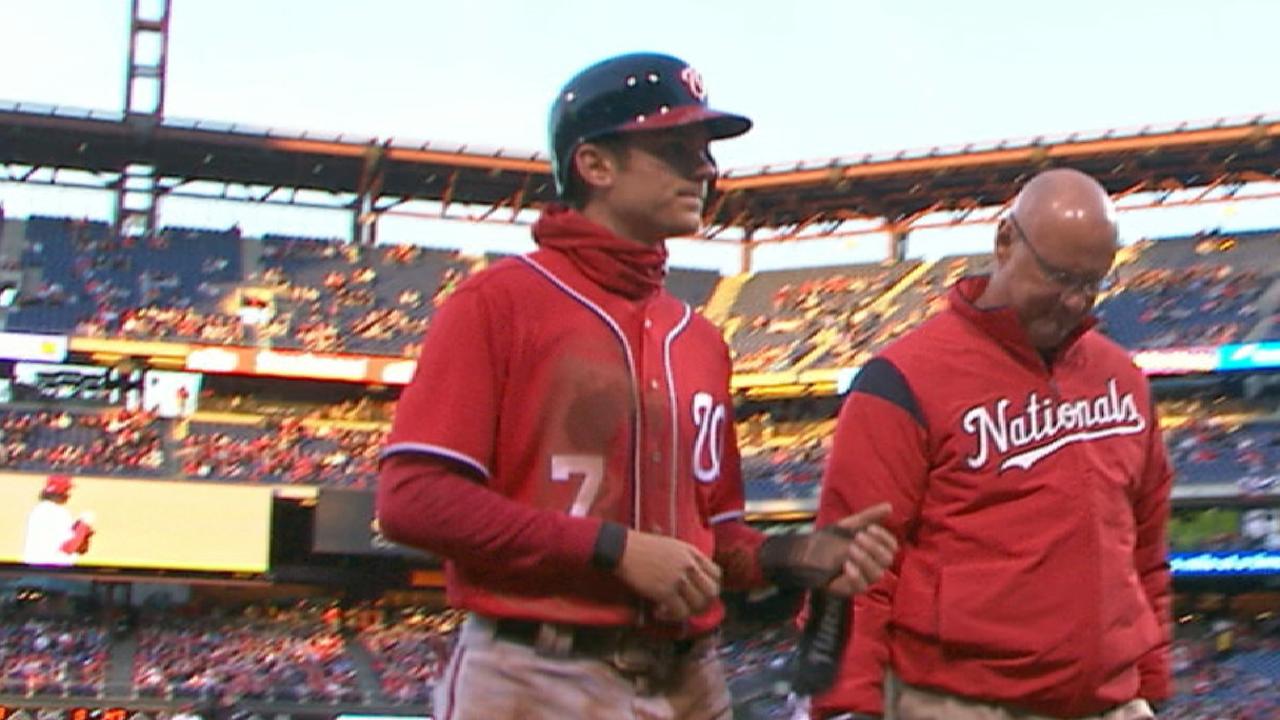 INJURY UPDATE
Trea Turner left the game in the first inning with a right hamstring injury. He began the game with an infield single, then felt the hamstring tighten up as he promptly stole second base. Once he was unable to score from second on a single from Daniel Murphy, he felt he should leave the game to avoid further damage.
"I don't think I tore it or pulled it or anything," Turner said. "I'm not limping or anything like that, so it's just a matter of giving it some rest and hopefully in a few days it'll feel good." More >
QUOTABLE
"First of all, in the short term, just a terrible loss, and put some guys in a position where they had to throw more innings than they should have to throw. It's going to shuffle things up a number of ways. And in the long term, you think about the work that you put in and the effort that you give, with new teammates and new coaches, a month and a half of that. And you feel like an outing like this, it kind of erases those feelings. Unfortunately, that's the way I feel right now. I just feel like six weeks of really good results and really good feelings about the work I've done and the way I've fit on this club, it's hard to think about it right now. It just kind of goes away in a moment." — Guthrie after Saturday's outing
"I'm going to call that a home run and a triple. So in my mind, he hit for the cycle today. That's the way I'm going to look at it." — Phillies manager Pete Mackanin, on Saunders' fifth-inning triple. It was inches from a home run, but the umpire review ruled it a triple.
SOUND SMART WITH YOUR FRIENDS
Statcast™ found some interesting tidbits about the Phillies' first inning:
• Five of the 11 batted balls were hit at 100+ mph.
• The hardest-hit ball was Franco's double that scored Herrera (102.8 mph).
• The luckiest hit was the first of Joseph's two singles. It had a hit probability of just 40 percent based in part on the 82.9 mph exit velocity and six degree launch angle.
• Elias Sports Bureau said the all-time first-inning scoring record is 16. The Boston Beaneaters posted 16 on Baltimore on June 18, 1894. Brooklyn scored 15 in the first inning against the Reds on May 21, 1952, for the modern record.
WHAT'S NEXT
Nationals: Stephen Strasburg (1-0, 2.57 ERA) will make his second start of the season in Sunday's series finale against the Phillies at 1:35 p.m. ET at Citizens Bank Park. He was efficient in a victory on Opening Day against the Marlins, needing just 85 pitches to get through seven innings of two-run ball.
Phillies: Right-hander Jeremy Hellickson (1-0, 1.80 ERA) pitches the series finale against the Nationals. Hellickson allowed six hits, one run, one walk and struck out one in five innings against the Reds on Opening Day. He also tripled, becoming the first pitcher in the big leagues to triple on Opening Day since 1963.
Watch every out-of-market regular-season game live on MLB.TV.
Todd Zolecki has covered the Phillies since 2003, and for MLB.com since 2009. Follow him on Twitter and listen to his podcast.
This story was not subject to the approval of Major League Baseball or its clubs.
1
Philadelphia
Philadelphia News & Search
1 News - 1 eMovies - 1 eMusic - 1 eBooks - 1 Search