1
Philadelphia
Philadelphia News & Search
1 News - 1 eMovies - 1 eMusic - 1 eBooks - 1 Search
The prayers for the sick and the shut-in had just been read at Love Zion Baptist Church in North Philadelphia when a woman approached the altar and asked the congregation to pray for a young man critically injured in a shooting down the block the night before.
For Pastor Clarence E. Wright, the previous Sunday's request was no shock. He's all too familiar with the violence in the 2500 block of North 23rd Street, where his church has stood for 33 years. On one occasion, a bullet flew through his office window. He's lost count of all the shootings. "It's sad, but there's so much violence around the area, to hear of a shooting is unfortunately not out of the ordinary," he said. "It wasn't until after the service I learned of the magnitude of this one."
The magnitude, according to police: Nine people — eight men and a woman — between 17 and 25 years old were shot on 23rd Street near Huntingdon around 10:38 p.m. May 20, when two gunmen opened fire on as many as 30 people dancing at an outdoor graduation party on a warm Saturday. Some reportedly had been sharing photos and videos on social media.
Screams drowned out the music. Chaos replaced joy. Two men were critically injured; one of them was shot five times, police said. "The more I kept running, the more I kept getting shot at," said a man in his 20s who was hit four times, and spoke on the condition of anonymity out of fear for his safety.
In a city inured to daily violence, the shooting of nine people at an outdoor celebration did not cause much consternation. No one stood up in City Council to decry the bloodbath. Few residents talked, police provided almost no details, and news reports were sketchy.
Ronald Crawford, an addiction counselor whose office is two blocks from the shooting scene, said the lack of outrage is frightening. "It happens so much, it's business as usual," he said. "If this happened in Bensalem, it would be called a mass shooting."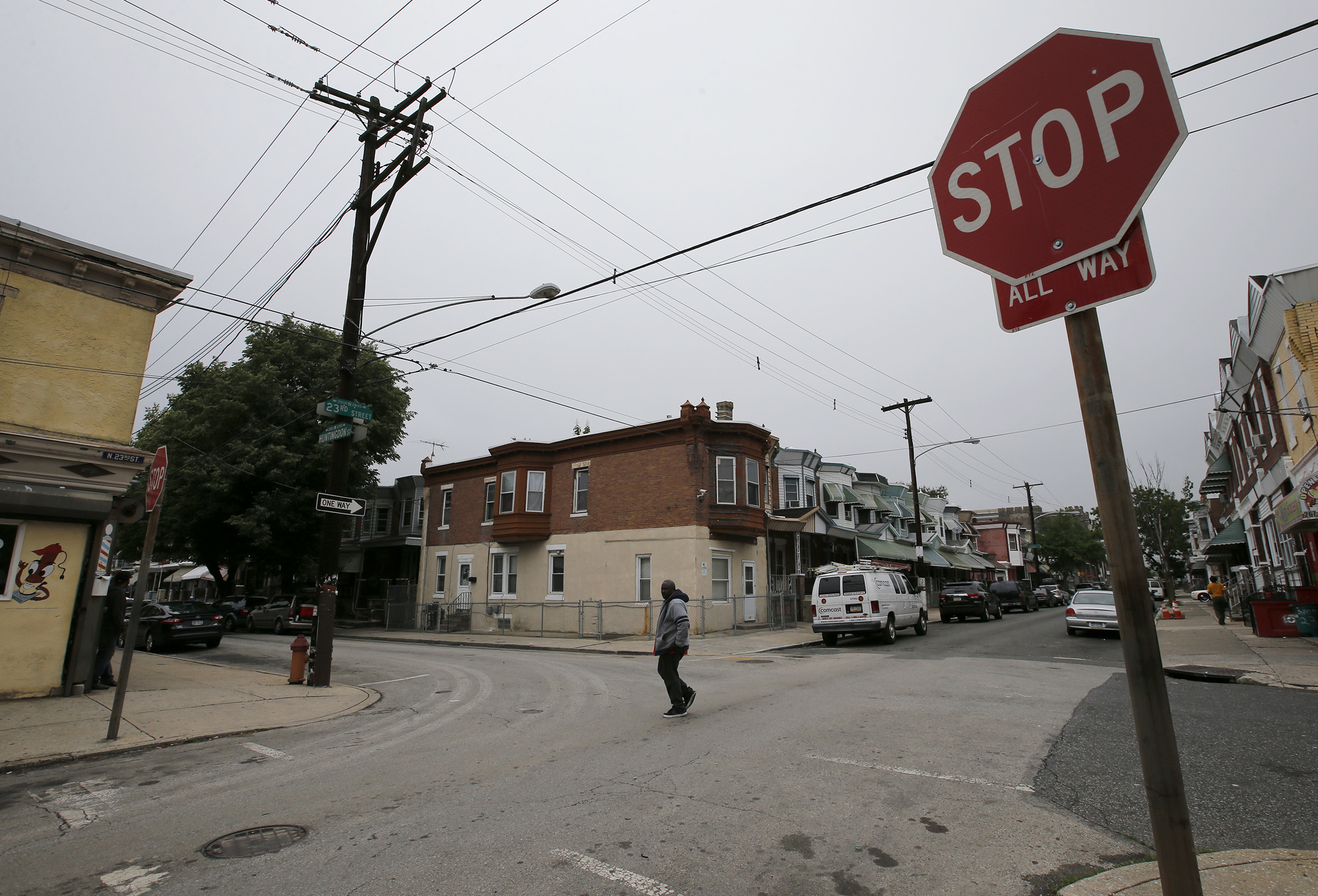 The North Philadelphia carnage was only the most glaring part of a bloody week in the city. In seven days starting Friday, May 19, at least 32 people were shot, four fatally. Twelve of the week's victims were shot within a mile in four incidents in North Philadelphia, including a 41-year-old man shot six times Wednesday afternoon, just two blocks from where the nine revelers were shot on that. Police have not said whether any of the cases were related.
More Than 30 Shootings Victims in One Week
From May 19 through May 25, at least 32 people were shot in Philadelphia in 20 incidents. Twelve of the victims were shot within a mile of the 2500 block of N. 23rd Street, where nine people were struck at an outdoor party on May 20.

<![CDATA[<![CDATA[<![CDATA[]]]]]]>]]]]>]]>
SOURCE: Philadelphia Police Department
"It's my job to encourage people, it's my job to give them hope, but, honestly, sometimes I feel the helplessness," Wright said. "We pray and we deal with issues of violence in the community and it just keeps happening. It keeps happening."
The man who asked to be unidentified said he'd been hanging out on the porch with his cousin when they heard people celebrating down the block and wandered over to the party. The neighbors get together like that regularly, he said.
But this time, a bullet struck his right hand, knocking his cellphone to the ground. "It flew out of my hand," he said. "That's when I started running."
Everything happened so fast, it was hard for him to remember: Three more bullets hit him, one in his left arm and one in each leg, as he ran to his cousin's house and then to his mother's house.
"A lot of blood was coming out of my arms and legs," he said.
The man's mother, who also asked not to be identified, said blood was "gushing" out of her son.
"My hand was shaking like a leaf," she said. She became nauseated and short of breath, she recalled.
The man ran outside and flagged down a police officer, who drove him to Temple University Hospital, where he was treated and released by Sunday afternoon.
He said he has no idea why someone shot at the group.
"We were just trying to chill, have a good time," he said. "I was just an innocent bystander minding my own business with my friends."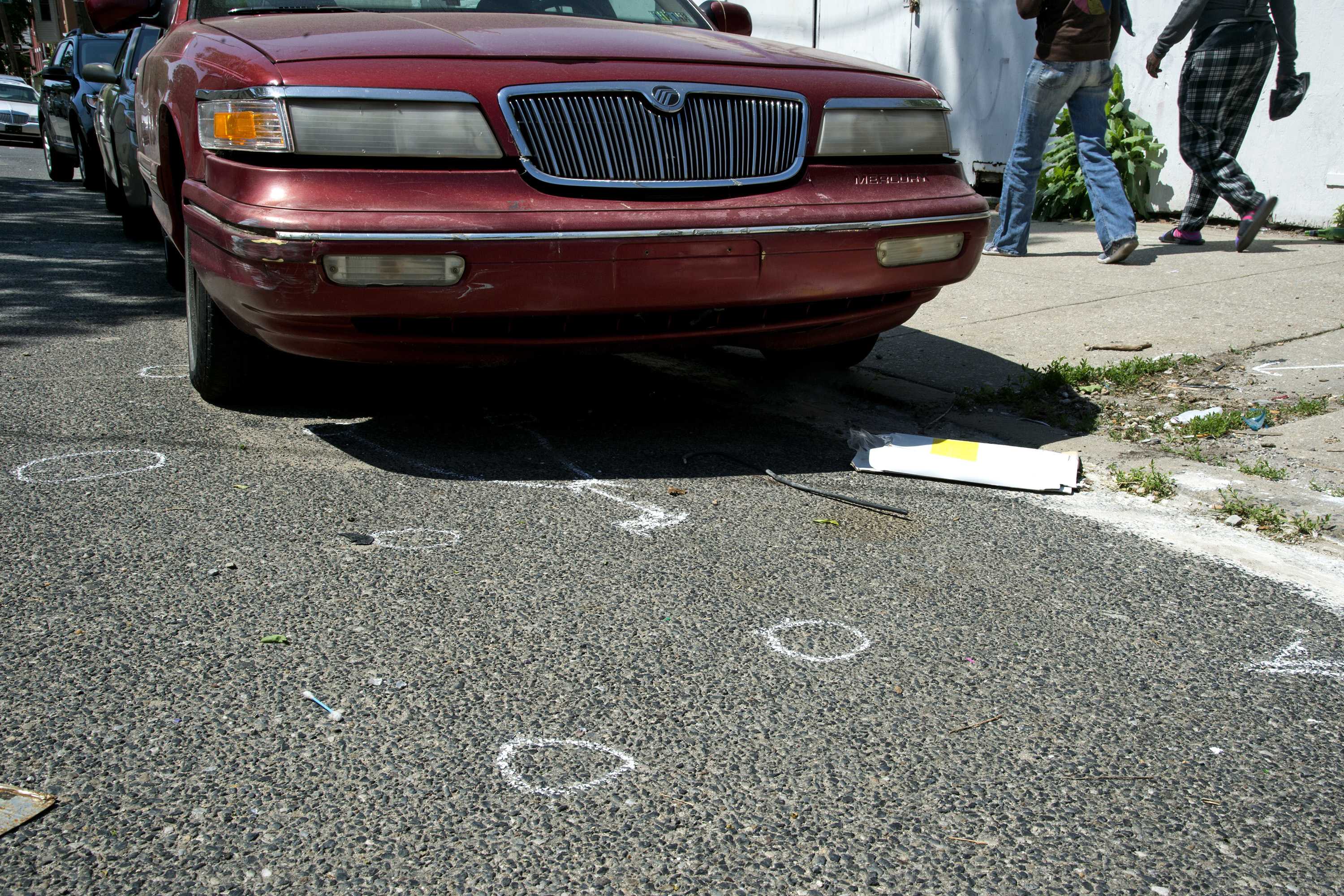 After almost a week, no arrests had been made, and police declined to offer specifics on the investigation. Rumors that the shooting was captured on Facebook Live have not been confirmed.
During the week, many residents declined to talk about the shooting, and police sources said they still were sorting through interviews.
Capt. Sekou Kinebrew, a police spokesman, said it was not uncommon for investigators to encounter hesitant witnesses or victims, whether out of fear that talking to police would result in additional violence or a reluctance to recount the trauma as a case wends its way through court.
"Just walking through the system … and having to relive what happened to you, that in itself is a stress," Kinebrew said.
Wright, the pastor, said residents often don't talk out of fear of retaliation.
"When you have to live on that block, you don't want to get wrapped up in whatever caused the original shooting," said Wright. "You have to balance safety of it happening again with the safety of it happening to you."
Crimes with multiple victims and a large number of witnesses can provide advantages to police, but also challenges, Kinebrew said.
"There's a greater pool of witnesses," he said. "But in terms of dissecting [the truth] … it does create a bit of a challenge of the investigation to weed out the stories."
9 or more have been shot before
If prior mass shootings of nine or more people in the city are any indication, there may be hope for an arrest — but little hope for public outcry.
In December 2000, four masked men stormed a drug house on the 800 block of Lex Street in West Philadelphia and shot 10 people, killing seven. Days afterward, the late Inquirer columnist Acel Moore wrote: "With the exceptions of a few antiviolence and community activists, there seems to be little overall outrage."
Four men initially charged with the Lex Street massacre were later let go, before another four were arrested and convicted.
In May 2011, two men fired 18 rounds from semiautomatic weapons into a crowd of patrons of the Felton Supper Club just as it was closing for the night. Nine people were hit, all of whom survived. The resulting ire from the neighborhood and from then-Mayor Michael Nutter centered more on the club, which was considered a nuisance, than on the perpetrators, One of the gunmen was arrested, convicted, and sentenced to 10 to 20 years in state prison. The other assailant was never identified.
In June 2015, 10 people — including three children — were shot when two men fired at dozens of people at a barbecue in Mantua. The Daily News reported at the time that "the resulting outcry was muted, at best." Two men were arrested, but charges against them were withdrawn, according to court records.
Crawford, a therapist with Stop and Surrender, a drug and alcohol recovery center two blocks from the shooting scene at 23rd and Huntingdon, lamented that victims and witnesses of such bloodshed rarely seek therapy for post-traumatic stress disorder.
"If somebody sees somebody getting shot and he gets PTSD, his symptoms could include becoming easily agitated, having hyper-arousal, and a shortened life expectancy," Crawford said. "So when somebody steps on my foot, I get my gun."
Crawford said he doesn't know what happened in this case, but he said that these days a lot of young, black men are using Percocets, PCP, and other drugs that numb them to the violence and "make you forget even about the code of street behavior."
"These weapons these kids have today, the caliber of bullets are bigger, and they do more damage," he said. "When people see someone's face shot off, it's a war scene. The drugs need to be harder to make you forget about that. I mean, this is so normal that guys see brain matter and then they go and get pizza."
Marla Davis, director of Philadelphia CeaseFire, said everyone who eats, sleeps, works, plays, and attends school in Philadelphia needs to take ownership in stemming gun violence.
"One of the stark differences between us and Chicago … is they know they have a problem, so everyone from Whole Foods to the Chicago White Sox does what they can," she said. "We are not there. I know some people have concern, but for whatever reason, it's business as usual for a couple days and we go on."
But the victim's mother remains shaken. If her son were not safe at a casual gathering of friends down the street, how could she ensure that all three of her sons could remain safe when they left home?
"I want to keep them inside, lock the door," she said. "But you can't."
<![CDATA[<![CDATA[]]]]>]]>
<![CDATA[<![CDATA[]]]]>]]>
Please enable JavaScript to view the comments powered by Disqus.
1
Philadelphia
Philadelphia News & Search
1 News - 1 eMovies - 1 eMusic - 1 eBooks - 1 Search