1
Philadelphia
Philadelphia News & Search
1 News - 1 eMovies - 1 eMusic - 1 eBooks - 1 Search
After the unexpected birth of a pair of jaguars, a Montgomery County zoo is giving the public the opportunity to meet the cute duo and their parents.
The Elmwood Park Zoo's Trail of the Jaguar exhibit opens to the public Friday. The exhibit will feature the twins this summer and for now, visitors can meet their parent Inka and Zean.
No humans ever go into the exhibit with the jaguars so everything is done through a fence, including feeding time, zookeeper Hannah Fullmer told NBC10.






Behind The Scenes: Elmwood Park Zoo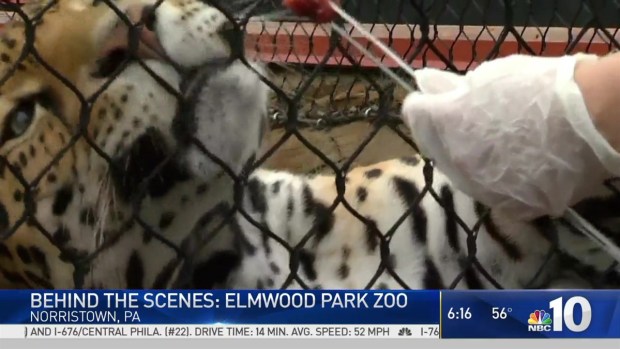 "We put a lot of time, effort and passion into their care and welfare is, obviously, one of our No. 1 priorities here," Fullmer said. "They didn't choose this lifestyle, they were born into it and thankfully when they were born into it, they're much more comfortable so it doesn't take quite as much work."
The exhibit at the Norristown zoo will be home to siblings Diego and Luna.






Cute Alert: Elmwood Park Zoo Names Jaguar Cubs
The births of the cubs came unexpectedly. Since the birth, the cubs have slowly grown and become "quite the handful" for their mother, the zoo said. 
The jaguars' parents were introduced at the Norristown, Pennsylvania zoo in October 2016, said the zoo.
Carnivorous jaguars, which usually live between 12 to 15 years, are South America's biggest cats, weighing in between 100 to 250 pounds and measuring up to 6-feet long as adults, according to National Geographic. They are considered "near threatened" due to loss of natural habitat, the zoo said.






Adorable Zoo Babies: Day-Old Sea Lion Pup
Published 30 minutes ago | Updated 26 minutes ago
1
Philadelphia
Philadelphia News & Search
1 News - 1 eMovies - 1 eMusic - 1 eBooks - 1 Search