1
Philadelphia
Philadelphia News & Search
1 News - 1 eMovies - 1 eMusic - 1 eBooks - 1 Search
Margaret Kearney DeAngelis, 89, who became an Immaculata University institution over more than three decades as a student, staff member and administrator while raising nine children in a loud, lively West Chester home, died Monday, Aug. 28, of a stroke at Neighborhood Hospice in West Chester.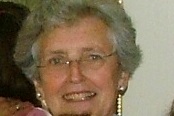 "The Immaculata community will always remember Mag for being an amazing mother, colleague, and special friend. Mag had strong faith and left a lasting impression on everyone she met. No task was too big or too small, and was always accomplished with a wonderful sense of humor," said Karen D. Matweychuk '83, Director of Alumni Relations.
Mrs. DeAngelis was born and grew up in West Philadelphia, graduating from West Catholic Girls High School in 1946. Six years later, she married Eugene F. DeAngelis, a World War II veteran and Pennsylvania Railroad engineer. The couple moved to Chester County shortly after the birth of their first child, Eugene Jr., in 1954.
Mrs. DeAngelis gave birth for the last time in 1966, to identical twins named in honor of SS. Philip and James, a Roman Catholic parish in Exton for which she was a founding member.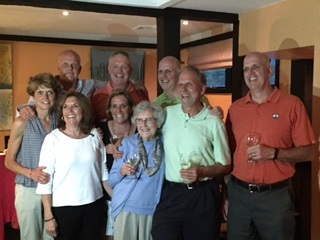 Her connection with Immaculata began when she enrolled as a part-time student; she took her first class the same week the twins started first grade, and she worked on the college's old-fashioned telephone switchboard to help pay her tuition.
"When I was a student in the early eighties, I remember Mag working at the switchboard while raising a large family and earning her degree," said Matweychuk. "She raised the bar for all students during that time, and was always there with a friendly smile, supportive ear, and encouragement."
Mrs. DeAngelis graduated from Immaculata in 1985, within days of when the twins finished high school. She used her bachelor's degree in English to land a job as the school's assistant public relations director and was quickly promoted to director of alumni relations. She spent the next 15 years writing, networking, and calling upon her institutional knowledge to  maintain important friendships for Immaculata.
"As Immaculata's alumni director, she left a lasting impression on alumni from all decades," Matweychuk said. "Many of us had the privilege of getting to know her remarkable family as well, since they were often called into action when more helping hands were needed for an Immaculata event."
"This is not a shy woman we're talking about," said her son, Martin DeAngelis. "If she needed something, you knew it. She would draft whoever was available."
Her snappy writing style was highlighted in the Immaculata Magazine. In a 2002 story profiling alumna Joan Reilly '82, Mrs. DeAngelis wrote: "A guidance counselor.. suggested that she go see a small liberal arts college near Philadelphia, known at one time to be a basketball powerhouse, but more important, to have an excellent academic reputation. She came, she saw, and the Immaculata campus conquered. She started her freshman year at the college in 1978, and she's never regretted the choice."
In 2004, two years after she retired, her colleagues and the college dedicated a campus garden in her honor. They presented her with a plaque that said, in part, "Thank you, Mag, for the seeds of love you have sown in our hearts and in our lives."
During and following her days as a working mother, Mrs. DeAngelis specialized in nurturing children, including 17 grandchildren. She taught Sunday school to kindergartners at her parish for nearly 40 years, well into her eighties.
Money was often tight in the DeAngelis household, and she admitted to being a terrible housekeeper, yet her home was the place where her children and their many friends wanted to be. Punctuality wasn't her strong suit. She liked to say that in her home, "dinner was served promptly between 5 and 10 p.m.," her children said.
Even the neighbors were drawn to her. "She was our second Mom, always taking us in for those home-cooked meals," Karen Marple-Dunn, a former neighbor, posted online. "I have fond memories of growing up with the DeAngelis family. You all are in my thoughts and prayers."
Besides her son, Martin, and 17 grandchildren, Mrs. DeAngelis is survived by sons Matthew, John, Philip and James; daughters Margaret Jane Roberts, Ann Dorothy and Mary Elizabeth DeAngelis. Mrs. DeAngelis's husband died in 1985 at age 62, and her eldest son, Eugene Jr., died in 2008 at age 54.
Viewings will be held from 6 to 8:30 p.m. Thursday, Aug. 31, at Logan Funeral Home, 698 E. Lincoln Highway, Exton, and from 9:30 to 10:45 a.m. Friday, Sept. 1, at SS. Philip & James Roman Catholic Church, 107 N. Ship Rd., Exton. There will be an 11 a.m. Mass of Christian Burial on Friday at the church. Burial is in St. Agnes Cemetery, West Chester.
Donations may be made to Camilla Hall, 1145 King Rd., Box 100, Immaculata, Pa. 19345; or St. Francis Inn – Kensington, P.O. Box 3746, Philadelphia, Pa. 19125.
1
Philadelphia
Philadelphia News & Search
1 News - 1 eMovies - 1 eMusic - 1 eBooks - 1 Search