1
Philadelphia
Philadelphia News & Search
1 News - 1 eMovies - 1 eMusic - 1 eBooks - 1 Search
A man who gained accolades across the country after breaking up a fight between two teens in a viral video received another honor from talk show host and comedian Steve Harvey.
Ibn Ali Miller, 27, spoke with Harvey in an exclusive interview that will air during Monday's episode of Steve Harvey on NBC10 at 2 p.m. Since gaining fame, Miller has turned down most interviews but decided to make an exception when Harvey reached out to him.
"I'm not a TV guy," Miller told Harvey. "This is not for me. I did you because of what you do off camera — because you care about young black men in America."
Miller will receive a "Harvey's Hero" award during the episode. Harvey also spoke with the two teens who Miller stopped from fighting, Jamar Mobley and Sheldon Ward.
AC Viral Video Teaches Important Lesson
In a video posted last month that has since gone viral, Mobley and Ward are fighting on the corner of McKinley and Indiana avenues in Atlantic City as onlookers cheer and laugh. Mobley told NBC10 the fight was over a girl.
"I don't know what happened," Mobley said. "I'm a straight-A student. I don't know how I ended up fighting this man."
As Mobley and Ward fought, Miller suddenly walked over and stepped in between the two teens.
"Everybody with your phones out? All ya'll? Ya'll the real cowards! Record that too," Miller said. 
Man Who Broke Up Fight Between Teens in Viral Video Receives Honor in Atlantic City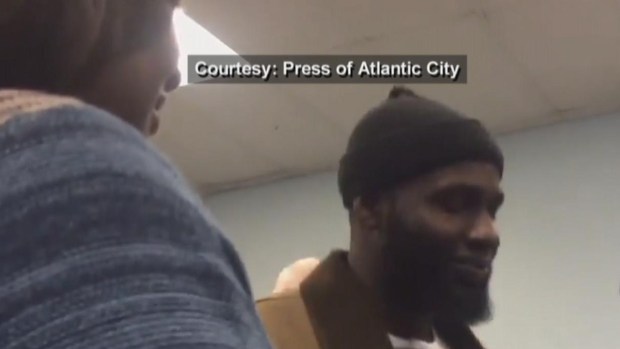 Miller then spoke to the teens and the crowd for nearly four minutes, urging the boys to stop fighting and criticizing the crowd for encouraging the scuffle.
"You think it's a game out here?" Miller asked. "Ain't no game out here."
Miller made it clear to the teens that the crowd was laughing at them, not with them, and that their parents would be ashamed.
"The one thing he said that got through to me was that, he explained that all my friends, who I thought were my friends, all of them just wanted to see a fight," Mobley said.
Miller ended his speech by telling the teens to shake hands and make peace, saying he would not leave until they did so. The video ends with Mobley shaking Ward's hand.
Miller's friend Ramal Ford told NBC10 he was not surprised at all by the video.
"What he did was pretty indicative of what I've come to know from him as a person," Ford said. "I applaud him. He understood how to deescalate the situation and sometimes it's just the right words."
Since it was posted on Facebook the video has received 35 million views and more than 769,000 shares. One of those views came from Atlantic City Councilman Marty Small.
"Normally videos that go viral are very negative," Small said. "Very harmful to people. He stepped up and was a real man about the situation and he made Atlantic City look great."
NBA superstar LeBron James also retweeted the video after it was posted on Twitter.
So dope!!! #Salute the homie who stepped in and spoke real to our young generation. We all need a word or 2 to help! https://t.co/hJ4BT611sw

— LeBron James (@KingJames) March 21, 2017
"That was crazy," Mobley said. "It happened like overnight! When I saw LeBron James I'm like, 'That's crazy!' People die just to use his shoes and he retweeted something I posted? That's crazy!"
Ford told NBC10 the video is something that residents of Atlantic City needed to see.
"This was timely," Ford said. "Last month, even more than a month it's been a lot of deaths in the same area."
Miller, a father of five who played high school football in Atlantic City and is currently taking college courses, was honored by Atlantic City council for his actions. Mobley and Ward were honored as well. Miller fought back tears while thanking his own mother for raising him to be the man he is today.
"When I was young I grew up in the projects," Miller said. "When I would get on punishment she would make me read books. I'm crying because this whole situation deeply saddens me. The fact that it's unbelievable. This should be very believable. This should be a norm and it should be regular."
Miller also praised the parents of Mobley and Ward.
"I want to thank the people who raised these young men as well," Miller said. "Because they raised them to be young men of reason which seems to be a very, very rare trait in today's youth."
Published 31 minutes ago
1
Philadelphia
Philadelphia News & Search
1 News - 1 eMovies - 1 eMusic - 1 eBooks - 1 Search