1
Philadelphia
Philadelphia News & Search
1 News - 1 eMovies - 1 eMusic - 1 eBooks - 1 Search
The Phillies are in a precarious position. They certainly have depth available to fill out a starting rotation. A plethora of young arms — Ben Lively, Nick Pivetta, Zach Eflin — could fill out the back of a rotation whose only three guarantees for 2018 look to be Aaron Nola, Jerad Eickhoff and Vince Velasquez. Nola's a lock atop the rotation, but Velasquez has everything to prove and Eickhoff has taken a step back this year.
Given the lack of stone-cold guarantees and experienced arms, Mackanin wants to guard against what he's seen this season — the Phils ranked 23rd in baseball in starting rotation ERA (4.82) and opposing batting average (.268) heading into Saturday's game vs. the Cubs.
This push and pull between developing players in the Minors and letting them figure it out at the big league level is tenuous. It can take players a number of callups and demotions, alterations and adjustments, before they "figure it out," Mackanin said.
Pivetta, whom the Phillies will recall from Triple-A Lehigh Valley to start Sunday's game, is a prime example. He's flashed the stuff — hard thrower, sharp breaking ball — to fill out a Major League rotation, but he needs to drastically improve his fastball command.
"That's what it's all about," Mackanin said. "It could be mechanical, it could be partially upstairs, or overthrowing, guiding the ball, a number of things. A flaw in a mechanic. Usually it amounts to a lot of that stuff and until it sinks in …"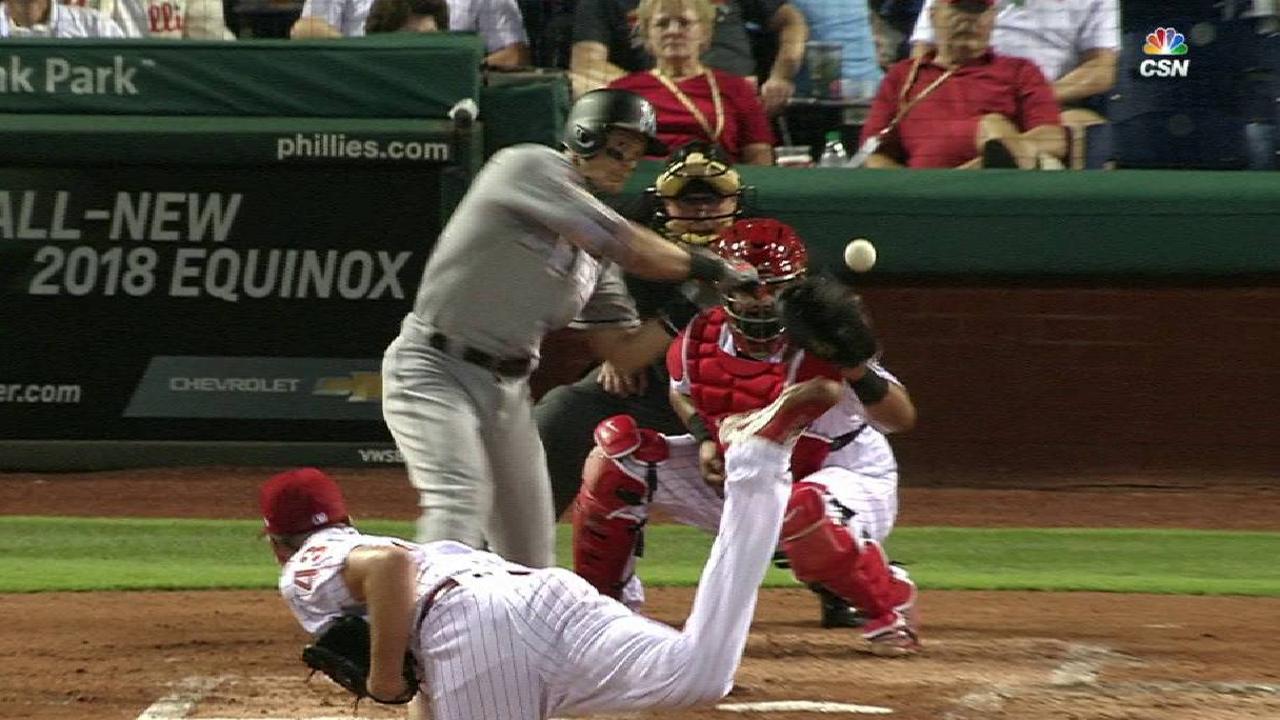 Mackanin, who will serve his 50th year in the game next season, has seen these scenarios played out over and over in his career. Before first becoming a Major League manager, he was a big leaguer, a scout, a Minor League manager, and a bench coach. He knows, and has seen firsthand, the adjustments a player must make.
"You can look at the players that we have here, I've seen them all before," Mackanin said. "So you base your opinion — you end up thinking if he gets it, if he starts commanding his fastball or starts being able to pitch backwards, or if he can throw a breaking ball on a 3-2 count with the bases loaded to get a guy out, that's what determines how successful that player is going to be. It's all those things combined."
Take Adam Morgan, for example. An unsuccessful starting pitcher who embraced a bullpen role this season and has seen his velocity and effectiveness skyrocket.
"[Morgan] handles lefties well, but it took him a while to do that," Mackanin said. "There's no set pace on how or if a guy is going to make it."
This offseason will determine whether, for a second consecutive year, Mackanin gets his wish. If he must spend much of the season creating a patchwork rotation as he did this year, he will. But he'd rather add talent and minimize the question marks.
"You just have to choose the guy you think has got the most potential and hope that he makes it. In the meantime you try to surround him with the [Jeremy Hellicksons] of the world, or try to even do better than that," Mackanin said.
Ben Harris is a reporter for MLB.com based in Philadelphia and covered the Phillies on Saturday. This story was not subject to the approval of Major League Baseball or its clubs.
1
Philadelphia
Philadelphia News & Search
1 News - 1 eMovies - 1 eMusic - 1 eBooks - 1 Search