1
Philadelphia
Philadelphia News & Search
1 News - 1 eMovies - 1 eMusic - 1 eBooks - 1 Search
"We need to step it up," Mackanin said. "We're better than this. I know we're better than this. We've just got to start playing as aggressive as we can and take it to the other team. Be aggressive at the plate and pound the strike zone."
The Phillies managed just one hit in eight innings against Reds right-hander Tim Adleman before Odubel Herrera doubled off the right-field wall with one out in the ninth. They scored twice in the inning.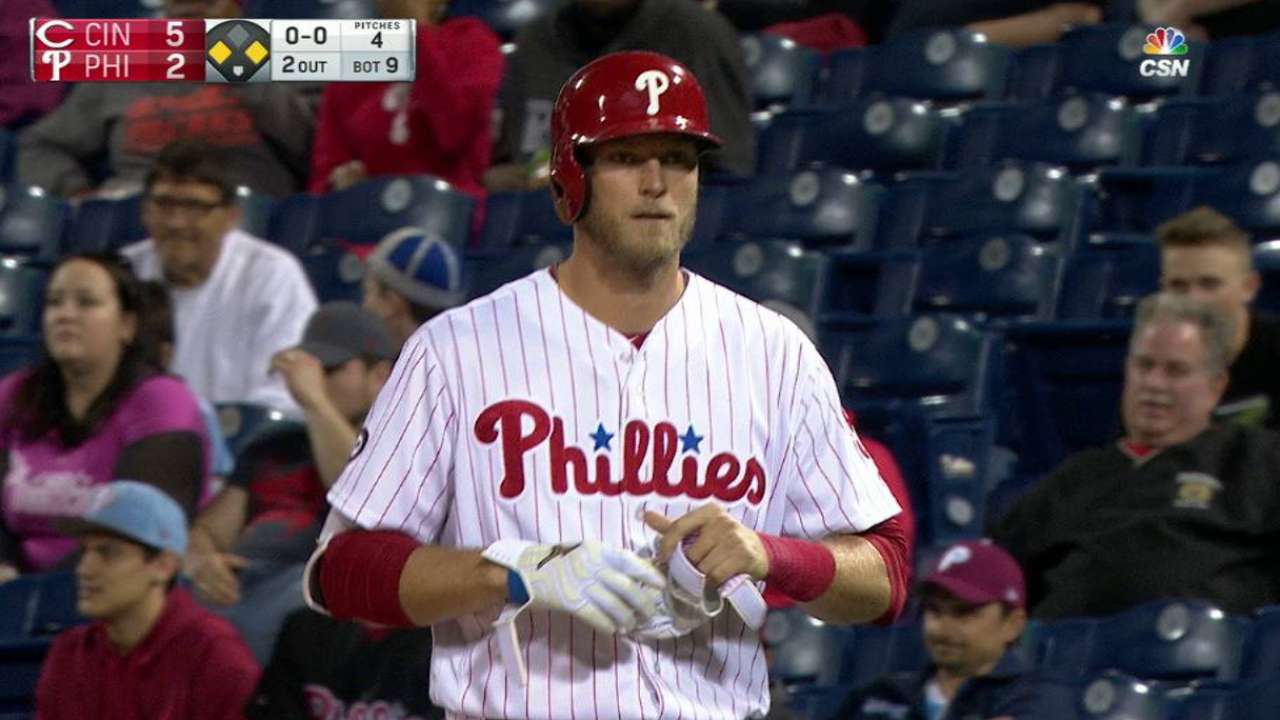 The Phillies have scored just nine runs in their past six games. They had three hits Sunday in Pittsburgh, three hits in Monday and Wednesday's games against the Rockies and three hits in the series opener against the Reds.
"Are we not hitting the ball like we should, or is the pitcher that good?" said Mackanin, who had a more casual meeting with his team before a May 19 game in Pittsburgh. "It seems like I look up and every other pitcher we face has a 6.00 ERA."
Mackanin is correct. Look at the pitchers the Phillies have faced this week: Chad Kuhl (6.69 ERA entering the game) on Sunday, Jeff Hoffman (5.40 ERA) on Monday, German Marquez (4.34 ERA) on Tuesday, Tyler Chatwood (5.09 ERA) on Wednesday, Tyler Anderson (6.00 ERA) on Thursday and Adleman (6.19 ERA) on Friday.
"He just wants to see us play with a little more fire and a little more energy," said Aaron Altherr, who doubled in the Phillies' first run in the ninth. "You know, it's something we've got to do. Today wasn't too great. But hopefully we can right the ship and start winning some games again."
"There's a pretty good understanding that we need to get going in here," Tommy Joseph said.
Phillies right fielder Michael Saunders, who knocked in the second run with a groundout, is one of the only veterans on the team. He has been on losing teams before.
"We had a meeting in Spring Training about expecting to win," Saunders said. "If you lose the night before, come the next day expecting to win. I just think we're not all on the same page. We're pitching great, then we're not hitting. We're hitting, then we're not pitching.
"We're going through a bit of a tough stretch. Right now it feels like if we get down early, it's almost like a here-we-go-again kind of thing. That's not the mentality. We've got to be confident that no matter what point in the game, if we're down we can string some ABs together and put ourselves in a position to get back in the game."
Todd Zolecki has covered the Phillies since 2003, and for MLB.com since 2009. Follow him on Twitter and Facebook and listen to his podcast. This story was not subject to the approval of Major League Baseball or its clubs.
1 Philadelphia
Philadelphia News & Search
1 News - 1 eMovies - 1 eMusic - 1 eBooks - 1 Search