1
Philadelphia
Philadelphia News & Search
1 News - 1 eMovies - 1 eMusic - 1 eBooks - 1 Search
But Mackanin and Herrera met again on Wednesday afternoon at Citizens Bank Park, less than 24 hours after Mackanin pulled Herrera from a 5-0 loss to the Astros when Herrera didn't run to first base on a dropped third strike. Players often fail to run to first on dropped third strikes, but for Herrera, it is a continued pattern of behavior. Herrera also had a prodigious bat flip on a long first-inning flyout, which Astros players openly mocked from their dugout.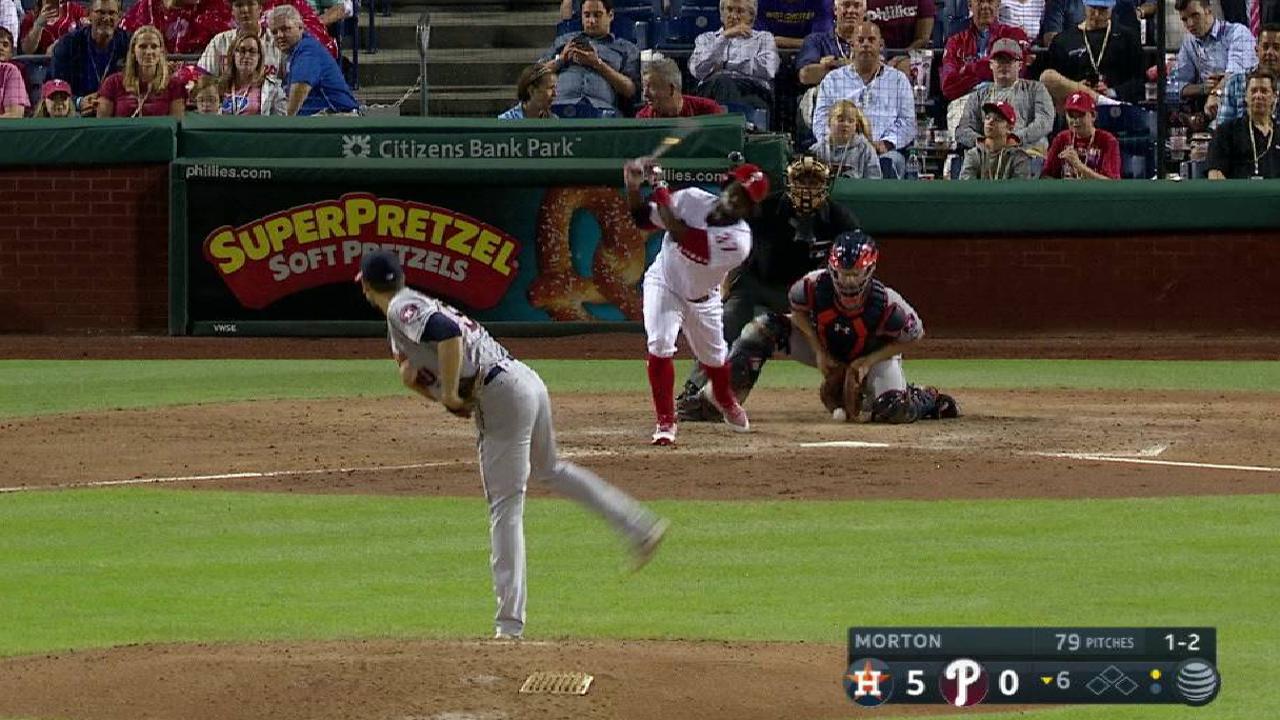 "It was good," Herrera said about the meeting through the team's interpreter. "He told me what I needed to hear, and he made his point across, so it went well."
Is it tiring that Herrera needs to keep having these talks?
"No, it's not tiring at all," Herrera said. "I imagine that he calls me into the office to give advice, advice that I need, obviously. And I take it. It's always a good thing."
Mackanin did not start Herrera on Wednesday, but he declined to call it a benching. The manager said he simply wanted to play Aaron Altherr, who just returned from the 10-day disabled list. Howie Kendrick, who is being showcased for a potential deal before Monday's 4 p.m. ET non-waiver Trade Deadline, and Nick Williams also started in the outfield.
"We've got four outfielders we have to play," Mackanin said. "He's one of them, so I'm going to give him two days, today and tomorrow. Good chance for two days off. He's been playing every day."
Some much-needed perspective here: Jimmy Rollins and Cesar Hernandez received similar criticism early in their careers. Hernandez's mental mistakes have not been an issue since the second half of last season.
Herrera is perhaps the most talented player on the Phillies' 25-man roster, bat flips and mental lapses or not. He is hitting .272 with 32 doubles, one triple, nine homers, 36 RBIs and a .753 OPS. He is tied for first among National League center fielders in defensive runs saved (nine). He has hit .331 with a .934 OPS since June 1. He has reached base safely in 24 of his last 51 plate appearances (.471 on-base percentage).
Herrera has posted 10.0 WAR in his first three big league seasons. Interestingly, since 1968, only Mike Schmidt (11.7) and Scott Rolen (10.9) posted better WAR in their first three seasons with the Phillies.
"I don't want to talk about what he said or last night," Mackanin said about Herrera. "I'd rather talk about the fact he's hitting … and he's playing well. I'd like to put this in the past and move on from here. That's what I'd like to do.
"He gets it. He gets it. I'll tell you what, when you think about it, his peccadillos haven't been as frequent as they have been in the past. He still has a few. He's going to get where we need him to be."
Todd Zolecki has covered the Phillies since 2003, and for MLB.com
since 2009. Follow him on Twitter and Facebook and listen to his podcast. This story was not subject to the approval of Major League Baseball or its clubs.
1
Philadelphia
Philadelphia News & Search
1 News - 1 eMovies - 1 eMusic - 1 eBooks - 1 Search