1
Philadelphia
Philadelphia News & Search
1 News - 1 eMovies - 1 eMusic - 1 eBooks - 1 Search
"When you have too many players that you want to play, that's a good thing," Klentak said.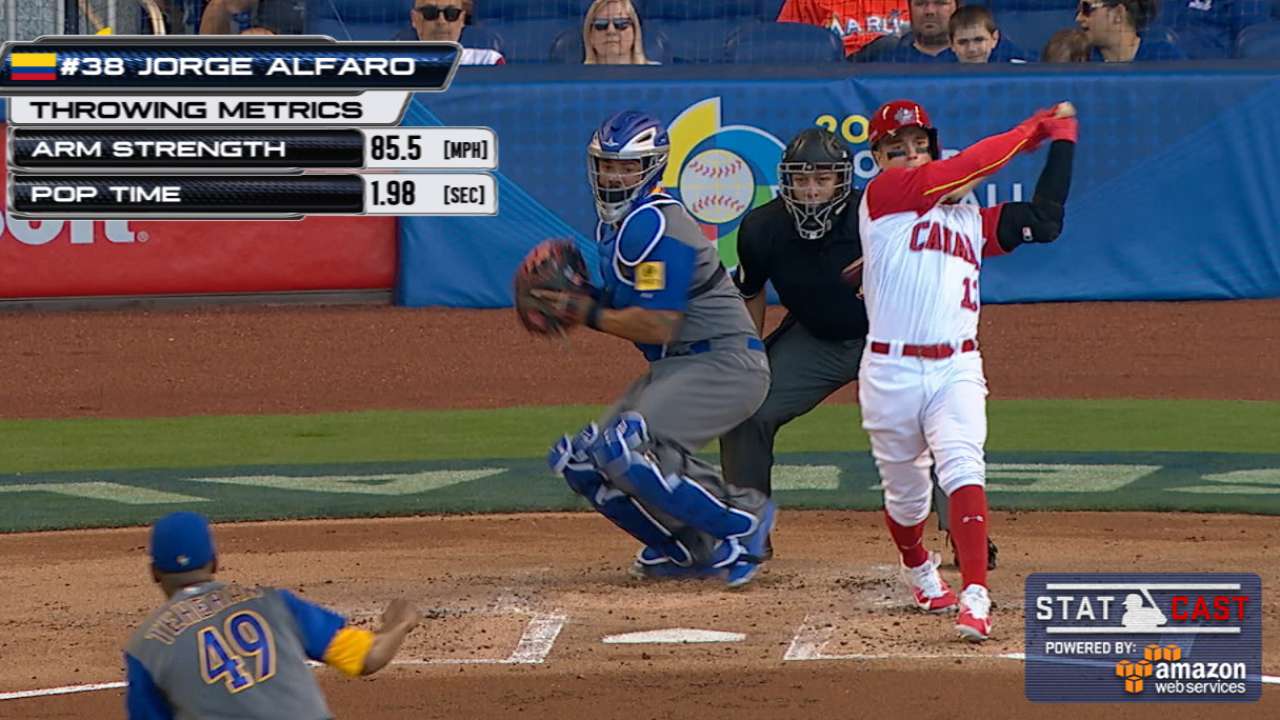 Alfaro is the organization's No. 3 prospect and the No. 65 prospect in baseball, according to MLBPipeline.com. Hoskins is the organization's No. 13 prospect. Alfaro is hitting .318 (27-for-85) with three home runs, 13 RBIs and an .831 OPS. Hoskins is hitting .337 (29-for-86) with seven home runs, 16 RBIs and a 1.083 OPS.
But do not expect to see Alfaro anytime soon. First, Phillies catchers Cameron Rupp and Andrew Knapp have fared well. Phillies backstops have a combined .817 OPS, which ranks third in baseball behind the Brewers (.934) and Tigers (.879). Rupp's .786 OPS is seventh among 24 qualified catchers.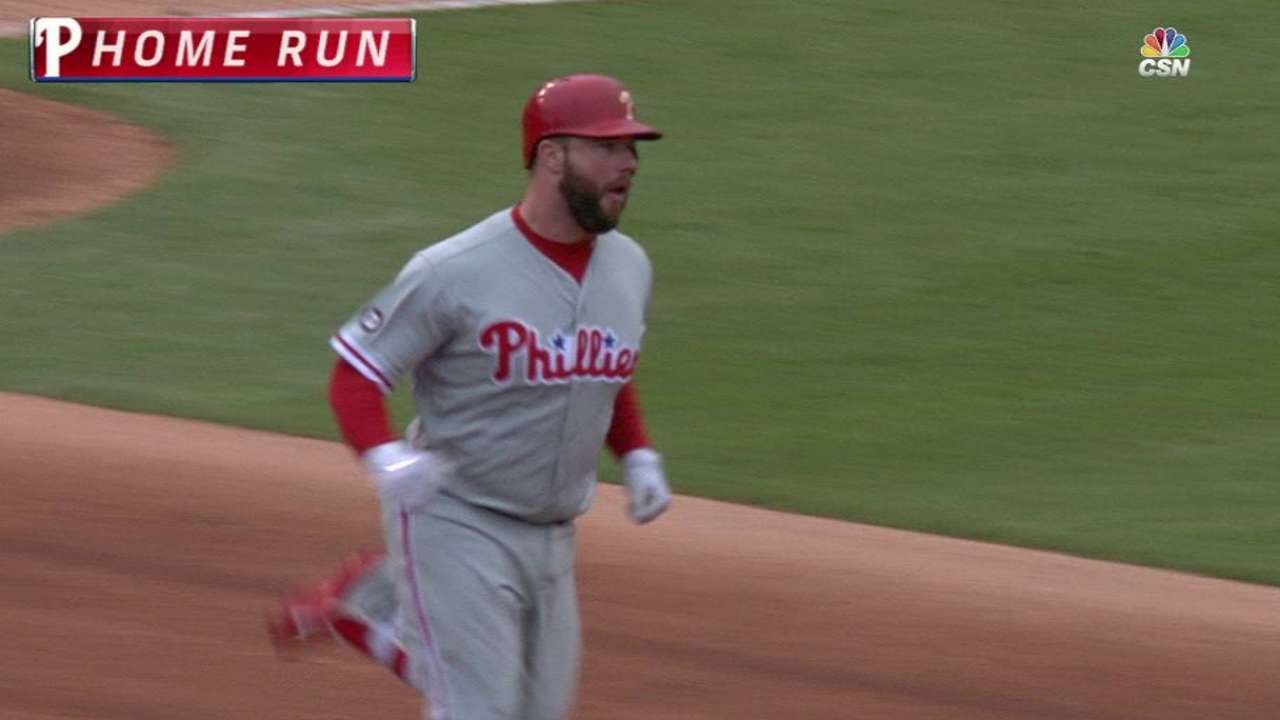 Second, Alfaro is out of options beginning next season, meaning they cannot send him to the Minor Leagues in 2018. Assuming he remains in the organization, Alfaro must be on the 25-man roster next year. And because of that, the Phillies probably want him to play as much as possible in Triple-A, where he can hone his game.
"I have no qualms at all with the catching at the Major League level and in fact, I think if we sized up against the rest of the league, we're doing pretty well in that department," Klentak said.
Hoskins is drawing plenty of attention with Tommy Joseph hitting .192 (15-for-78) with two homers, 11 RBIs and a .576 OPS entering Friday, although he swung the bat better this week in Chicago.
"He's just a really good offensive player," Klentak said of Hoskins. "We're pleased with that, but I'm not ready to concede that after 90 plate appearances that Tommy Joseph has forgotten how to hit and we're going to turn to Rhys at this early stage. He's a month into his Triple-A career and we're happy to let him continue to get at-bats there."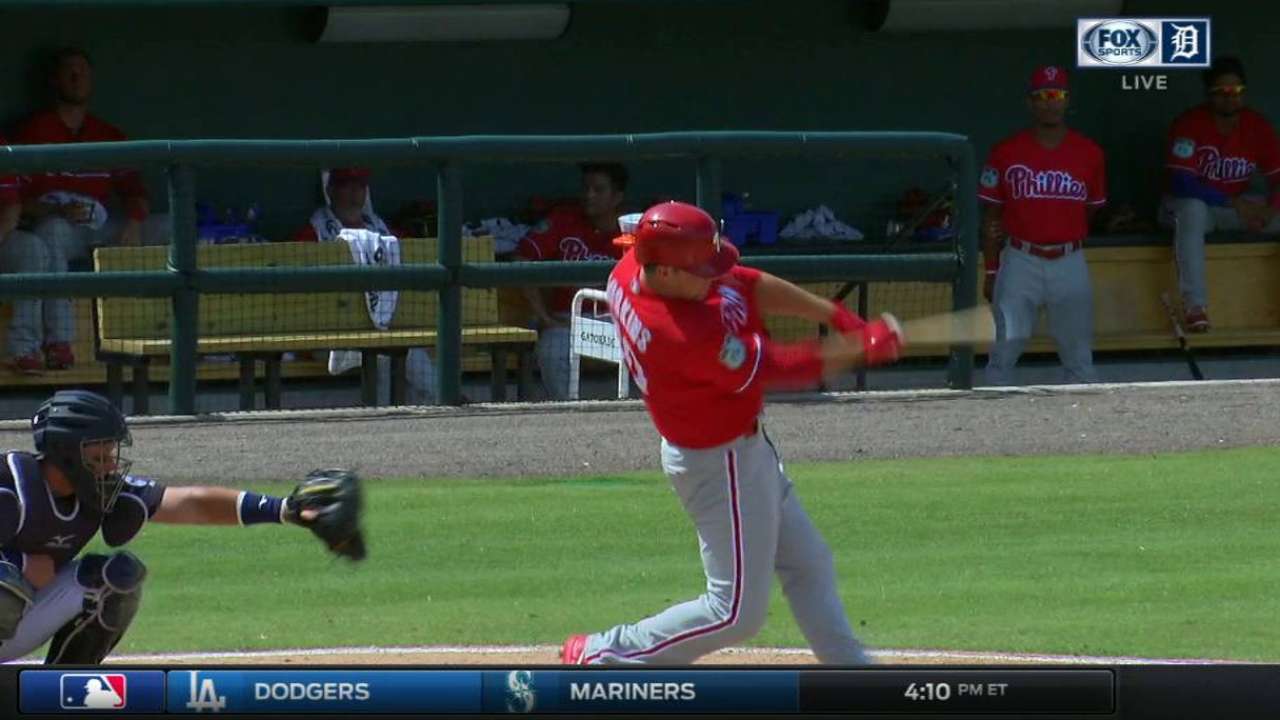 And Altherr? He is hitting .333 (20-for-60) with three homers, 11 RBIs and a 1.012 OPS entering Friday. He is 16th in OPS among 235 players with 65 or more plate appearances.
Kendrick posted an .883 OPS in 43 plate appearances before the injury. Saunders has a .662 OPS in 97 plate appearances. The Phillies acquired both Kendrick and Michael Saunders in the offseason.
"I do not expect those guys will end up on the bench," Klentak said. "I don't think it's the contracts so much that will drive our decision making but the track records of those players. Howie Kendrick has always been a good player and will likely continue to be a good player and the same with Michael Saunders. He's had a track record of performance. We believe he will show better than he has shown in the first month."
Kendrick could see some time at first base, which could give Altherr more playing time.
"If Aaron is giving us the best chance to win, I expect Aaron will continue to play," Klentak said.
Todd Zolecki has covered the Phillies since 2003, and for MLB.com since 2009. Follow him on Twitter and Facebook and listen to his podcast. This story was not subject to the approval of Major League Baseball or its clubs.
1
Philadelphia
Philadelphia News & Search
1 News - 1 eMovies - 1 eMusic - 1 eBooks - 1 Search