1
Philadelphia
Philadelphia News & Search
1 News - 1 eMovies - 1 eMusic - 1 eBooks - 1 Search
COUDERSPORT, Pa. – In the days after Donald Trump's improbable victory, dark-red Potter County was buzzed on a cocktail of hope and schadenfreude.
Eight out of 10 voters here chose Trump, the blustery Republican with a promise of a better deal for America, over Democrat Hillary Clinton, whom they viewed as a calculating politician with banker buddies and a private email server.
Trump, they said, would shake up the system and finally give a voice to working-class America. He'd repeal Obamacare, build a wall on the Mexican border with Mexican money, cut bureaucracies down to size, and "drain the swamp" of corruption in Washington.
"He said everything that the majority of Americans want," Helen Rounds, who runs a motorcycle shop on Route 6, told the Inquirer and Daily News three days after Trump was elected. She said he appealed to residents in this rural, north-central county of Pennsylvania because he "didn't give a s- about political correctness, and 99 percent of the people around here don't give a s- about it, either."
That was early November. Spirits were high. Then came Inauguration Day in January. The last 70 days have been … different.
To be sure, Potter County is still Trump Country as much as it is "God's Country," the county slogan painted on the doors of sheriff's cruisers. And the giant "Make America Great Again" sign on Main Street in downtown Coudersport isn't going anywhere soon.
Few Republicans here have buyer's remorse, but the pro-Trump fervor seems to have given way to a wait-and-see attitude as the administration scrambles to put out political fires. With Trump's national approval rating falling to 36 percent in one poll, everyone from staffers in the White House to die-hard Trumpsters here now realize that enacting his agenda will take more than campaign-rally zingers and breakfast tweets.
And there are stirrings of long-dormant opposition-party activity in a county where, depending on your daily routine, you might cross paths with more deer than Democrats.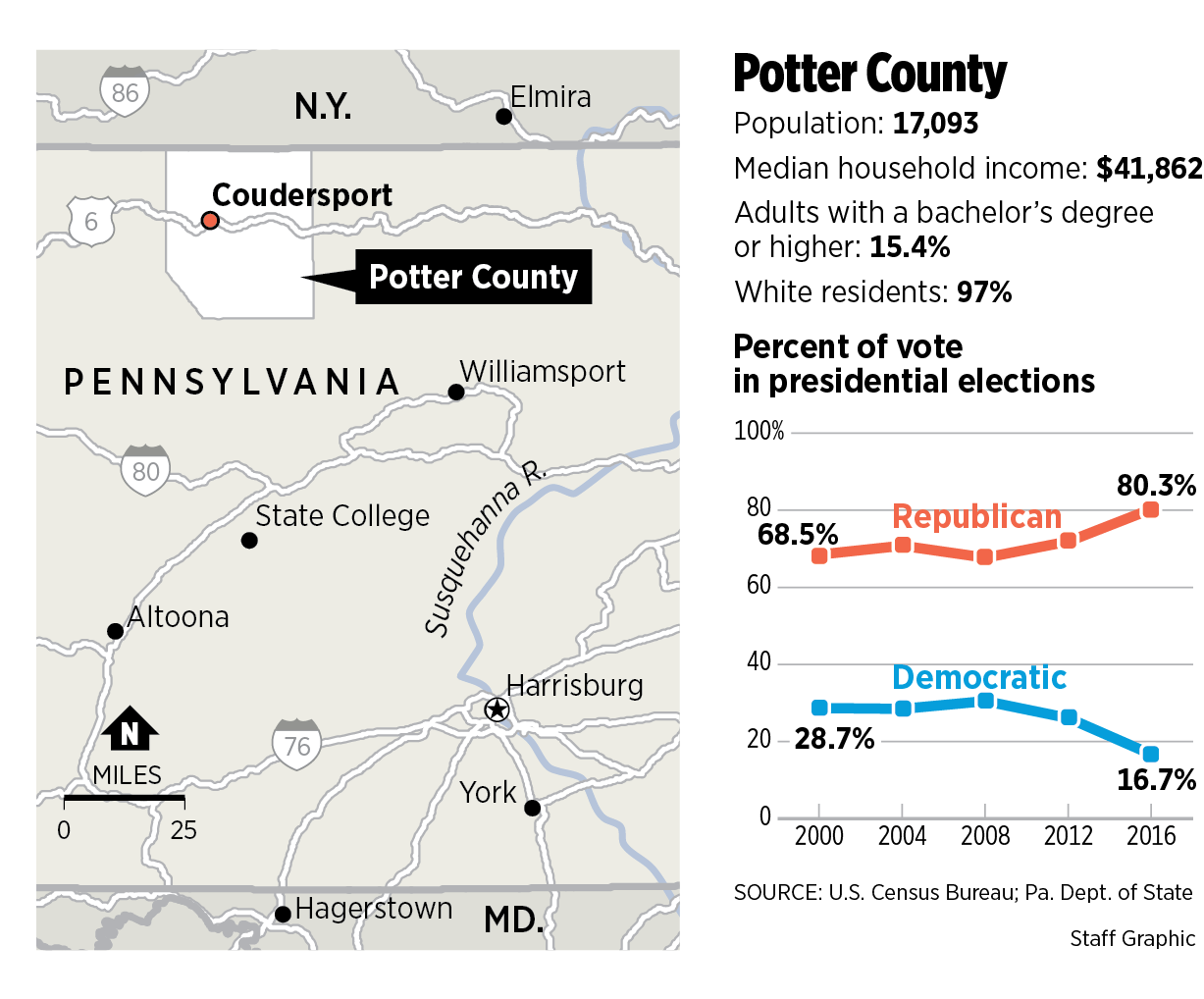 John Domaleski, a Glock-carrying lifelong Republican with a handshake you better be ready for, said he voted for Trump because "I'm not a socialist."
But, Domaleski said, Trump's early failure to repeal and replace Obamacare, as promised, has shown that the president's attempt to impose his will unilaterally is unlikely to work. Republicans and Democrats in Congress will have to find common ground, he said.
"Can't these idiots work together?" Domaleski, 72, an Army veteran and former Adelphia Cable employee, asked last week from behind his dark aviator sunglasses. He said he still supports Trump – still has the sign on his Coudersport lawn – but is also "totally disgusted with both parties because I happen to be an American."
"It's about time these Democrats and these Republicans try to meet halfway in the stream," Domaleski said.
Dean Dow, the former Potter County prothonotary and a local GOP committeeman, said it's too early to grade the Trump administration's progress. Dow said he's not surprised that Trump has made enemies in both parties, because he's learning on the fly.
"We need to give him some more time," Dow said inside the courthouse, where he now works as a part-time clerk. "He was naive about running the government. But that was part of his appeal."
Dow said he approves of Trump's executive orders so far, including reviving the Keystone XL pipeline project, lifting Obama-era environmental restrictions, and attempting to suspend travel to the United States from several predominantly Muslim countries.
Dow acknowledged that some Republican voters have been frustrated with the slow pace of progress. "They thought it would be easier to change things," he said.
In addition to instigating a Twitter fight with the conservative Freedom Caucus over the health-care debacle, Trump has strained U.S. relations with overseas allies, such as Britain, Germany, and Australia. He has proposed $18 billion in domestic cuts – including a grant program that benefits Potter County – so U.S. taxpayers, not Mexico, can fund the border wall's down payment. 
Meanwhile, the congressional investigations into the Trump campaign's ties to Russia continue to dominate news cycles. Last week, Michael Flynn, the national security adviser who resigned after he gave misleading statements about his contacts with Russia's ambassador, offered to be interviewed by House and Senate investigators – in exchange for immunity from criminal prosecution.
Paul Heimel, vice chairman of the Potter County commissioners, said the Russia saga is contributing to a "deepening crisis in confidence."
"That's a very serious problem," Heimel said. "We're not pulling together to try to resolve issues in the public interest. We're too busy pointing fingers and bickering and looking for skeletons in closets. I guess it's easier to focus on scandals, but in the meantime, the whole ship of state is rocking and that's not good for anybody."
(Heimel is a Republican, but he declined to reveal how he voted in November. "My wife doesn't know," he said.)
Heimel said he has concerns about some of Trump's early policy decisions, particularly the executive order rolling back Obama-era greenhouse-gas restrictions aimed at slowing global warming. In 2015, Trump called climate change a "hoax" and in 2012 tweeted that "global warming was created by and for the Chinese in order to make U.S. manufacturing noncompetitive."
"That's one concern I have, personally, and I think I speak for many in this area," Heimel said of the changes at the Environmental Protection Agency.
Potter County (pop. 17,457) is home to Cherry Springs State Park, renowned among East Coast stargazers for clear, dark skies perfect for finding obscure astronomical objects.
Paul Herzig, a former Potter County GOP chairman who owns the Laurelwood Inn & Steakhouse, said he, too, is wary of some of Trump's early environmental initiatives. But he praised the former real estate mogul for trying to preserve and create U.S. jobs.
"He's made a lot of progress in some areas very quickly, especially in the area of bringing jobs back. Look what's he's done in Detroit already," Herzig said, referring to Trump's plans to help the auto industry.
Herzig, a former police officer in California, said Democrats need to stop behaving "like little children" by stonewalling Trump's initiatives, and rather find ways to work with him for the next four years.
"Hey, the man is in office. The likelihood of impeachment is nil, so let's see what can be done," Herzig said over coffee in the lobby of his inn. "Let's work with him, ya know?"
But the national Trump resistance that has sparked large demonstrations in Philadelphia and other cities around the country has slowly trickled out to Potter County. There have been no protests here, but the dormant Potter County Democratic Party has at least rolled out of bed in response to Trump's election. The organization recently appointed a new chairman, Arnie Haskins, and concerned citizens opposed to the president's policies have been holding meetings to discuss ways to get involved in government and make their voices heard.
"It's never been a very active organization in this county, but like a lot of people, the election woke us up," Haskins, a social worker, said in his office, where a small graphic on the wall highlights the nation's wealth inequality. "On a grassroots level, you can bitch and whine and ask, 'What the hell happened?' Or you can start trying to do something."
Barry Hayman, a former government and social studies teacher at Coudersport High School who has been working with Haskins, said Trump's ascendancy "really has lit a fire under a number of people, in a good way, to become more activist and become more involved in the Democratic Party."
"I don't think any of us think we'll switch Potter County blue," Hayman said, "but turnout matters."
People like Teresa Kaminski, however, are a reminder that Democrats are fighting an uphill battle in rural Pennsylvania, where government mistrust is the prevailing attitude. The former food services manager from Coudersport urged Trump to press on.
"I'm so glad that he's in there and she's not," Kaminski said, referring to Clinton. "He was right to drain the swamp. The whole government is crooked. He's in there to try to fix things. So what, what he said about women? That's his private life."
Kaminski said she has never voted in her life, but she's so impressed with Trump that she already plans to vote for him in 2020 if he runs for reelection. There is little work in the area, outside of low-paying retail jobs, and she hopes Trump will change that.
"You're talking at the Dollar Store making 7-something an hour," she said. "He's going to bring jobs back and he's doing what he said he would do."
And if he doesn't? Domaleski, the Army vet, said he knows whom to blame: Congress.
"Politics is rotten no matter what side you're on. I mean, it's absolutely disgusting," he said. "Get your head out of your a- and let's stand up for America. Stand up for our grandchildren."
1
Philadelphia
Philadelphia News & Search
1 News - 1 eMovies - 1 eMusic - 1 eBooks - 1 Search