1
Philadelphia
Philadelphia News & Search
1 News - 1 eMovies - 1 eMusic - 1 eBooks - 1 Search
"You get to feel more comfortable in the other two at-bats," Hernandez said of notching his first hit since coming back. "So you're more relaxed."
In the third, the speedster once again flashed his wheels after earning a two-out walk. Freddy Galvis doubled, and Hernandez motored around the bases to score the first run of what turned out to be a four-run frame.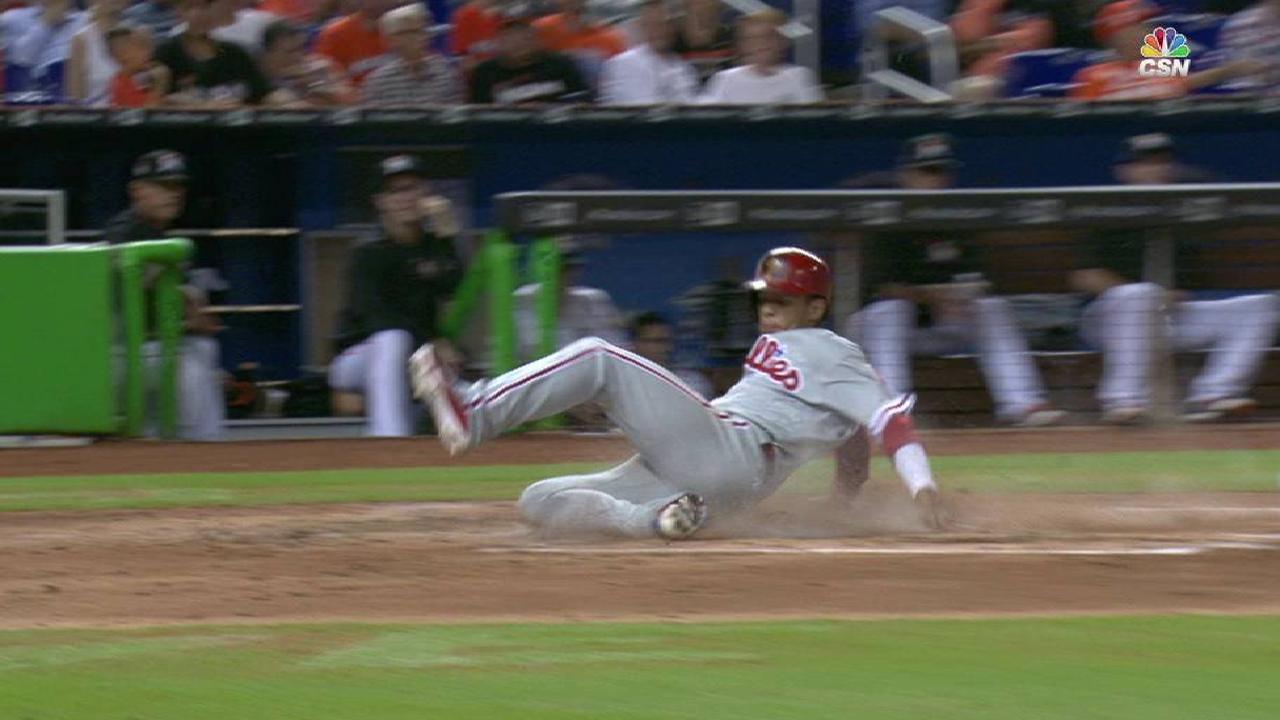 Hernandez showed his once strained left oblique is in the past.
Without Aaron Altherr in the lineup, Hernandez picked up some productivity slack in the seventh inning. Following a walk, hit-by-pitch and a sacrifice bunt to put runners on the corners, Hernandez lifted a Kyle Barraclough 2-1 slider to center to knot the game at five.
Outside a missed bunt attempt in the ninth, Mackanin was pleased with Hernandez's play.
"He did fine. He didn't get the bunt down, so obviously a little disappointed in that," Mackanin said. "But other than that, he looked fine. He got that infield hit, and he's back in the saddle."
Hernandez's productive night at the plate was a good sign after an up and down first half. Through his first 29 games this season, the switch-hitter was hitting .339 with a .892 OPS. His next 29 games before he landed on the disabled list, he hit .211 and posted a .566 OPS.
A few rehab games in the Minors may have been all Hernandez needed to regain his confidence.
"I feel great," he said. "I played a couple games in the Minor Leagues, so I'm seeing the pitching well and feel great."
Leiter optioned, Velasquez recalled
Mackanin named Vince Velasquez as his Tuesday starter, though he hasn't officially been reinstated off the 10-day DL. Reliever Mark Leiter Jr. was optioned to Triple-A Lehigh after serving up a walk-off single to Dee Gordon Monday night.
Velasquez will make his first start since May 30. He's been on the shelf with a strained flexor in his right elbow, but has made three rehab starts in the Minors.
Altherr placed on disabled list
Altherr was placed on the 10-day DL Monday with a mild right hamstring strain. Mackanin said the 26-year-old will undergo a precautionary MRI Tuesday, but he expects Altherr to come off the disabled list after the 10 days.
"Hopefully it's not serious," Mackanin said. "Hopefully it's mild and he's not going to be out long. But it is what it is and just gotta move on. So nothing I can do about it."
In 301 plate appearances, the 26-year-old Altherr was hitting .288 with 20 doubles, three triples, 14 home runs, 44 RBIs and an .898 OPS.
Kendrick rehab assignment
Mackanin said Howie Kendrick could begin a rehab assignment sometime this week.
The 34-year-old outfielder has been on the 10-day DL since June 30 with a left hamstring injury, but was cleared for baseball activities. He took batting practice and some outfield work Monday at Marlins Park.
Patrick Pinak is a reporter for MLB.com based in Miami. This story was not subject to the approval of Major League Baseball or its clubs.
1
Philadelphia
Philadelphia News & Search
1 News - 1 eMovies - 1 eMusic - 1 eBooks - 1 Search