1
Philadelphia
Philadelphia News & Search
1 News - 1 eMovies - 1 eMusic - 1 eBooks - 1 Search
Franco stayed back and put a healthy cut on an outer-half, 95-mph fastball and laced a line drive to the right-field wall to win the game.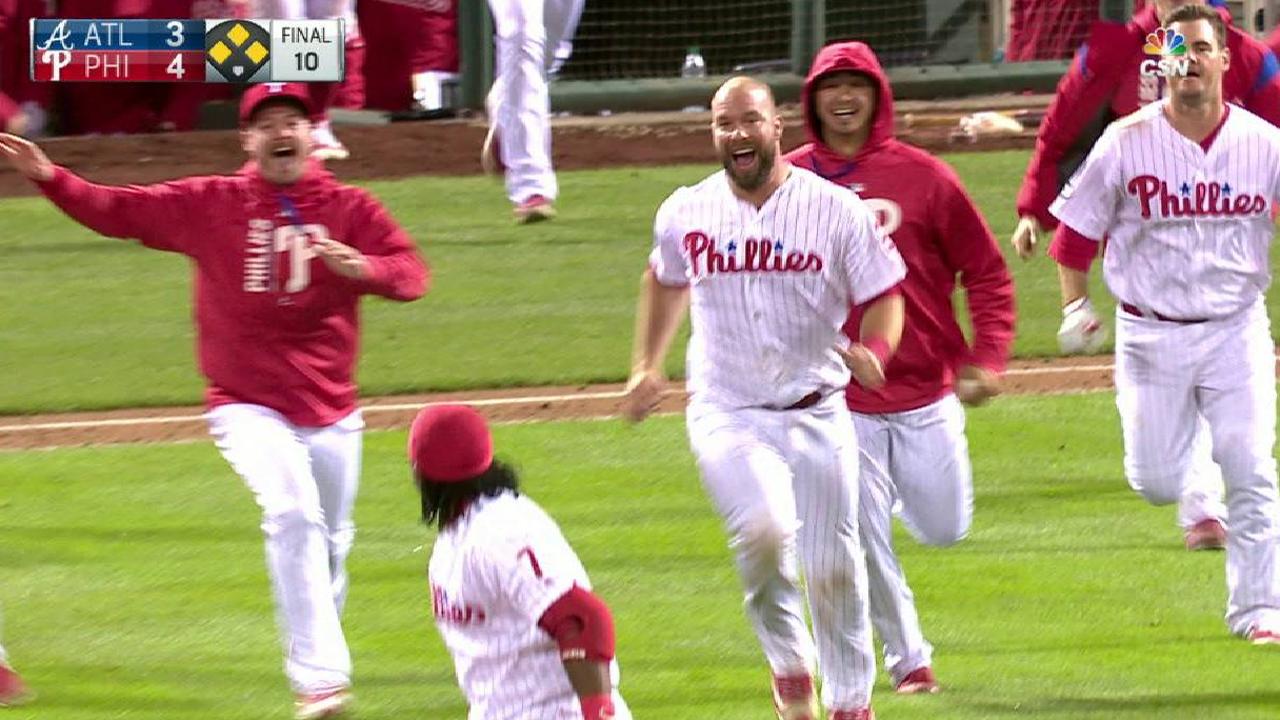 "My approach is just go up there and look for my pitch, a good pitch to hit," Franco said. "He threw me a fastball away, and I put good contact on it."
The game was the second this season in which the Phillies have blown a save opportunity and came back to win in extra innings.
"You've got to agree with one thing: the guys don't quit," Phillies manager Pete Mackanin said. "They came back, and it was great to see."
"We just have to stay right there, stay positive, never give up, and go out and play hard," Franco said of the team's ability to come back from surrendering the game-tying and go-ahead runs.
Franco's three RBIs on Saturday brought his total to 16, tied for seventh in the Majors. Even though he has consistently hit the ball hard, those balls in play have found fielders' gloves. He's hitting just .182 with a .348 slugging percentage.
Saturday night was a good example that Franco's numbers don't do his effort this season justice.
When the ball sailed over the head of Braves right fielder Nick Markakis and clanged off the Minor League scoreboard, Franco thought he had the second walk-off hit of his career. Franco chuckled when told it was actually his first.
Last year on Aug. 3, Franco had a would-be walk-off hit changed to a walk-off fielder's choice when Aaron Altherr joined his teammates in celebration instead of touching second base.
Ben Harris is a reporter for MLB.com based in Philadelphia. This story was not subject to the approval of Major League Baseball or its clubs.
1 Philadelphia
Philadelphia News & Search
1 News - 1 eMovies - 1 eMusic - 1 eBooks - 1 Search