1
Philadelphia
Philadelphia News & Search
1 News - 1 eMovies - 1 eMusic - 1 eBooks - 1 Search
Both pitchers had career years despite tailing off somewhat as their workload mounted.
Gomez pitched two scoreless innings in Saturday's 13-8 Grapefruit League loss to the Pirates at Spectrum Field, lowering his spring ERA to 1.17. That's encouraging, as Gomez converted 24 of 26 save opportunities with a 2.59 ERA before the All-Star break last season, but went 13-for-17 with an 8.33 ERA down the stretch.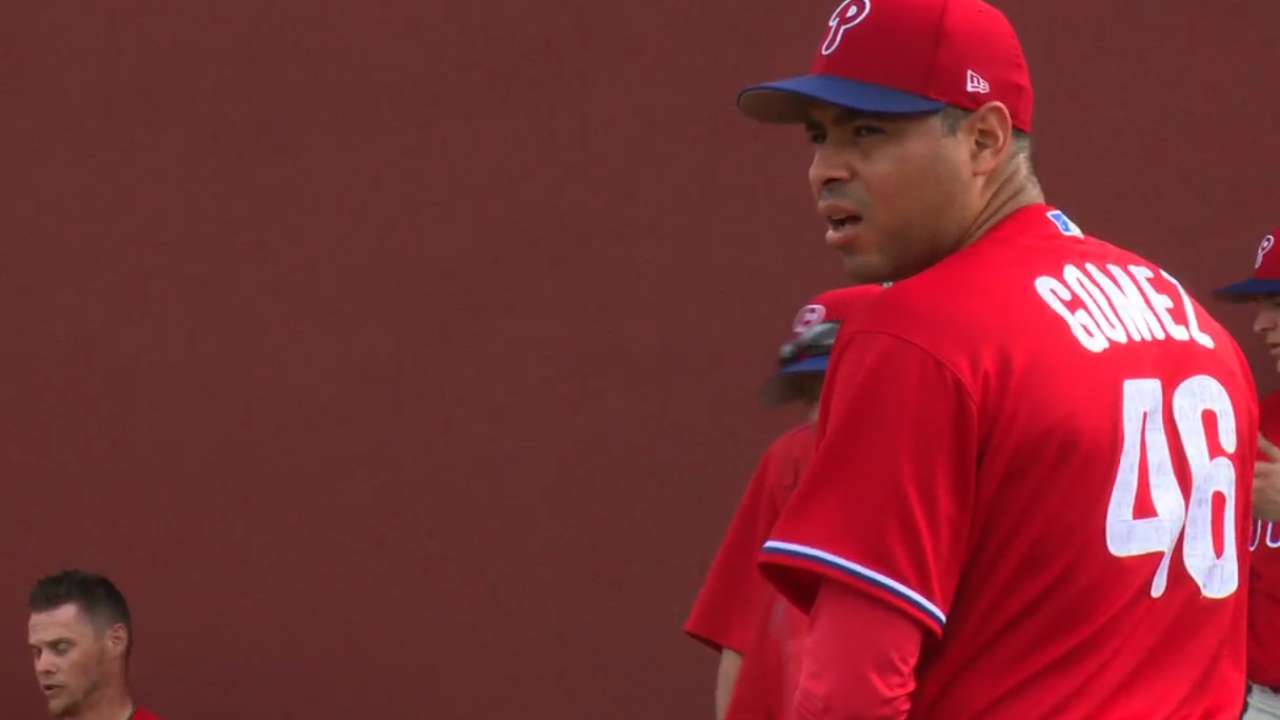 "I feel really good this spring," he said. "After the season, I took a one month rest and then began to prepare for Spring Training. Nothing with my arm. Just running a little bit, walking, some bike exercise. But that's what I do every year."
Gomez insisted he hasn't really thought about how much he threw in 2016.
"When we started Spring Training, I felt like I was just starting to get ready," he said. "But now the ball is coming out of my hand very good. And I'm working every day trying to get better and be ready for Opening Day."
Manager Pete Mackanin said nothing should be read his closer working multiple innings Saturday and reiterated that Gomez is still considered the closer.
"Yeah, right now," Mackanin said. "[Pitching coach Bob] McClure wanted to get him stretched out. Not for any particular reason. Last year he did the same thing with all the relief pitchers. It's not going to hurt him."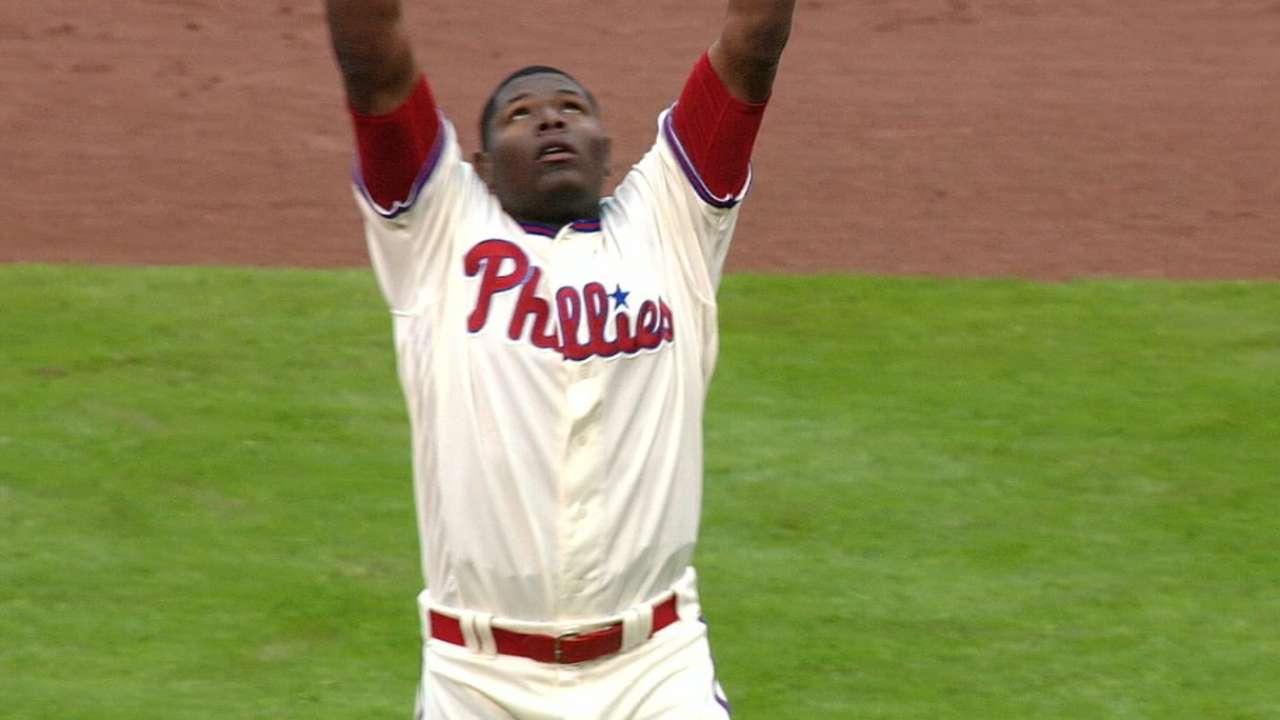 Neris had a 2.11 ERA in his first 67 games last season, but he faltered over his last 12 appearances, pitching to a 5.25 ERA. Like Gomez, Neris said he didn't alter his offseason routine, with the exception of cutting back his appearances for Este in the Dominican Winter League from 18 games to three.
"My arm feels good. I've been working hard to make sure it feels good," Neris said before leaving to join the Dominican team for the World Baseball Classic. He had pitched just twice in the Classic entering Team Dominican Republic's game against the United States on Saturday night.
Worth noting
Third baseman Maikel Franco lost a soft pop fly by Pittsburgh's John Jaso in the sun in the Pirates' five-run third inning for his second error of the game. The misplay was more notable because Franco's sunglasses were perched on the brim of his cap. Mackanin admitted he doesn't understand that style, but wasn't going to overreact, either.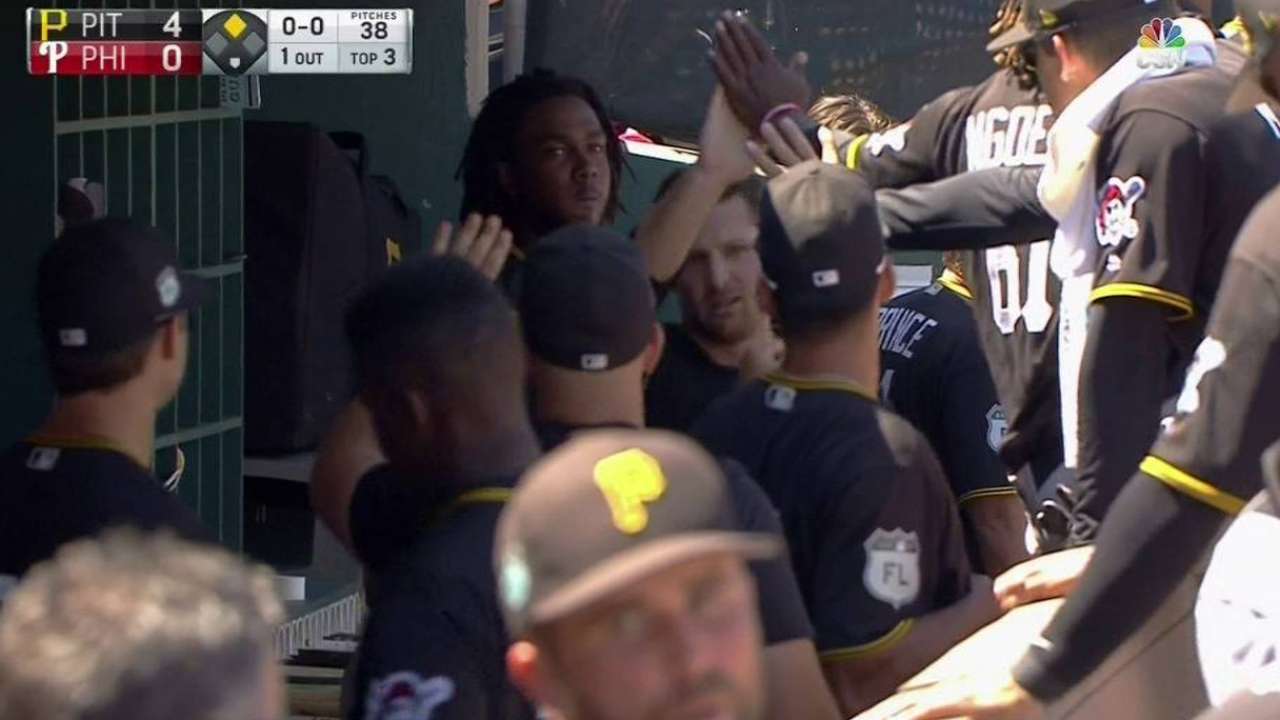 "He lost the ball in the sun. I've got to fine him a dollar," Mackanin said, referring to the team's kangaroo court.
Said Franco: "I know that's going to happen. Something happened, but I just have to put that behind me."
Paul Hagen is a reporter for MLB.com. This story was not subject to the approval of Major League Baseball or its clubs.
1
Philadelphia
Philadelphia News & Search
1 News - 1 eMovies - 1 eMusic - 1 eBooks - 1 Search