1
Philadelphia
Philadelphia News & Search
1 News - 1 eMovies - 1 eMusic - 1 eBooks - 1 Search
But that dream has ended. Galvis said he got a heads-up a few day ago when he met with Phillies general manager Matt Klentak and manager Pete Mackanin.
"It's OK," Galvis said of Crawford taking playing time from him at shortstop. "I think September is a time where they see a lot of new players, a lot of young players. That was the conversation. I'm good, man. I just want to win. I just want to have the best team here in Philadelphia."
Crawford could make the Phillies a better team. He is the No. 61 prospect in all of baseball, according to MLBPipeline.com, and has hit .273 with 12 home runs and 36 RBIs with an .892 OPS in 286 plate appearances with Triple-A Lehigh Valley since June 20. He is regarded as the club's shortstop of the future, and it wants to see him play there next month, although Mackanin said the organization simply wanted to move players around the field the final month of the season.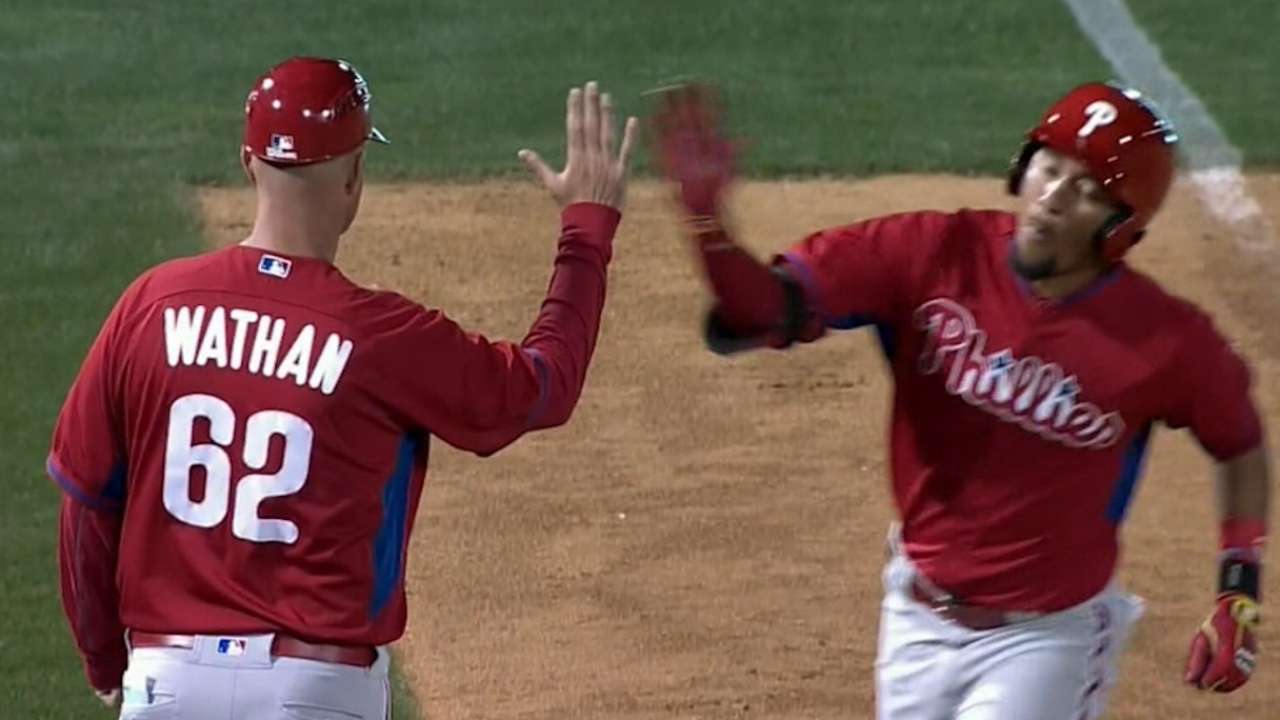 So it had nothing to do with Crawford's arrival?
"Well, it might," Mackanin said.
Of course, Galvis had no reason to believe he would play anywhere other than short. He has been that good there.
"It's hard," Mackanin said. "I think he's a Gold Glove-caliber shortstop."
The IronPigs finish their season Monday, so Crawford could join the Phillies as early as Tuesday in New York.
But by starting Galvis in center field on Wednesday, the Phillies got questions about him moving off shortstop out of the way. It also prevented any potential distractions or issues upon Crawford's arrival.
"That wasn't the intent, but it's a good point," Mackanin said. "If he does come up, it would certainly make it a little easier."
Galvis is finishing the best season of his career. He is a candidate to win a Gold Glove and is hitting .252 with 26 doubles, six triples, 11 home runs, 56 RBIs and a .696 OPS. His OPS is 48 points higher than his career average entering the season. His 1.5 WAR entering Wednesday ranked 12th out of 23 qualified shortstops, according to FanGraphs. He has emerged as a team leader and favorite in the clubhouse.
But the Phillies believe Crawford can be better. They love his plate discipline. He has a .348 on-base percentage, despite hitting .194 with a .565 OPS in 244 plate appearances before June 10. He has a .367 on-base percentage in his five-year Minor League career.
Galvis has a career-high .303 on-base percentage this season.
Crawford started five games recently at second base and five games at third base with Triple-A, so he could play those positions next month, but the goal is clearly to have him play shortstop and see what he can do.
His future is there.
Where is Galvis' future? The 27-year-old, who can be a free agent after next season, said he isn't thinking about it.
"Ah, no, not right now," Galvis said. "I don't know. I'm not god. So I'll take it day by day and see what happens."
Todd Zolecki has covered the Phillies since 2003, and for MLB.com since 2009. Follow him on Twitter and Facebook and listen to his podcast. This story was not subject to the approval of Major League Baseball or its clubs.
1
Philadelphia
Philadelphia News & Search
1 News - 1 eMovies - 1 eMusic - 1 eBooks - 1 Search