1
Philadelphia
Philadelphia News & Search
1 News - 1 eMovies - 1 eMusic - 1 eBooks - 1 Search
Hoskins has excelled at Triple-A, with a .961 OPS and 20 home runs, and a promotion this season seems a near certainty. However, he is currently blocked in the Majors by Tommy Joseph, who is also having a strong campaign, and the Phillies want Hoskins to play every day. Just this past weekend, Phillies manager Pete Mackanin said the pair of right-handed-hitting first basemen with power can't coexist on the same roster.
That could prompt the Phillies to try and trade Joseph before the July 31 non-waiver Trade Deadline. It's a bit of an awkward situation for Hoskins, who said Joseph has been a mentor for him the past few years during Spring Training.
"I know it's out there, it's not a decision that's in my control whatsoever," Hoskins said. "Tommy is a great player. Obviously the guy can hit, he's showed that in his time in the big leagues. We have a really good relationship. He's kind of taken me under his wing the last couple years. It's a great resource to have.
"Whatever happens, happens. I'm just trying to come to the ballpark every day and be the best player I can, just like I'm assuming he is."
Perhaps the Phillies could try Hoskins in left field. He has played left field in summer ball and in college, so it's a position he would be open to trying.
"I think I'm athletic enough to be fine out there," Hoskins said. "I don't think I'd be uncomfortable."
Kingery was just promoted from Double-A after he posted a .987 OPS there this season. He credited his success to improved plate discipline and success attacking pitches in the strike zone.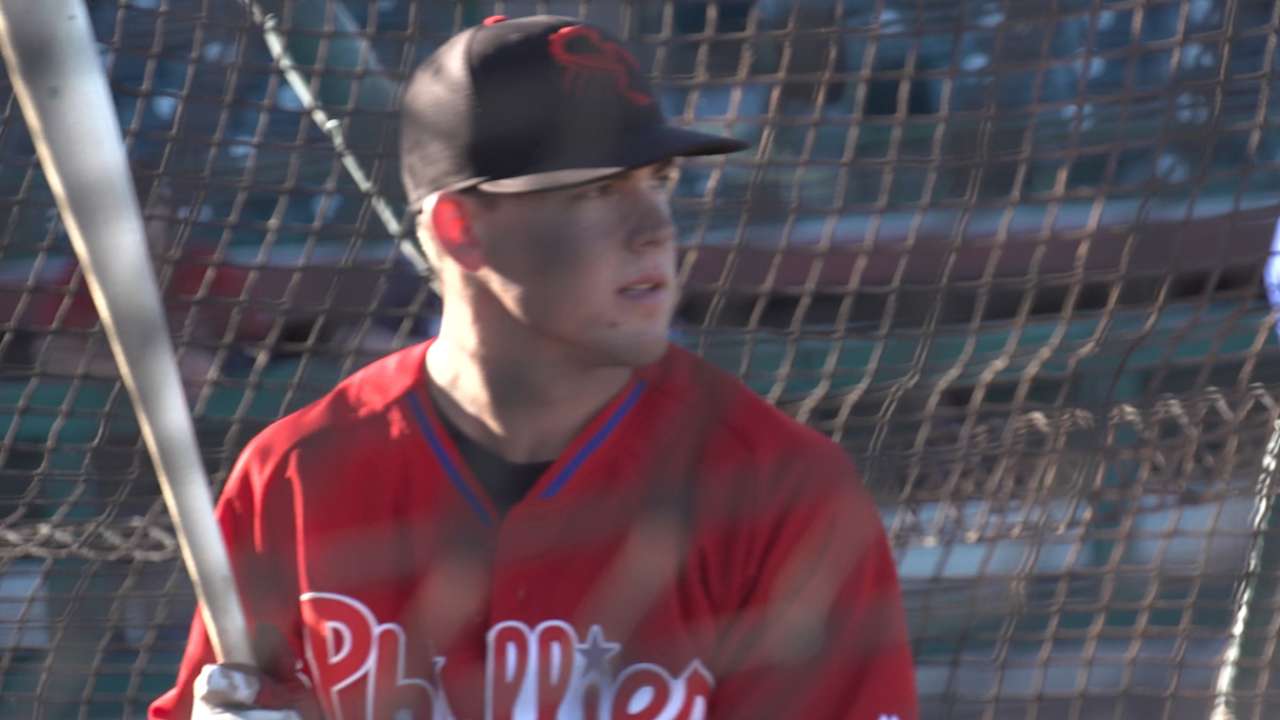 "Obviously, that's the ultimate goal — to get [to the Majors], and not only get there, but stay there," Kingery said. "It's something that I try to keep out of my head. Try to keep my head where my feet are and go about each day like I normally would."
Kingery is unlikely to be promoted this season, especially because he is also blocked at his position right now by Phillies second baseman Cesar Hernandez. The team could try to trade Hernandez in the offseason or perhaps they could move Kingery's position. He has taken grounders at third base, but Kingery does believe he is best suited to play second.
"I'm a second baseman," he said. "That's where I want to play. I think I do have the versatility because in college I did play a little bit of outfield my first two years. I did play shortstop growing up my whole life. For me, I'm a second baseman. I'm super comfortable there right now. We'll see what happens. But right now, I'm calling myself a second baseman."
Jamal Collier covers the Nationals for MLB.com. Follow him on Twitter at @jamalcollier. This story was not subject to the approval of Major League Baseball or its clubs.
1
Philadelphia
Philadelphia News & Search
1 News - 1 eMovies - 1 eMusic - 1 eBooks - 1 Search