1
Philadelphia
Philadelphia News & Search
1 News - 1 eMovies - 1 eMusic - 1 eBooks - 1 Search
Behind closed doors at Rose Tree Media school headquarters in Delaware County, the "safety summit" brought together district and township leaders, first responders, officials from Sunoco Logistics and even Homeland Security to draw up school evacuation plans in the event of a catastrophic explosion or leak from the impending
Mariner East 2 pipeline.
Not in the room — barred from attending, in fact — were the people whose growing anxiety and anger prompted the summit: a coalition of more than 2,700 elementary school parents and allies who fear their children won't be able to get out of harm's way should disaster strike the pipeline as it carries 275,000 barrels of natural gas liquids daily through their densely populated suburbs.
A tight lid was kept on the late March confab. In a statement, Rose Tree Media Superintendent James Wigo joined other attendees in insisting that releasing evacuation details would "compromise student safety," for instance in a school shooting. "Think about the horrors of a potential sniper situation."
The secrecy has further inflamed the
Middletown Coalition for Community Safety
, which continues to add members in Delaware and Chester Counties, through which Mariner 2 will soon pass. It formed last August after parents learned the pipeline would come within 650 feet of Rose Tree Media's Glenwood Elementary, attended by 430 children. The group tried to stop Middletown Township from granting easements near the school, but lost. Since then, it has pressed Rose Tree Media and West Chester Area School District for answers about student safety, while sounding the alarm at other schools along the route.
According to risk assessments commissioned by the coalition, a vapor cloud leak can spread 1,800 feet in three mintues, and ignition of the gas can produce a fireball with a blast radius up to 1,100 feet that would burn until the pipeline is fully purged.
As many as 40 Pennsylvania schools would be in the potential "blast zone" if the line were to explode near them. Thousands of houses and facilities such as nursing homes also adjoin the route, but coalition founder Eve Miari said that worries about the schools have trumped other issues. "An elementary school is sort of like the heart center of the community," she said. "It's where we send our babies."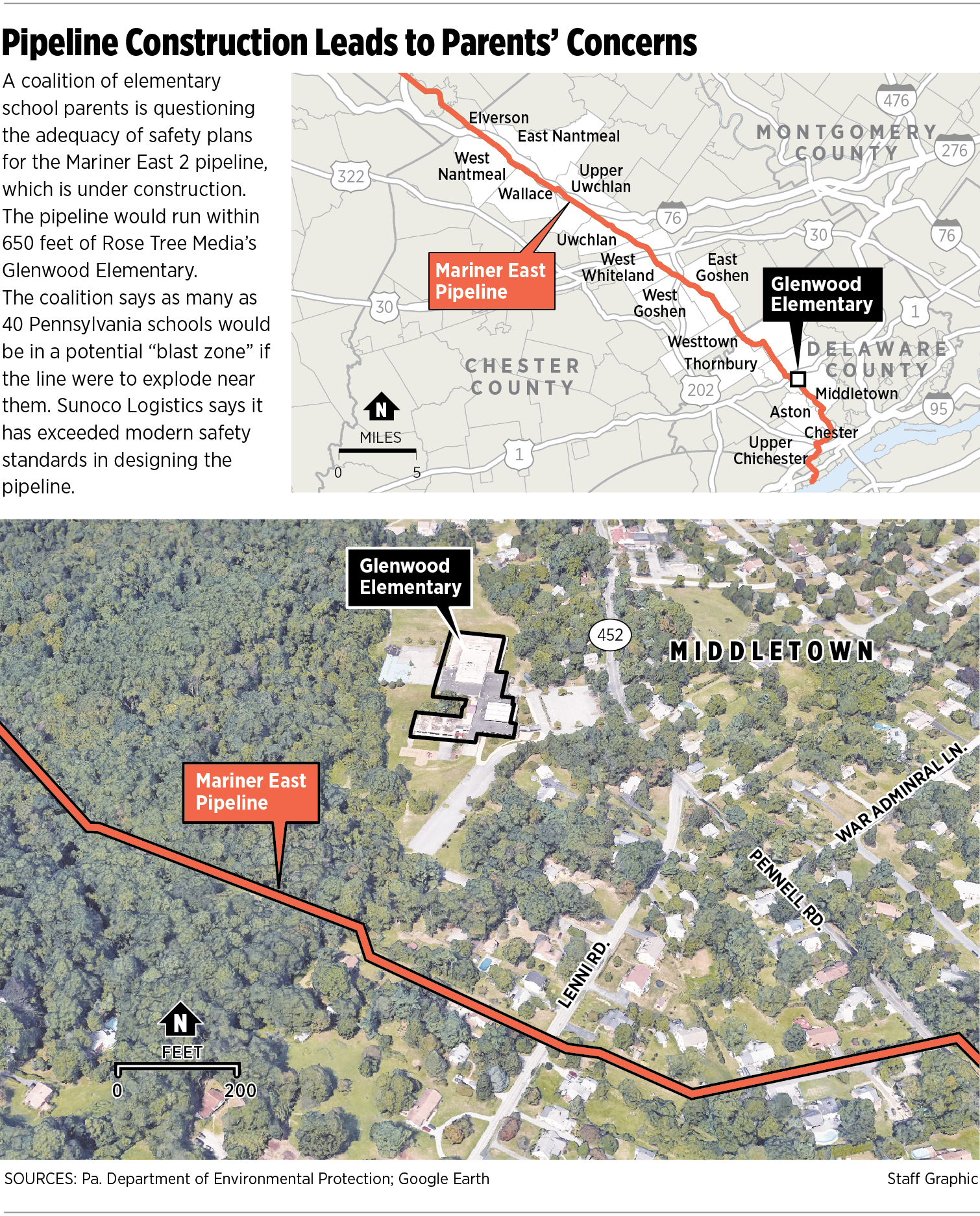 The 350-mile, $2.5 billion Mariner East 2 line is under construction in Western Pennsylvania and working its way east after approvals from state regulators earlier this year. The
first of two pipelines
, it is slated for completion by September, and will move natural gas liquids such as propane, ethane and butane from fracking regions as far west as Ohio to Sunoco's refinery on the Delaware River in Marcus Hook.
In the view of the pipeline's builders and supporters, the coalition is tilting at windmills.
Sunoco Logistics has exceeded all modern safety standards in designing the Mariner East 2, said communications manager Jeff Shields. He noted that nine older natural gas pipelines criss-cross the Philadelphia suburbs, including some that pass through school properties, without controversy. The idea that pipelines cannot operate safely near schools, he said, is similiar to the argument advanced by environmentalists trying to get shale gas drilling banned in the vicinity of schools.
"Their claims and rhetoric," he said of the anti-natural gas movement, "are not supported by fact or history."
The federal Department of Transportation's Pipeline and Hazardous Materials Safety Admininstration states on its website that pipelines are "by far the safest method for transporting energy products." However, when accidents occur, they "present significant risks to the public and the environment."
In the past 20 years, there have been 11,462 pipeline incidents nationally with 324 deaths, 1,331 injuries and $7 billion in damages, according to the agency, which also has general evacuation recommendations.  Its Emergency Response Guideline calls for school officials to test the wind direction and move children on foot at least a half-mile upwind of the pipeline.  Cars and cellphones cannot be used, for they could ignite leaked gas.
That sounds unworkable to Eric Friedman, a coalition member who lives near the pipeline route in Chester County.
"I have not been able to come up with a real safety plan," said Friedman, who has trained pilots and studied risk mitigation. "How would you have a real evacuation of hundreds of elementary kids on foot?"
"The safety plan is not credible," said Nancy Harkins, of Westtown, also a coalition member. "Run a half-mile upwind and don't use your cellphone? You can't even use a door knocker because that could ignite it."
Coalition activists contend that Sunoco Logistics has a poor record for accidents along its roughly 8,000 miles of pipeline transporting various fossil fuels. They recount incidents as recent as the October 2016 spill of 55,000 gallons of gasoline from a Sunoco pipeline into the Susquehanna River.
Pipeline critics also say the volatile mix of fuels that will flow through Mariner East 2 poses a greater risk than existing pipelines in the region. They point to a January 2015 blast in Follansbee, W. Va., involving a relatively new pipeline the same size as Mariner and carrying similar fuels; it burned five acres of woodland and damaged a home 2,000 feet away.
Sunoco's Shields cited an independent study by the consulting firm Accufacts Inc., which advises government agencies and industry on pipeline safety. It found that the Mariner project "meets or exceeds the prudent technical approaches commensurate with the safe transportation of natural gas liquids."
School officials have been caught in the crossfire between pipeline proponents and parents.
"It's an emotional thing," said West Chester Area Superintendent James Scanlon, who attended the March summit. "The key is safety. It doesn't look like the thing is going to get stopped."
Less than 200 feet away from the pipeline path in West Chester are two Catholic elementary schools, Saints Peter and Paul and Saints Simon and Jude. A survey by Fractracker Alliance, a nonprofit that does energy-related mapping and data analysis, also counted a half-dozen public or charter schools in Aston, Elverson, Exton and West Chester within a 1,000-foot radius.
A spokesman for the Archdiocese of Philadelphia declined to comment.
In challenging the safety claims of an oil giant such as Sunoco, as well as local officials, coalition members have looked to their everyday know-how. Their numbers include a Navy veteran with a background in emergency preparedness, a pediatric flight nurse, and a structural aerospace engineer.
"I have a lot of experience with high-pressure tubing with aerospace," said Seth Kovnat, the engineer, who had been planning to send his two young children to Glenwood but is now thinking about moving. "There's 400 houses (in Middletown) within that blast zone that have zero input into whether or not it's allowed to happen or not – it's a travesty."
For now, parents say they're baffled and disappointed by the lengths to which school officials have gone to exclude them from the disaster-planning process.
Scanlon said he believes the possibility of a pipeline accident near a school is "pretty minimal" but acknowledged "there were still some questions" about the communication chain during an incident.
"The response plan we are developing is fluid, because we know that situations can change in a heartbeat," Wigo, of Rose Tree Media said in a statement. "We have little or no say in this project and it will proceed with or without Rose Tree Media's support and/or opposition."
Such words stoke the fears of parents like Allison Chabot, the mother of first and fifth graders at Glenwood Elementary. "We don't know how seriously people are taking these risks," she said, "and what their plan is for mitigation and protection."
But, she added, she might not have to worry about it much longer. "We're trying to figure out how we can move" away from Middletown," she said. "We're not the only ones. But the problem is that property values are going to plummet."
1
Philadelphia
Philadelphia News & Search
1 News - 1 eMovies - 1 eMusic - 1 eBooks - 1 Search