1
Philadelphia
Philadelphia News & Search
1 News - 1 eMovies - 1 eMusic - 1 eBooks - 1 Search
"I've always been trying to make something of it, get some movement with it," he said. "I don't know about the movement, but the speed difference was definitely different and I got some swings and misses. That tells you a lot."
Manager Pete Mackanin was enthused about what he saw.
"That was really impressive," he said. "He's been working on a changeup and he threw a lot of them. He changed speeds really well. I think he sees the merit in that, so that will be a good pitch for him."
In his first full season in the big leagues last year, Eickhoff led the rotation in starts (33) and ERA (3.65). He pitched so well, in fact, that after veteran Jeremy Hellickson was named the Opening Day starter, he suggested that Eickhoff probably was more deserving of the honor.
"That's very cool to hear," Eickhoff said. "I think a lot of Jeremy and he's done so much in the game and he deserves it as much as anybody. It's fun to just watch him go about his business and go through a lineup like he does."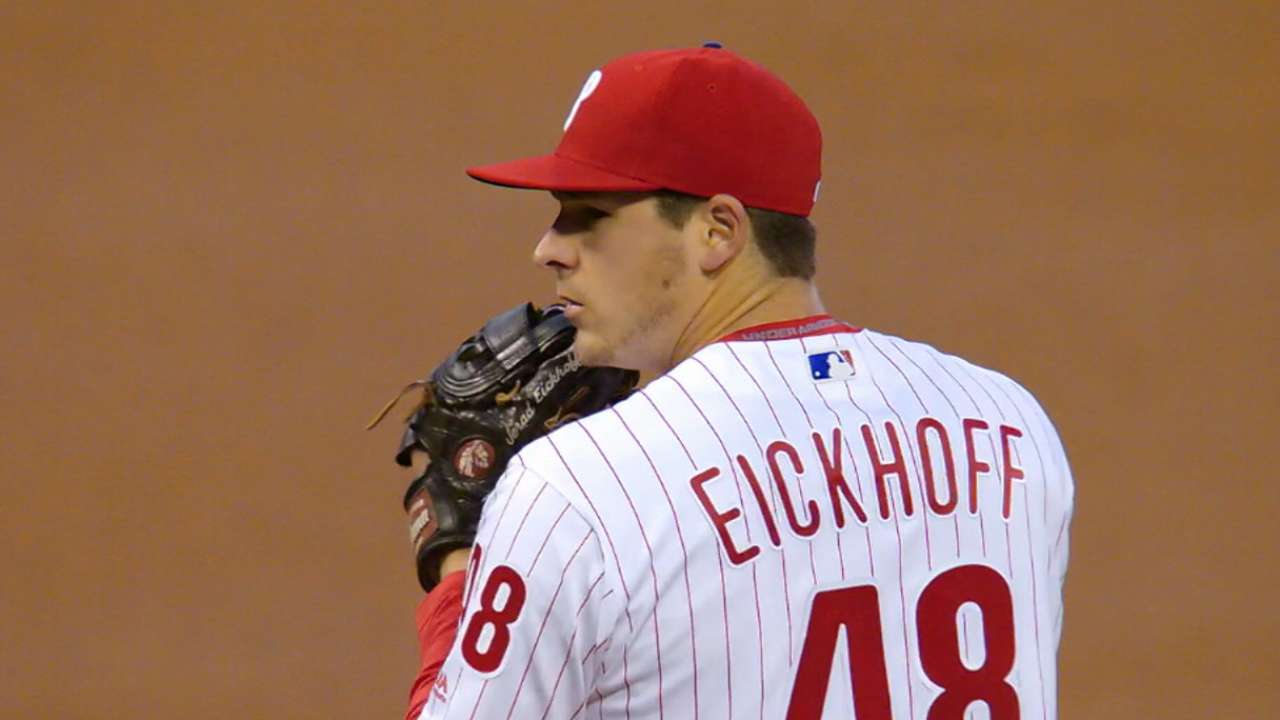 Hellickson also predicted that his younger teammate will make multiple Opening Day starts before his career is over.
"One day. I hope so," Eickhoff responded. "But this year I'm looking forward to seeing him out there."
Eickhoff was one of the five prospects the Phillies got from the Rangers for ace left-hander Cole Hamels on July 31, 2015, along with catcher Jorge Alfaro, outfielder Nick Williams and pitchers Alec Asher and Jake Thompson. He's the first to make an impact at the big league level.
"I always knew what I could do," he said. "People say that I was just kind of thrown in [to the Hamels deal]. But I knew what I could do. I knew my mentality and how I go about my business, so I had confidence in that."
He's always looking for ways to get better. And that shouldn't change.
Paul Hagen is a reporter for MLB.com. This story was not subject to the approval of Major League Baseball or its clubs.
1 Philadelphia
Philadelphia News & Search
1 News - 1 eMovies - 1 eMusic - 1 eBooks - 1 Search