1
Philadelphia
Philadelphia News & Search
1 News - 1 eMovies - 1 eMusic - 1 eBooks - 1 Search
Some Chester County residents awoke Tuesday morning to find racist and anti-Semitic graffiti in their neighborhood.
Swastikas and racist slurs — including the N-word — were left on a Valley Mart convenience store, on a white Mercedes-Benz, and on a garage door in Coatesville's West End, according to police.
Authorities found the vandalism crossed Coatesville city lines and continued into Valley Township, where the same kind of graffiti was left on street signs and a roadway, Coatesville Police Cpl. Shawn Dowds said.
"It is very shocking," Dowds said. "That's never happened here before."
Later Wednesday, according to NBC10, police announced an arrest made in the case.
The television station reported Wednesday night that George Rissell, 24, of Coatesville had been charged with with ethnic intimidation and criminal mischief. He was arraigned and bail was set at $150,000. He was unable to post bail and remained in custody in Chester County.
Surveillance photos helped lead to Rissell's arrest, the station said.
Police told the station that Rissell has claimed connections with white supremacy groups, and the graffiti also included coded references to white nationalist movements.
Police believe the vandalism occurred early Tuesday. Dowds said he could not release any information on any possible suspects but said the investigation would include a look at surveillance footage from the area.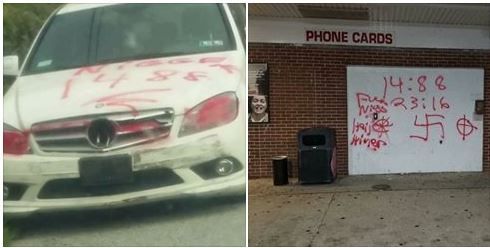 Experts at the Anti-Defamation League told Coatesville police that by the looks of the graffiti, the perpetrators were "educated" in the imagery, Dowds said.
On the storefront of the Valley Mart, at Strode Avenue and Valley Road, the vandals left a swastika, as well as white-nationalist codes, 14:88 and 23:16. They left similar graffiti on the car, parked on South Church Street, and on a garage on the 800 block of Madison Avenue, Dowds said.
Dowds said the incident may have been a reaction to the recent white supremacist rally in Charlottesville, Va., which included chants of "Jews will not replace us" and the Nazi slogan "blood and soil."
"It may be just a copycat," Dowds said. "But you have to be concerned," especially in a community with a large black population. The population of Coatesville is more than 47 percent African American, according to 2016 census data.
Janine Humphrey identified herself on Facebook as the woman who owned the car that was vandalized.
Humphrey told Philadelphia Weekly that two weeks ago she and her family had moved from Morgantown, Berks County, to Coatesville in part for its more diverse population. In Morgantown, she said, her children were often the only people of color in their school classes.
On Tuesday, Humphrey said she came home from a graveyard shift at the VA hospital when she found her car vandalized.
"I got really emotional, and my children were all saying, 'Mommy, Mommy, what's wrong?' " Humphrey said. "Then I thought, it's ridiculous that this happens in this day and age."
Humphrey said she believes the incident was a response to the Charlottesville rally and President Trump's response.
"The president isn't condoning it, but he's not doing anything to address it," she said. "You don't allow things to go on and then when something happens say, 'I can't believe it happened.' He has an obligation to speak up."
Police are not aware of any hate groups active in the Coatesville area, Dowds said.
The incident was the second report of graffiti in the Philadelphia suburbs in the last week.
In Bucks County, authorities said Herbert Hoover Elementary School was vandalized the night of Aug. 18. Racist graffiti was left at the Langhorne school, according to the Peace Center, a local nonprofit focused on, among other things, conflict resolution and racial equity.
In Coatesville, residents have expressed concern, Dowds said, mostly on Facebook and other social-media platforms. The comments include postings by people with Coatesville ties.
"To say this infuriates me is an understatement!" posted Anastasia Carter, whose town of residence was not clear.
"I hope that whoever did this, in a place I'm proud to call home & always will be, is swiftly brought to justice," Coatesville native Shelley Hoffman wrote. "There's no place for that here or anywhere."
Local representatives also took to social media to post statements against hatred and bigotry.
"It breaks my heart that we still have to fight for equality and against hatred," State Rep. Harry Lewis Jr. (R., Chester) said. "The hate of those who cannot respect their neighbors has no place in our community. Racial slurs won't change us, and Nazi symbols won't scare us."
"Let me be perfectly clear: There is absolutely no room for this kind of hate in our communities," State Sen. Andy Dinniman (D., Chester) said. "We must continue to come together and renounce this for what it is – unacceptable garbage."
Anyone with information about the vandalism is being asked to contact Coatesville police at 610-383-7000. Dinniman also said the public can text "Coatesville" and a tip to 847411.
1
Philadelphia
Philadelphia News & Search
1 News - 1 eMovies - 1 eMusic - 1 eBooks - 1 Search