1
Philadelphia
Philadelphia News & Search
1 News - 1 eMovies - 1 eMusic - 1 eBooks - 1 Search
"They're definitely something different," Marlins center fielder Christian Yelich said of his fresh batch of orange bats. "Definitely something you're not allowed to use during the regular season. It's cool. It will be a fun weekend."
"I think it's going to be a cool weekend to be around the kids," Pirates All-Star Josh Harrison said. "They relaxed the uniforms and all types of policies. We all try to change our bat colors, but we stay within what's allowed to be used. When it comes to using different colors, everybody wants to do something kind of gold. I went with something that was like a real gold, not a yellow. For the day we get to use them, you've got to go a little bold."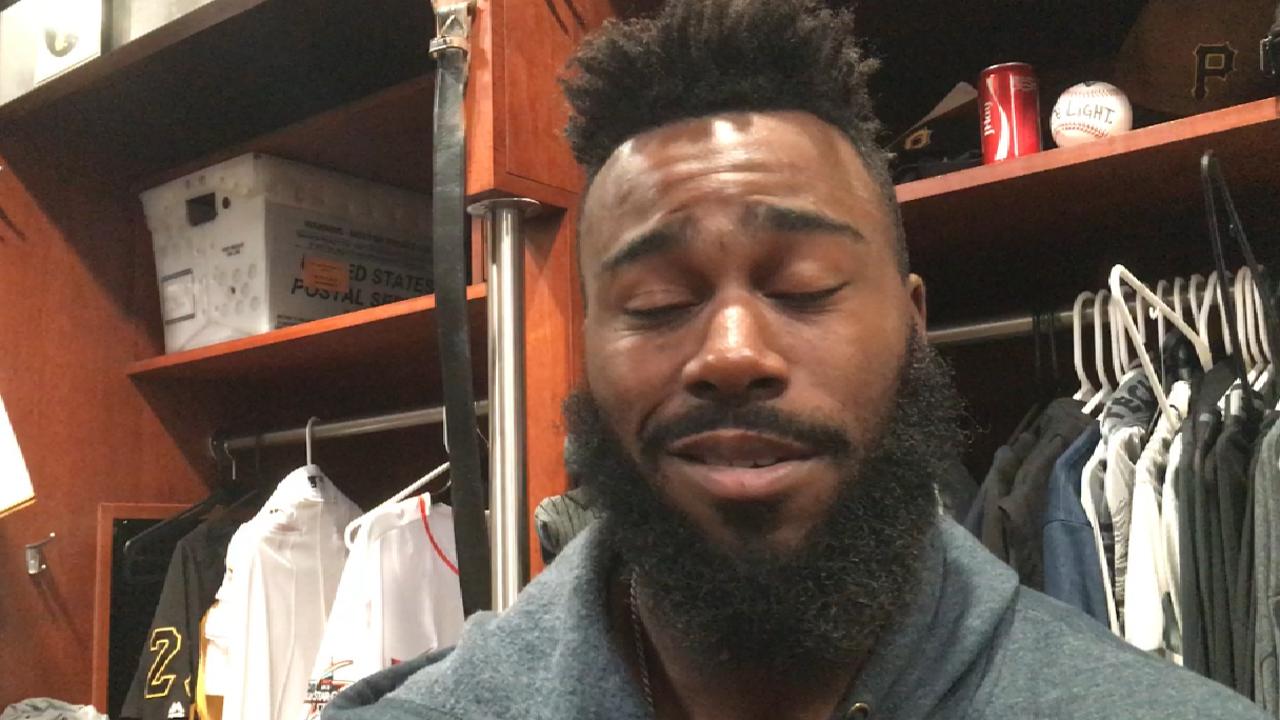 Bold bats have been a fact of life each Mother's Day, when bright pink finishes help to raise awareness of breast cancer at ballparks since 2006. But that has been the exception to the rule until this weekend. MLB normally restricts bat colors to a handful of finishes — natural, natural that's flame-tempered, black, brown, wine, gray, black cherry — and combinations of permissible finishes. Logos and player name branding are also restricted.
For Louisville Slugger, it is an extension of the original custom bat tradition, and you can watch the video at the top of this article to see how these are made in their famous factory.
"For over 130 years, Major League ballplayers have turned to Louisville Slugger for our high level of craftsmanship and customization," said Scott Paulson, sports marketing director at Louisville Slugger. "That can be seen today in the nearly 100 unique turning models that are currently used in Major League Baseball. Now players are able to customize every aspect of the bat — especially [the] finish — with an endless number of color combinations.
"We're thrilled that MLB will be allowing players to show their personality and use a truly custom bat over Players Weekend. Now amateur and pro players alike can build their custom bat on sluggercustombats.com."
Reds shortstop Zack Cozart has a distinctive bright-red barrel, and one of the coolest nicknames burned into the wood: "COACH." That was a surprise to him when his bats arrived.
"Louisville Slugger have been very good to me my whole career. I love swinging their bats," Cozart said. "That was really funny. It's one of those things where you appreciate it. They don't have to do stuff like that. Being in Cincinnati and having played at Louisville in Triple-A, I've just had a long and really good relationship with them."
Some players are also using the relaxed rules to engrave names that honor people who influenced them or are special in their lives. Take Orioles outfielder Adam Jones, for example. Three bats in his bag at Fenway Park will each feature one of three names: his wife, Audie, or his two sons, August and Axel.
MLB and the MLB Players Association are introducing Players Weekend as a nod to youth baseball and a way for players to show their unique sides in a spectacular way. They are wearing colorful, non-traditional uniforms featuring alternate designs inspired by youth-league uniforms, featuring nicknames if they desire. In addition, players can wear and use uniquely colored and designed spikes, batting gloves, wristbands, compression sleeves, catcher's masks … and brilliant, booming bats.
Much of the same authentic gear you see on the field is available now at the MLB.com Shop.
"The rules are a lot more relaxed," Yelich said. "I think kids and fans of baseball are going to like seeing that stuff."
Yelich said the reason players are not ordinarily allowed to wield bright bats has to do with aiding the fielders, who often have little reaction time.
"The reasons they have rules are more for the fielders, so you can see the ball off the bat," he said. "But when you're hitting, you don't really realize the bat, because you don't see the bat. It's the same bat, so the color doesn't really have anything different to do with it. You're used to seeing different-colored bats on Mother's Day. It's going to be fun.
"I'm looking forward to the weekend, in general. It's going to be a good time."
Harrison said he wanted to go with black and gold for Pittsburgh, and his is more gold than the yellow they call gold around the team. He said black/gold, and Louisville Slugger sent over a couple of designs. He picked the ones he liked, with "J HAY" engraved in the barrel, so he will add that touch to an ensemble that already includes white cleats — signed last weekend by Little Leaguers in Williamsport, Pa.
Another Pirates star, Honus Wagner, signed a contract with Louisville Slugger in 1905 to become the first player to endorse a bat. His autograph was also the first to be used on a bat, and it maked the first time a professional athlete endorsed an athletic product. If only it could have been the color of gold with "THE FLYING DUTCHMAN" on the barrel.
Mark Newman is enterprise editor of MLB.com and a baseball writer since 1990. Adam Berry, Joe Frisaro and Mark Sheldon also contributed to this story. This story was not subject to the approval of Major League Baseball or its clubs.
1
Philadelphia
Philadelphia News & Search
1 News - 1 eMovies - 1 eMusic - 1 eBooks - 1 Search