1
Philadelphia
Philadelphia News & Search
1 News - 1 eMovies - 1 eMusic - 1 eBooks - 1 Search
Several members of the group Black Lives Matter demonstrated outside the Northeast Philadelphia home of a police officer Thursday evening over his involvement in the shooting death of a man during a traffic stop.
The small group of about a dozen paced outside 15th District Officer Ryan Pownell's twin home along Bridle Road in the city's Bustleton section for about an hour.
Shouting "If we don't get no justice, they don't get no peace," the group demanded Pownell be charged with murder for the June death of David Jones.
Pownell, a 12-year veteran of the police department, shot the 30-year-old in the back and buttocks on June 8 following a struggle. The officer stopped Jones for riding an illegal dirt bike in North Philadelphia.
During a pat down, Pownell felt a gun in Jones' waistband, police said.
A witness in back of Pownell's police vehicle watched Pownell pull his service weapon and warn Jones not to touch the gun, police said. The two men scuffled before Jones allegedly grabbed his handgun, according to police.
Jones then fled. Surveillance video obtained by NBC10 appears to show Jones running away when he was shot.
The same witness later told NBC10 that Jones had dropped the gun before running. A fully loaded .9mm handgun was recovered at the scene.
Jones died at Temple University Hospital.
Activists Protest Deadly Police Shooting of Dirt Bike Rider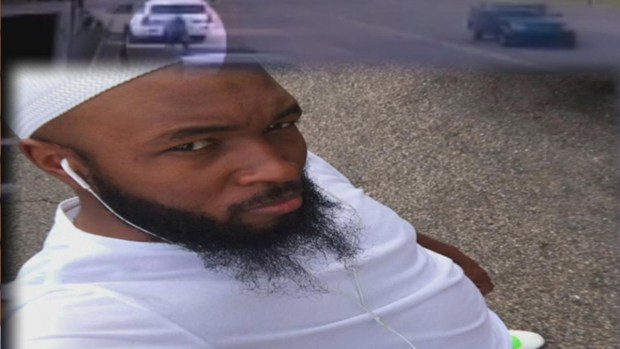 The shooting remains under investigation by both police and the Pennsylvania attorney general's office. Police Commissioner Richard Ross said the department is looking into whether protocol was followed.
Pownell remains on administrative leave.
Black Lives Matter, led by activist Asa Khalif, along with others, have been protesting the shooting for weeks. In July, the group marched on the Police Administration Building and City Hall demanding a larger investigation.
The group decided to turn its attention to Pownell Thursday. A line of on-duty police officers separated the demonstrators from the officer's home. The non-violent protest was streamed on Facebook Live.
Pownell was called a "racist, bigot pig cop" and Khalif said he has "a murderous spirit" referring to another shooting that the officer was involved. That 2010 shooting left Carnell Williams-Carney paralyzed when a bullet hit him in the back. The shooting was ruled justified and Williams-Carney lost a federal lawsuit against police.
Thursday's protest riled police union boss John McNesby. He called Khalif a "punk" who shoud've been arrested for protesting without a permit.
"I can't use the words I want," McNesby said Friday. "To take it to someone's house, a police officer's house, he doesn't have any respect."
"He's a two-bit punk who doesn't have the respect of decent protesters, if there is any in this city."
Khalif invoked the words of Black Panther Assata Shakur in response: "It is our duty to fight for our freedom. It is our duty to win. We must love and support one another. We have nothing to loose but our chains."
Protesting at Pownell's home has Pa. Rep. Martina White (R – Pa. 170) renewing calls to support a bill that would bar police from releasing an officer's name shortly after a shooting.
Philadelphia Police Department policy directs the release of officers' identities within 72 hours of a police-involved shooting if there is no credible threat against the officer. The policy falls in line with U.S. Department of Justice guidelines.
White has sponsored House Bill 27, which would limit the release of officers' names to 30 days or until the investigation is completed — whichever is sooner.
The representative fired shots at Commissioner Ross and Mayor Jim Kenney in a statement Friday alleging they have been soft on policing Black Lives Matter protests.
"It is shocking to me that Police Commissioner Richard Ross and Mayor Jim Kenney allowed this illegal occupation to go on for hours without taking any action to enforce the law, and I question whether the police department has been ordered to stand down when it comes to addressing this Black Lives Matter action," her statement read in part.
White previously introduced a bill that would bar police departments from releasing officer identities unless that officer was charged with a crime and only after an internal investigation has been competed.
The law was vetoed by Gov. Tom Wolf.
Published 1 minute ago
1
Philadelphia
Philadelphia News & Search
1 News - 1 eMovies - 1 eMusic - 1 eBooks - 1 Search