1
Philadelphia
Philadelphia News & Search
1 News - 1 eMovies - 1 eMusic - 1 eBooks - 1 Search
"As a young fan in the early 1960s, I had the privilege of watching the amazing grace of Ruben Amaro Sr. as he played shortstop for the Phillies," Phillies chairman David Montgomery said in a statement. "Ten years later, Ruben was my professional colleague at the Phillies. He was a joy to be around, because he treated people with the same special grace he exhibited fielding a ground ball."
Amaro spent most of his 11-year playing career with the Phillies (1960-65). He won the National League Gold Glove Award at shortstop in 1964. Following his playing career, he coached first base for the Phillies (1980-81) when they won their first World Series championship.
But Amaro made his biggest impact in baseball off the field. He joined Phillies legend Dallas Green in 1972, when Green was the organization's director of Minor Leagues and scouting. Amaro became the Phillies' first full-time scout in the Caribbean and the Latin American coordinator from 1974-80.
Amaro helped sign Willie Hernandez, George Bell, Julio Franco and others.
He rejoined the Phillies from 1999-2006, when he served as a Minor League coordinator, scouting and player development advisor, scout and Gulf Coast League manager, leading the club to a GCL championship in 2002.
Amaro played a role in pushing the Phillies to select Shane Victorino in the 2004 Rule 5 Draft.
"I considered Ruben like my dad," Samuel said. "He was the one that went to the Dominican and basically discovered me. We stayed close throughout the years. Every time he was around, he gave me a big hug and a big kiss. To me he was a father figure. Not just to me, to a lot other guys — Julio Franco, George Bell, all those guys."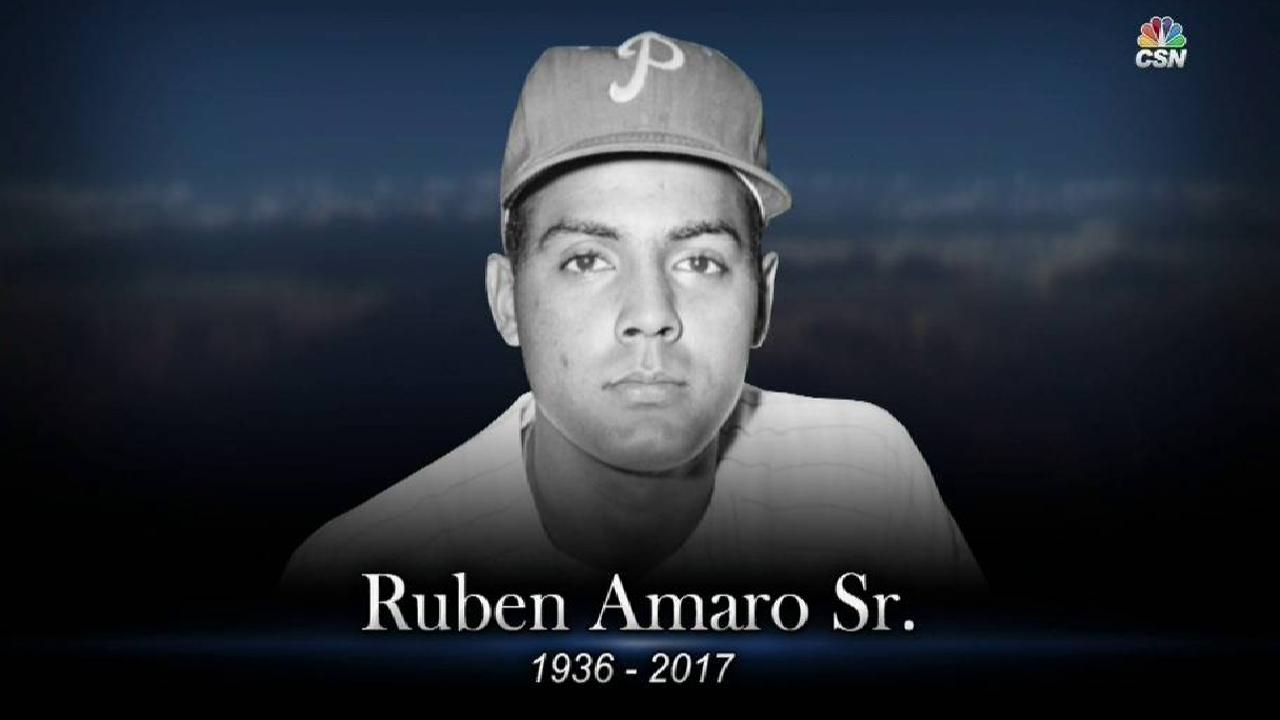 Amaro also held various roles in scouting and player development with the Cubs, Tigers and White Sox. He last served as a scout with the Astros (2010-16).
"As a baseball lifer, Ruben knew every aspect of the game," Montgomery said. "He had a special gift for the sport and cared deeply for all of the people in it. We were blessed to know him and to love him."
"[Amaro] didn't just discover you and sign you, he followed your career, and it was important for him to continue with that relationship and he did that for me," Samuel said. "Even when I was with other clubs as a player and a coach, he'd always call me, 'my son.' That's what he was to us, to a lot of us."
Born on Jan. 6, 1936, in Nuevo Laredo, Mexico, Amaro grew up in a baseball family. His father, Santos Amaro, had a long baseball career in Cuba and Mexico. His mother, Josefina Mora, was a member of the Vera Cruz Women's Professional Baseball Club.
Four generations of Amaros played professionally: Santos; Ruben Sr.; his three sons Ruben Jr., David and Luis Alfredo; and his grandson, Andrew. Ruben Amaro Jr. played for the Phillies and served as assistant general manager and general manager from 1999-2015.
Amaro Sr. is a member of both the Mexico and Cuba Baseball Halls of Fame.
Amaro also was one of the kindest people in baseball. He had a good sense of humor and could turn a phrase as well as anybody.
Amaro played for the infamous 1964 Phillies, who blew a 6 1/2-game lead over the Cardinals and Reds with 12 games to play on Sept. 20, 1964. They lost 10 consecutive games before winning their final two. But by then it was too late.
The Phillies, who already had printed out World Series tickets, watched the Cardinals finish 10-3 to clinch the pennant.
"I always say this, and I really truly believe this," Amaro said a few years ago about the '64 collapse. "When the saints that protect in baseball turn around and give you their back, nothing can help you. Nothing. I really, truly believe it. There were so many ridiculous things that happened to us. Too many things. Too many truly curious things."
Some folks blamed former manager Gene Mauch for pitching Jim Bunning and Chris Short each twice on two days of rest in those final 12 games, but not Amaro.
"When my time comes and I go wherever Gene Mauch is, I'm going to go play for him," Amaro said.
Amaro is survived by his wife of 29 years, Lilia; sons David (Jen), Ruben Jr. (Jami), Luis Alfredo and Ruben Andrés and daughter Alayna; and seven grandchildren.
Todd Zolecki has covered the Phillies since 2003, and for MLB.com since 2009. Follow him on Twitter and listen to his podcast. This story was not subject to the approval of Major League Baseball or its clubs.
1
Philadelphia
Philadelphia News & Search
1 News - 1 eMovies - 1 eMusic - 1 eBooks - 1 Search