1
Philadelphia
Philadelphia News & Search
1 News - 1 eMovies - 1 eMusic - 1 eBooks - 1 Search
• Noble: Green's passion, candor leave lasting impact
Green later became the fourth person in Major League history to manage both the New York Yankees (1989) and the New York Mets ('93-96).
Green, who returned to the Phils as a special assistant to the GM in 1998, spent 46 of his 62 years in professional baseball with the organization that signed him as a right-handed pitcher in '55.
Tributes rolled in from around baseball on Wednesday night for the man known as Big D.
• Lupica: Angel at the gates for Dallas Green
"There's very few people who were more synonymous with the Phillies than Dallas, and yet for 15 years he went elsewhere," said Phillies chairman Dave Montgomery. "The first time you meet him, I mean, what a presence. He filled the room with his presence."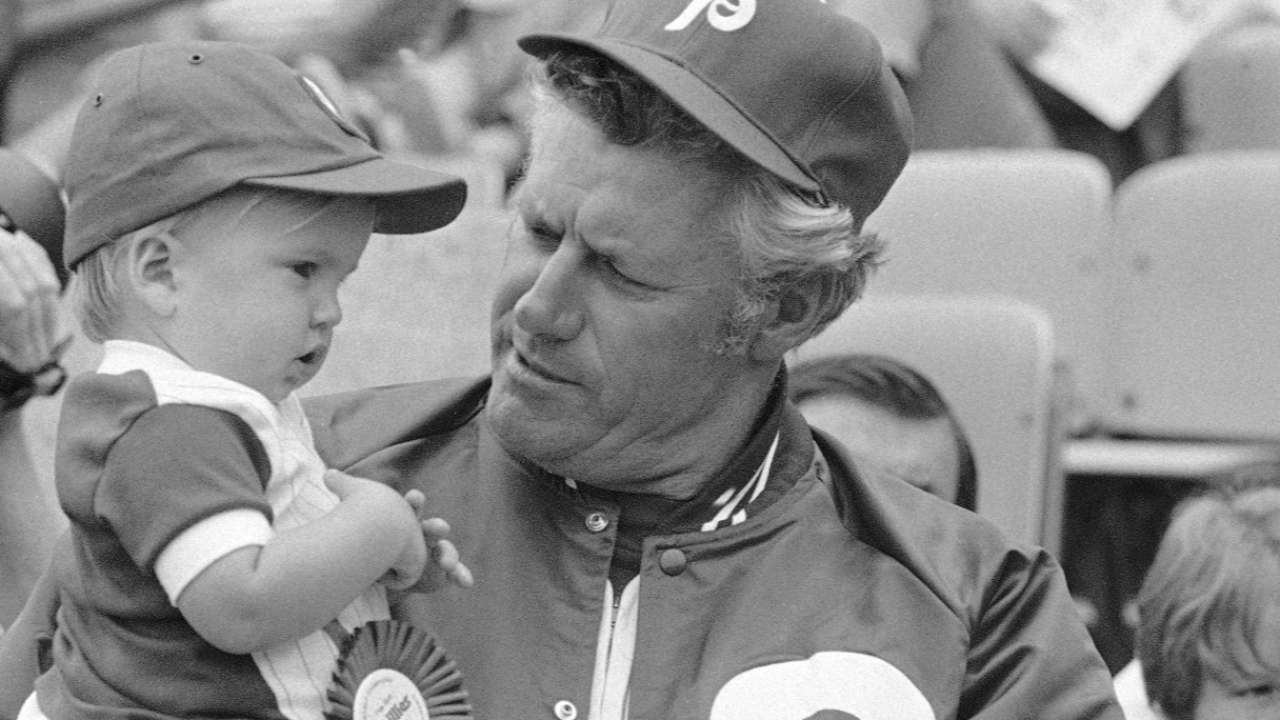 Montgomery began his baseball career working in the sales office. At that time, he was the same age as many of the players and became close to some who griped about Green's blunt approach, preferring the gentler style of Danny Ozark.
"But it turned out that Dallas was what some of them needed," Montgomery said. "We owe 1980 to that. That changed Dallas' career."
We mourn the passing of Dallas Green. The Phillies have lost a great man and wonderful friend. Our thoughts and prayers are with his family. pic.twitter.com/tzPWoGPtB9

— Phillies (@Phillies) March 22, 2017
Said Cubs chairman Tom Ricketts in a statement: "Dallas Green had an eye for talent. Our fans can credit him for acquiring and drafting several of the most accomplished players to wear a Cubs uniform, including Hall of Famers Andre Dawson, Greg Maddux and Ryne Sandberg, as well as All-Stars like Shawon Dunston, Mark Grace and Rick Sutcliffe. "Green was not afraid to make bold moves in pursuit of winning. He will forever hold a meaningful place in Chicago Cubs history."
The Mets also issued a statement that read, in part, "Dallas was pure and simple a 'true baseball man.'
Phillies manager Pete Mackanin managed in the Cubs' system when Green was running that team's baseball operations.
"I worked for him. It was no-nonsense, 'Here's what you're going to do,'" Mackanin said. "There were stories. One time he saw a scout with a set of golf clubs in his trunk, and he fired him.
"He said, 'If we have a meeting and you don't open your mouth and don't give your opinion about a player or something, and I find out you're talking to your buddies about it outside, you're fired.' It was just black and white."
Mackanin said there was no doubt who was in command when Green was in Chicago.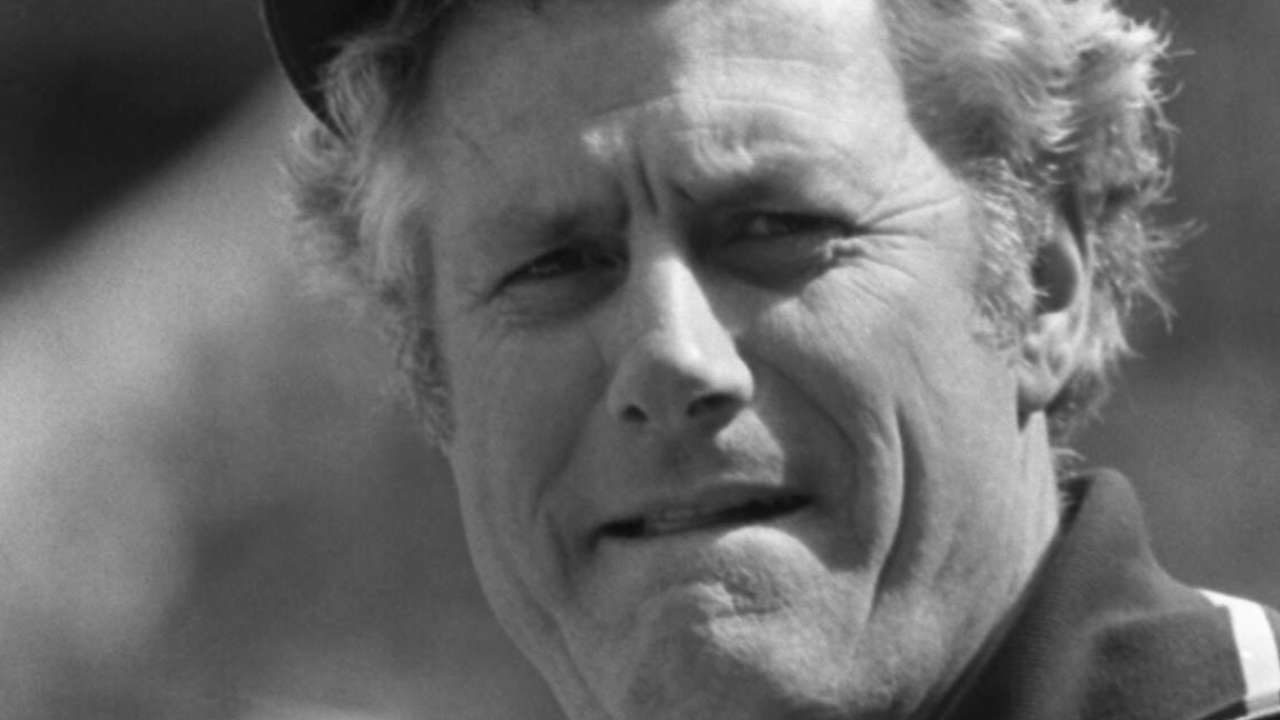 "He ruled the roost," Mackanin said. "We did it the big guy's way."
One time the Cubs had a meeting, with perhaps two dozen Minor League staffers attending. Green asked the first-year Rookie-level manager if he thought Dunston would hit in the big leagues.
Recalled Mackanin: "And the guy says, 'Well, if he learns to hit the breaking ball.' Dallas slams his hand on the table and goes, 'My wife could tell me that! I'm asking you! Do you think he's going to hit a breaking ball?' If he asked you something, you couldn't BS him. He respected people that would stand up to him."
One of Green's first moves after being hired by the Cubs was to trade shortstop Ivan De Jesus to the Phils for veteran Larry Bowa and future Hall of Famer Ryne Sandberg, then a prospect.
Bowa was one of the people who had clashed with Green in Philadelphia, but he also respected him.
"Dallas is what Philly is all about," Bowa said. "Toughness, honesty and fairness. Without Dallas, the Phillies would not have won the World Series in 1980. I wish all our current players would have had the opportunity to meet him. He was a huge impact on my career as a player, manager and coach. He will truly be missed."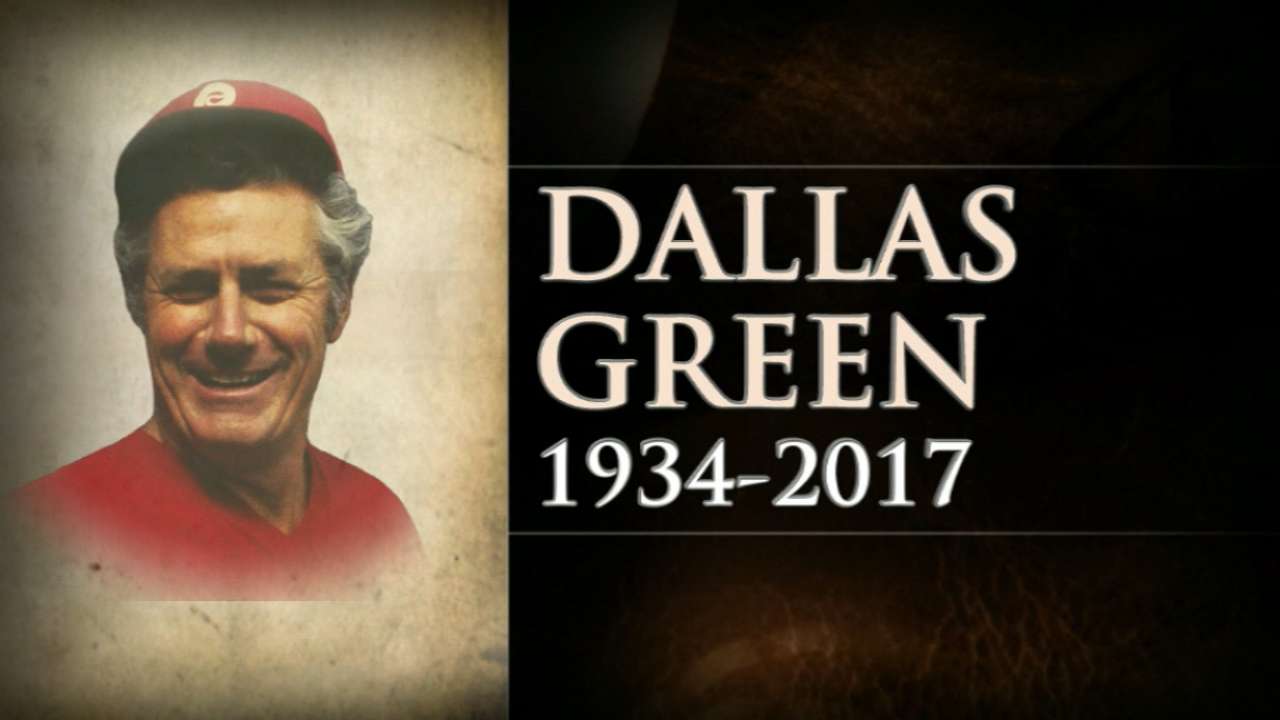 Chris Wheeler was a Phillies broadcaster for most of Green's front-office career and remembers how, as manager, Green always tried to put the team first.
"He went in there [in 1980] and sat down some of the big stars later in the season and played some of the kids," Wheeler said. "He could do it because he had such an incredible physical presence. He was so big [6-foot-5] and so loud. He could tell Larry Bowa, 'No, shut up.' He could tell Garry Maddox things. He could tell those guys that this was the way it was going to be."
For all his swagger, Green also had a fun-loving side and a big heart. But he was never the same after his 9-year-old granddaughter Christina-Taylor, was killed in Tucson, Ariz., by a gunman attempting to shoot Rep. Gabrielle Giffords.
"I'm supposed to be a tough sucker, but I'm not very tough when it comes to this," Green said in his first public comments after the tragedy.
George Dallas Green was born on Aug. 4, 1934, in Newport, Del. He graduated from Conrad High School in 1952 and attended the University of Delaware until he signed with the Phillies. Green played 13 years professionally, including parts of eight seasons in the big leagues with the Phils (1960-64, '67), Washington Senators ('65) and Mets ('66). He finished his Major League career with a 20-22 record and a 4.26 ERA in 185 games. Green threw 12 complete games in 46 career starts.
Green became a player-coach for Double-A Reading in 1967 and also pitched in eight games for the Phillies that season. He made his managerial debut in '68 at Class A Huron, and the following year, he took Pulaski to the Appalachian League championship.
Following his three years as a Minor League instructor, Green was named assistant to Paul Owens, the Phillies' director of Minor Leagues. He was promoted to director of Minor Leagues in 1972, a position he held until taking over as the Phils' manager on Aug, 31, 1979. The following season, Green became the 17th rookie manager in Major League history to take his club to the World Series and the fourth to win it.
Green is survived by his wife of 59 years, Sylvia, four children and five grandchildren.
The family will celebrate his life at a private funeral service.
Paul Hagen is a reporter for MLB.com. This story was not subject to the approval of Major League Baseball or its clubs.
1
Philadelphia
Philadelphia News & Search
1 News - 1 eMovies - 1 eMusic - 1 eBooks - 1 Search