1
Philadelphia
Philadelphia News & Search
1 News - 1 eMovies - 1 eMusic - 1 eBooks - 1 Search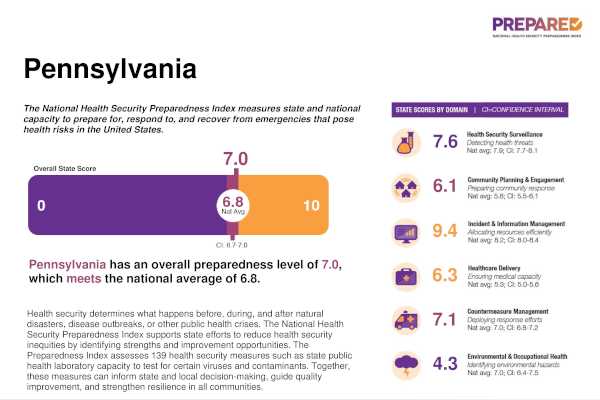 Pennsylvania and New Jersey are roughly average for the nation on health-security preparedness for emergencies like natural disasters, disease outbreaks, and other public health crises, according to a new report on the 50 states issued Thursday by the Robert Wood Johnson Foundation.
Pennsylvania scored an overall 7 out of 10; New Jersey matched the national average of 6.8 out of 10. Both states were slightly improved over last year.
"These data highlight where strengths and gaps in preparedness lie, and can inform approaches to improve health security throughout America," Alonzo Plough, chief science officer at the foundation, said in a statement.
The annual assessment considers more than 130 measures including public school hazard planning, flu vaccination rates, how well food and water safety are monitored,  and 911 wireless capability.
Since 2013, Pennsylvania and New Jersey have improved in most of the six major categories, including the ability to collect and analyze information in order to identify potential threats; ability to mitigate harm from biological, chemical, or nuclear agents; and how communities mobilize to work together in crises.
Overall, the nation has gradually improved its health security over the last four years, although the report judged the pace as "sluggish," with no state anywhere near reaching levels that the authors considered strong. States in the Deep South and the Mountain West  scored significantly lower in health security than other regions, including the Northeast.
Alaska had the lowest rating, 5.9 out of 10, followed by Arizona at 6, and Alabama with 6.2. The best:  Vermont, at 7.8, followed by Maryland and Virginia, both with 7.5.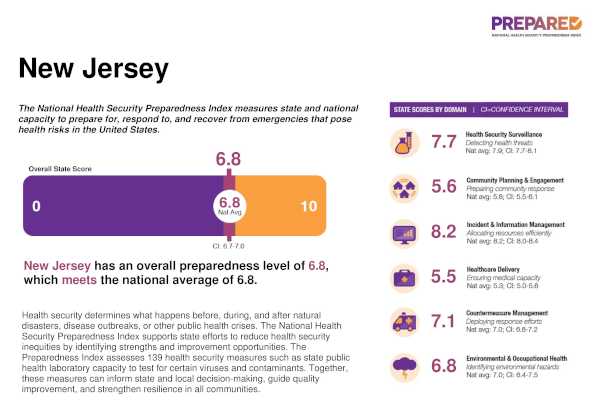 1
Philadelphia
Philadelphia News & Search
1 News - 1 eMovies - 1 eMusic - 1 eBooks - 1 Search