1
Philadelphia
Philadelphia News & Search
1 News - 1 eMovies - 1 eMusic - 1 eBooks - 1 Search
Hours after the U.S. Supreme Court declined Monday to hear the case of numerous women and children detained at the notorious Berks County Residential Center, lawyers for other mothers and children detained there filed another lawsuit in federal court asking for a stay of deportation.
Those four women and their children, stuck in limbo for more than a year, won a temporary victory Wednesday when a federal judge ordered that officials with Immigration and Customs Enforcement halt any plans to deport those being held at Berks.
"Their officers, agents, employees, representatives, and all persons acting in concert or participating with them, are temporarily and enjoined from engaging in or performing, directly or indirectly, any and all of the following acts: removing any of the above optioned Plaintiffs and all others similarly situated and/or their minor children from the United States and/or transferring any to a location outside the Court's jurisdiction," according to the order by Judge Lawrence Stengel of the Eastern District of Pennsylvania.
The women left El Salvador, Guatemala and Honduras many months ago, fleeing what they have described as dangerous living conditions.
An attorney for the families, Carol Ann Donohoe, said Stengel's temporary restraining order placed on ICE is a welcome development after the setback at the Supreme Court.
"This is a great outcome and we are grateful for this court to give us this chance," Donohoe said.
Other legal advocates for the Latino community tried to remain optimistic for the women and children held indefinitely at Berks despite the roller coaster week.
"They lost a battle, but they will be able to fight separately," said Erika Almirón, director of the pro-immigrant organization Juntos.
She said that based on her experience and contacts "those mothers believe they have been held for so long to make their stories an example."
"What (ICE) does not realize is that when someone is running for their lives or trying to save their children, they will do anything," Almirón said.
Despite the temporary restraining order for four mothers at Berks, the decision of the Supreme Court was seen by some legal experts as precedent-setting for many other immigrants currently in detention centers across the country. Those detainees had hoped that Castro v. U.S. might have paved the way for other undocumented immigrants' cases to be heard in the federal judicial system, and not in the Department of Justice's separate immigration court.
Brennan Gian-Grasso, a lawyer from Gian Grasso, Tomczak, Hufe Immigration Legal Services in Philadelphia, said that the SCOTUS decision is troubling at every level.
"The one thing we could all agree on [before this decision] was procedure," he said. "That is, if everyone is guaranteed due process then, regardless of outcome, it is a fair process."
Donohoe said three of the four children belonging to the four women who filed the lawsuit Monday already have been given work authorization, which means they are eligible to receive social security cards. 
All four children have applied for and are on a waiting list for legal permanent residence, as known as a green card.
"ICE still stated their intention to deport these families," Donohoe said.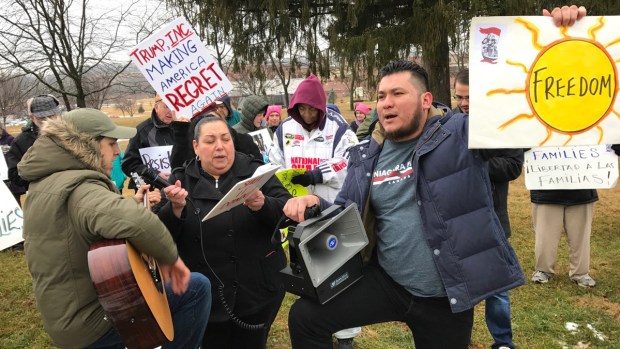 Tears & Songs at Shut Down Berks Vigil
Published 8 minutes ago
1
Philadelphia
Philadelphia News & Search
1 News - 1 eMovies - 1 eMusic - 1 eBooks - 1 Search