1
Philadelphia
Philadelphia News & Search
1 News - 1 eMovies - 1 eMusic - 1 eBooks - 1 Search
This series, Crooks, tells the forgotten stories behind some of the most outlandish crimes, and criminals, in Philadelphia history. See below for how to access these archives for yourself.

She didn't have a boyfriend, her father insisted.
She wasn't sexually active, her friends were adamant.
She would never accept a ride from a stranger, her family and friends were positive.
But no one had seen 16-year-old Maryann Mitchell in a couple of days; not since she had dinner with a couple of friends and walked to a bus stop, careful not to break her 10:30 p.m. curfew
On the afternoon of Dec. 30, 1959, a Whitemarsh Township highway worker was driving past a blur of woods along Hart's Lane in Lafayette Hill, when a green glint caught his eye.
The worker pulled over. As he backtracked, trudging along the rain-soaked roadside gully, he came upon the 16-year-old's body. Her green pleated dress was pulled up to her blood-soaked face. Her stockings were torn. Her underwear was missing.
Scrawled across her exposed stomach in cream-colored lipstick were the letters "TB," the number "101," and an obscure circular symbol.
Clues everywhere
Traces of the former Girl Scout's clothing and belongings were found scattered across 10 square miles between Roxborough and Whitemarsh.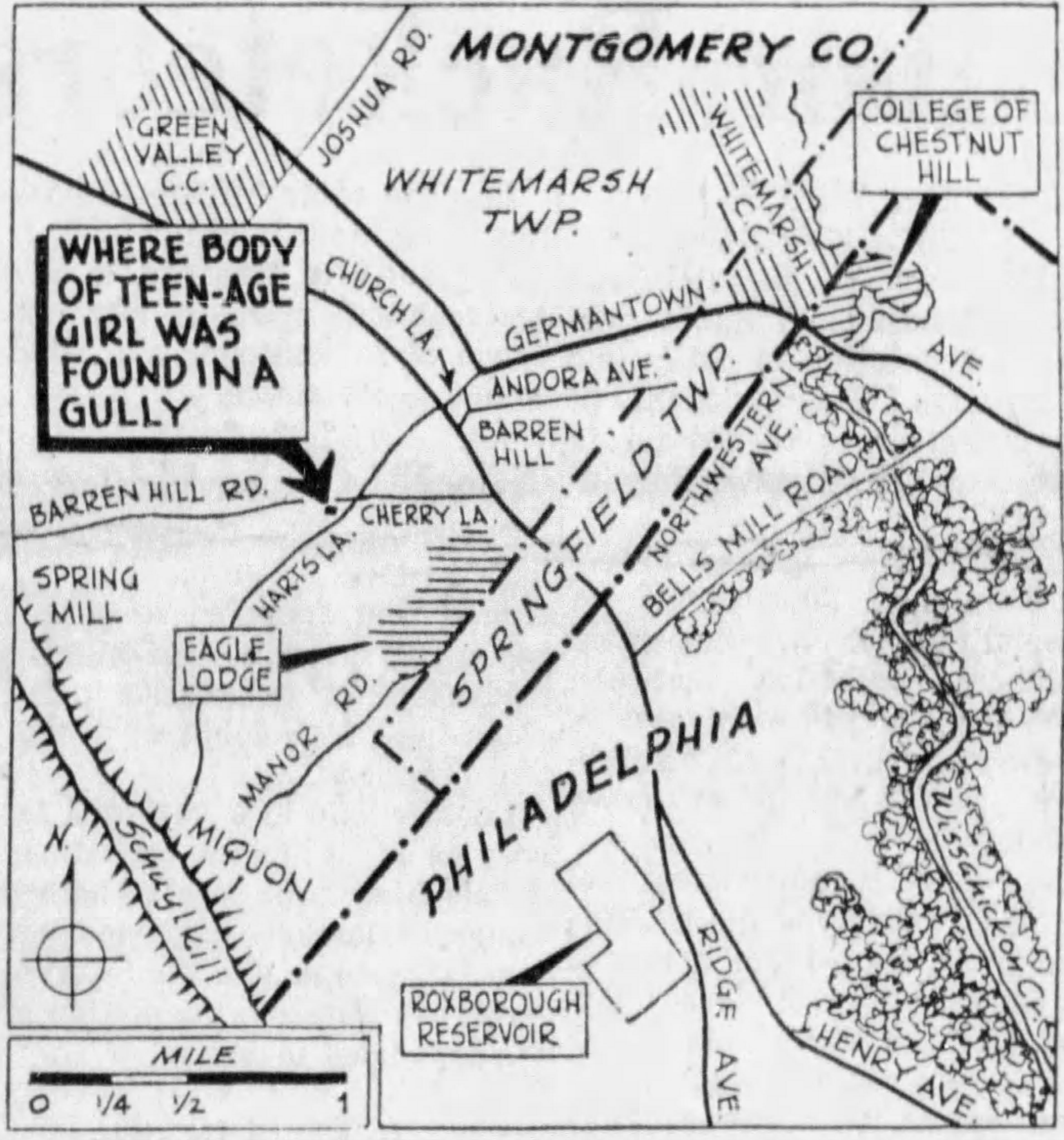 For days, an army of 250 county and local authorities twisted flashlights through garages and parked cars, and poked along the banks of the Schuylkill River in hopes of finding the murder weapon.
In Philadelphia, her tan handbag was found on a front lawn, and a black dancing slipper trimmed with brass beads — a Christmas gift she had just received — was found in a gutter. In Whitemarsh, her shoe was found two blocks from where the body was discovered.
And then in Bridgeport, a garter belt caked in dried blood and a pair of red-speckled underwear were found near railroad tracks. From there, the investigation narrowed.
Elmo Smith was a 39-year-old handyman who lived with his parents not far from where the undergarments were found. He was on parole for sexually assaulting at least six women in the late 1940s, which put him on detectives' radar.
Shortly after he was taken into custody, police received evidence connecting Smith to a stolen, blood-stained vehicle believed to have been used in the murder.
After his photo appeared on television, three 12-year-old Phoenixville girls came forward. They recognized him as the stranger who had attempted to abduct them on Dec. 27 – the day before Mitchell disappeared – as they walked home from a movie.
After the girls picked Smith out of a lineup, he asked for his mother.
On Jan. 7, after meeting with his mother and girlfriend, Smith confessed.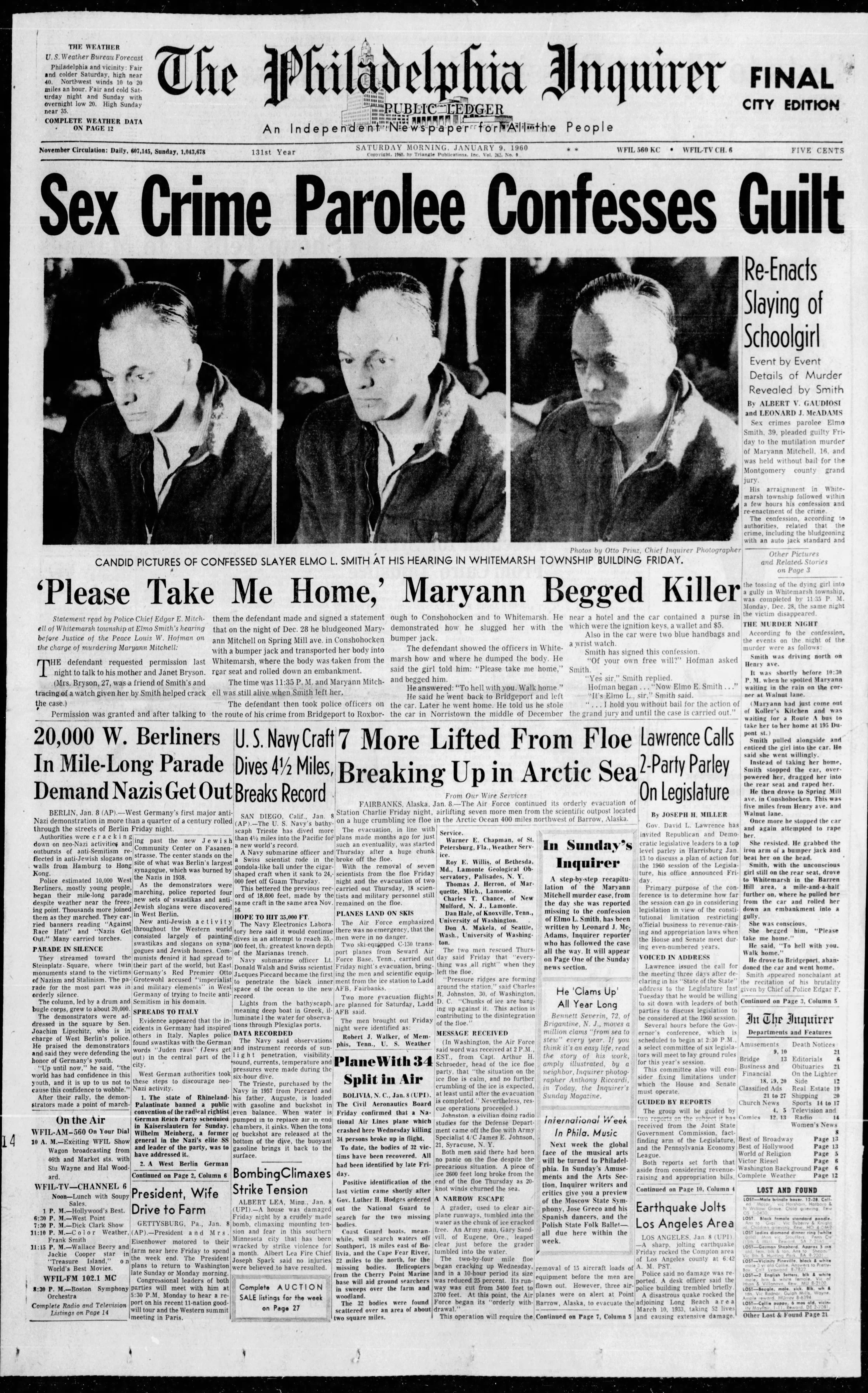 By all accounts, Mitchell, a junior at Cecilian Academy Catholic School for Girls in West Mount Airy, stopped at three places on Dec. 28:
She visited her great aunt in Manayunk;
She saw a movie at the Roxy Theater with three friends;
She ate hamburgers at Koller's Kitchen with two of those friends.
Around 10:15 p.m., Mitchell walked to the corner of Henry Avenue and Walnut Lane. She stood in the rain, under a red and white umbrella, and waited for the Route A bus to take her toward her Manayunk home at 195 Dupont Street. She was an only child, and had always obeyed her 10:30 p.m. curfew.
By all accounts, the girl's pattern of behavior would never conform to the version of events Elmo Smith would later spin under police interrogation.
A questionable confession
On the night of Dec. 28, Smith claimed, he pulled up to the bus stop in a bronze and cream 1958 Chevrolet Belair, which he had stolen earlier in the month.
He asked Maryann Mitchell if she wanted a ride. She accepted.
"She said she would like to have some fun," Smith said.
They drove to Conshohocken and parked. They had sex in the back seat, he claimed.
On her stomach, Smith admitted he wrote "TB #101" followed by a series of circular lines.
She started struggling and squirming, and asked him to take her home.
He grabbed a nearby bumper jack, and bludgeoned her in the head. He did not say why. He drove to Lafayette Hill, and rolled her body down an embankment.
He said she was still alive when he left her.
What about the number 101, police asked? Did the number have significance? "No," Smith said.
What about the initials TB? "At the time I didn't know," Smith said, a confounding answer that would never be explained.
When police asked if he knew anybody by those initials, he said he did.
He grew up working on a farm outside Downingtown, and became friends with the owner's daughter, Janice. He said Janice had been his girlfriend "ever since childhood."
But she had married someone else, and recently divorced.
Her ex-husband's name was Thomas Bryson.
On trial
Investigators were suspicious of his confession.
The coroner contested Smith's timeline, specifically Mitchell's time of death and her condition when he allegedly dumped her body.
Then, days before the trial, Smith announced plans to rescind the confession and plead his innocence. He claimed it was given under duress, in an effort to end a parade of beatings from police. He said he manufactured the narrative, stringing together details from newspaper stories and television programs.
At the 10-day jury trial, Montgomery County Assistant District Attorney Vincent A. Cirillo proposed a sequence slightly different from Smith's confession: Smith hit Mitchell in the head at the bus stop, and dragged her into the car.
He assaulted her, mutilated her body, and dumped it down the embankment.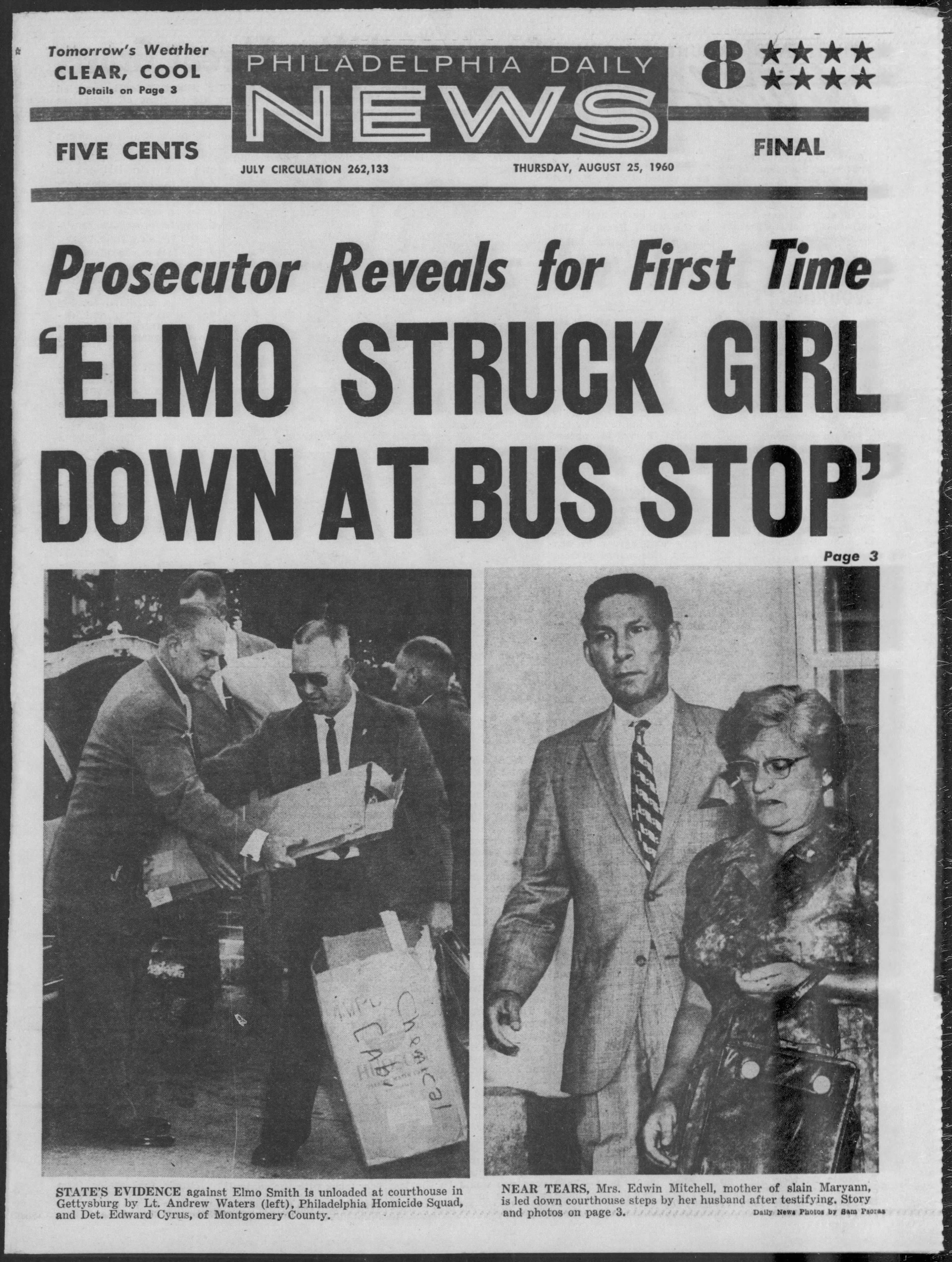 Smith's first story had some holes in it. His second story did too. But so did the prosecutor's version of events. For example, Cirillo found no witnesses to attest to the incident, and no evidence of violence at the bus stop.
During cross-examination, Cirillo poked holes in Smith's alibi, calling witnesses who discredited Smith's alleged whereabouts. And then Smith, from the witness stand, threw out a third story. He suggested Thomas Bryson murdered Maryann Mitchell, despite the fact that Bryson was at work when she had disappeared.
Turning to the macabre markings on the girl's body, the prosecutor focused on the mysterious half-circle. He described it as a crescent moon with squiggly lines emanating like steam from a hot plate.
He said it was the sign of St. Elmo, the patron saint of sailors.
"And a man with a strange name like Elmo would know all about that," Cirillo said, in an argument that would seal Smith's fate. "The arc and the radial lines constituted Elmo Smith's coat of arms."
Put to death
On Sept. 1, 1960, a jury of nine men and three women took less than two hours to convict Smith of first-degree murder.
The next day, after deliberating for less than an hour, the same jury condemned Smith to death.
In April 1962, 42-year-old Smith became the last person to be involuntarily executed in Pennsylvania.
---
About this series:
Using the digital archives of the Inquirer and Daily News, Crooks tells the forgotten stories behind some of the most outlandish crimes, and criminals, in Philadelphia history. *Search the archives for yourself and subscribe for full access.*
1
Philadelphia
Philadelphia News & Search
1 News - 1 eMovies - 1 eMusic - 1 eBooks - 1 Search