1
Philadelphia
Philadelphia News & Search
1 News - 1 eMovies - 1 eMusic - 1 eBooks - 1 Search
Here are the 10 things you need to know to start your day from your friends at NBC10.
---
TODAY'S TOP STORY 
Laundromat Owner Shoots Armed Robber: A laundromat owner armed with a gun shot a robber as well as a bystander in Philadelphia Sunday afternoon, according to police. Investigators say the ordeal began at 4:19 p.m. when a 42-year-old man armed with a knife entered a laundromat on the 2800 block of N. 5th Street. The armed man forced the laundromat owner, who was behind the counter, to give him $2,000, according to police. As the robber left with the money, the laundromat owner grabbed a revolver and began to chase him, investigators said. Police say the robber threw the money in the air and fled as the owner ran after him.
YOUR FIRST ALERT FORECAST  
Rain and fog start Monday morning but temperatures are expected to increase by the afternoon. Tuesday afternoon could see some thunderstorms and temperatures in the 70s. Wednesday and Thursday are expected to be partly sunny with temperatures in the 60s and high 50s. Rain is possible for Friday, along with 50 degree temperatures. High Temp: 69 degrees. Get your full NBC10 First Alert forecast here.
NBC10 First Alert: Rainy Monday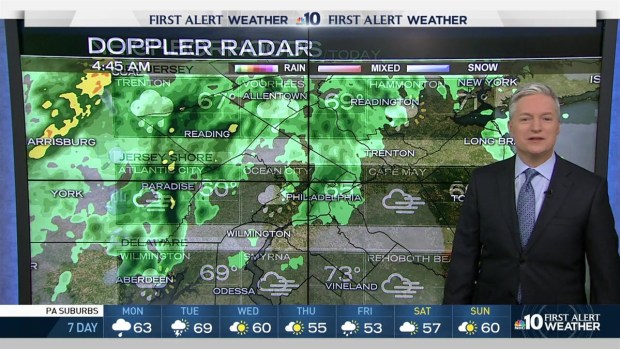 WHAT YOU MISSED YESTERDAY 
Firefighters Battle Fire in Wilmington: Firefighters battled a large fire at a building in downtown Wilmington, Delaware. The two-alarm fire started at a sneaker store on 405 North Market Street at 2:10 p.m. Sunday. Around 60 firefighters and EMS workers from several companies responded to the scene as thick, heavy black smoke blanketed the area. Firefighters first tried to battle the blaze inside the building but realized they had to take the fight outdoors instead. Firefighters were able to place the blaze under control at 5:32 p.m. The sneaker store is a total loss and the fire also damaged at least two adjoining properties. While no injuries were reported the Red Cross is assisting five adults.
AROUND THE WORLD

Trump's Son-In-Law to Lead New Office: President Donald Trump will name his son-in-law, White House senior adviser Jared Kushner, to lead a new office responsible for streamlining and overhauling the federal government on Monday, the White House told NBC News on Sunday night. Plans for the new structure, to be called the White House Office of American Innovation, were first reported Sunday by The Washington Post. The Post reported that Trump's chief strategist, Stephen Bannon, a highly controversial figure, would have no formal role in the operation.
Black Lives Matter, FOP, Mayor Call for Philly DA's Resignation: While they may disagree on several issues, a local Black Lives Matter group and Philadelphia's Fraternal Order of Police share a common belief when it comes to the city's top prosecutor Seth Williams. They both want to see him resign. "Take a Kodak moment," said Asa Khalif of Black Lives Matter Pennsylvania. "This is probably the only time you will see Black Lives Matter and the FOP in total agreement." Members of Black Lives Matter PA plan to protest outside of Democratic District Attorney Seth Williams' office in Center City Monday morning. Black Lives Matter joins several organizations, including the Fraternal Order of Police, as well as politicians, including Mayor Jim Kenney, who are calling for Williams to step down after he was indicted on federal corruption charges.
SPORTS SPOT
Flyers Beat the Penguins: The Flyers won 6 to 2 against the Pittsburgh Penguins.Get your full sports news at CSNPhilly.
PHOTO OF THE DAY
See more Top News Photos here.
THROUGH IGER'S EYES
@kiingshoota captured this cool photo on a Philadelphia street.
Have an awesome Instagram photo you'd like to share? Tag it with #NBC10Buzz.
TODAY'S VIRAL VIDEO
Have you seen the new Pizza Hut commerical? Watch more here. 
A LITTLE SWEETENER 
Berks County Sisters Turn Passion of Art into Career: Sisters Bethany and Olivia Moy have known they were going to have their own artist's studio since they were both children. Bethany Moy, 28, and Olivia Moy, 26, both of Bethel, cofounded The Little Sisters Studio several years ago after they graduated from Academy of Art University. The Moy sisters are freelance artists who work on projects for various businesses in the area working on everything from art for DVD covers to illustrations in children's books along with regular commission work, Moy said. Read more.
---
That's what you need to know. We've got more stories worthy of your time in the Breakfast Buzz section. Click here to check them out. 
Published 22 minutes ago | Updated 40 minutes ago
1
Philadelphia
Philadelphia News & Search
1 News - 1 eMovies - 1 eMusic - 1 eBooks - 1 Search